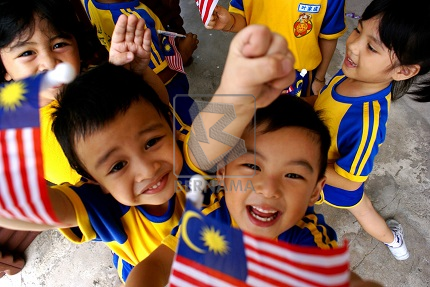 By Sakini Mohd Said
KUALA LUMPUR (Bernama) -- An old Chinese lady carrying two large plastic bags in both hands stood by the side of Jalan Tun Razak.
I could see her from the fuel station nearby as I was filling up my car. It seemed like she was trying the cross the road, which was notorious for heavy traffic at all hours of the day.
From the stature and appearance, I guessed her to be over 70 years old.
There were several times when she started to cross but doubled back when vehicles zoomed past.
I watched her in mild disbelief. It was 10am on a weekday. She could not possibly think that she could cross Jalan Tun Razak at this hour of the day, I thought as she attempted to cross a few more times.
She was probably trying to head towards the Kuala Lumpur General Hospital (HKL) or the National Heart Institute, located on the opposite side of the road.
NATIONAL LIBRARY
I take Jalan Tun Razak every morning to get to work. My office building is located next to the National Library.
As an almost daily user of the road, I am very familiar with how busy it can get, particularly during rush hour. It can be extremely difficulty for pedestrians to cross the road then.
There was a pedestrian bridge in front of Wisma Sejarah that she could use to get to the other side, but from her frail-looking physique, I surmised that going up the steep stairs would be too much of a feat for her.
A fuel station worker that had also been observing the old lady echoed my thoughts.
"That aunty wants to cross the road but is probably not strong enough to go up the bridge. She probably cannot afford to get a taxi either," he said to me.
LATE MOTHER
Seeing the old lady reminded me of my late mother. My mother had knee pain and experienced difficulty going up and down the stairs.
In any case, using the stairs can be a daunting task to most senior citizens.
As it turned out, the fuel station worker and I were not the only ones who noticed the old lady's struggle.
Several motorists at the fuel station were also watching her and a few even went over to help.
Three of them stood in traffic and signalled to oncoming vehicles to stop and make way for the old lady.
Two more helped her across the busy street, which were three-laned on both sides.
It was wonderful to see that despite all of them trying to make it to their respective destinations on time, they still took the time to help an old lady cross the street.
I was touched to see that those who came to her aid were Malaysians from different races: Malay, Chinese and Indian.
The scenario is more common than we realise. Malaysians will help one another, regardless of race, faith or beliefs because their generosity triumphs their differences.
REGARDLESS OF RACE
Perhaps many have heard about Kuan Chee Heng, a Chinese man who goes around helping the less fortunate regardless of race.
He has helped provide for them hearse services, rented an air-conditioned home at a nominal rate of RM1 a night, ferried them for treatment at public hospitals for a fare of only 10 sen. His magnanimity has made him famous across not only social media platforms but the mainstream media as well.
Kuan's story reminded me of my Chinese neighbour when I used to live in Penang, 30 years ago. I called him Uncle Tan.
At the time, my family could not afford a telephone line subscription, so it was difficult to get news of our relatives in Kelantan. It was a time when only a select few had phone line in their homes.
Uncle Tan had been kind enough to offer us the use of his home telephone to contact our relatives whenever we wished. It is difficult to forget such kindness.
UNIQUE ATTRIBUTE
Racial unity is a unique attribute of Malaysia that is envied by other countries.
Despite there being attempts by some parties to cause discord, Malaysians are actually still very much respectful of one another and pay little heed to the troublemakers.
The fact is, every person wants peace, prosperity and happiness in their lives.
The Malaysian Unity Foundation trustee Tan Sri Lee Lam Thye believes that majority of Malaysians still carry a strong spirit of unity and are willing to help one another.
"The formation of a unified Malaysia is a continuous process and we can still improve on what we have achieved so far," he said to Bernama.
He said there would always be those who would provoke and threaten the peace. However, if one had been instilled and nurtured with the spirit of unity from a young age, such threats would do little to destroy it.
"We have to always be mindful of the religious and cultural sensitivities of others, for the sake of interracial harmony. Unity is a priceless gift because it is the key to a peaceful and prosperous nation," he said.
(This commentary is the personal opinion of the writer.)
Translated by Sakina Mohamed
-- BERNAMA