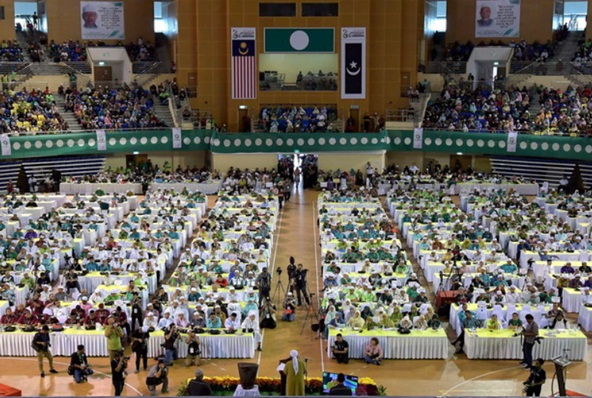 PAS Muktamar
KUALA NERUS, Sept 17 (Bernama) --The 64th PAS General Assembly drew its curtain yesterday with delegates acceding to the party's collaboration with UMNO for the interests of the Malays and Islam.
Nevertheless, PAS president Datuk Seri Abdul Hadi Awang do not see it as vital, though necessary, hence raising questions whether the collaboration will merely be on the basis of 'taawun ' (cooperation for the benefit of Islam) or a step further through 'tahaluf siyasi' (political cooperation).
The presence, for the first time ever of UMNO leaders, led by its president Datuk Seri Ahmad Zahid Hamidi, at the assembly became the talk among PAS delegates when discussing their old enemy.
"I believe the PAS leadership is sincere, although he did not specifically mentioned it (in his speech), but politicians understand what he is trying to say," said Ahmad Zahid when asked on the presence of UMNO leaders, who were welcomed by Abdul Hadi and other PAS leaders, at the opening of the PAS general assembly.
PAS' invitation for UMNO to attend its general assembly is in line with the practice of mature and peaceful political culture that PAS is trying to inculcate among its members.
However, PAS leaders were advised by delegates to exercise caution when forging cooperation with any parties, including UMNO, by not placing the party's struggle, which is to champion Islam, at stake.
Abdul Hadi, in his presidential policy speech, said that PAS was consistent and had always adopted a mature and peaceful political approach with all parties, as well as willing to forge political cooperation with them.
Political analyst Dr Syed Agil Syed Alsagoff, from Universti Putra Malaysia, said PAS needed the support of its political friends, like UMNO, to ensure its survival.
"I believe PAS should be more open by accepting the advantages and weakness of the party's friends and to create a political culture which is more positive and progressive," he said.
He said PAS should not be prejudicial and regarded UMNO's history and negativity as threats to the party.
The assembly also saw the commitment and appreciation by PAS to the concept of federalism, especially in ensuring the progress of Kelantan and Terengganu, which are under PAS rule.
Abdul Hadi said the statement by Prime Minister Tun Dr Mahathir Mohamad to return the oil royalty to oil producing states Kelantan and Terengganu was a positive sign and hoped more would be done for both the states.
This included in terms of development allocation, infrastructure facilities and investment opportunities, he added.
A geo-strategist from Universiti Teknologi Malaysia, Azmi Hassan said the concept of federalism had been practised in the country since independence.
"A state cannot stand on its own with federal assistance, especially those that do not have strong source of income," he added.
-- BERNAMA