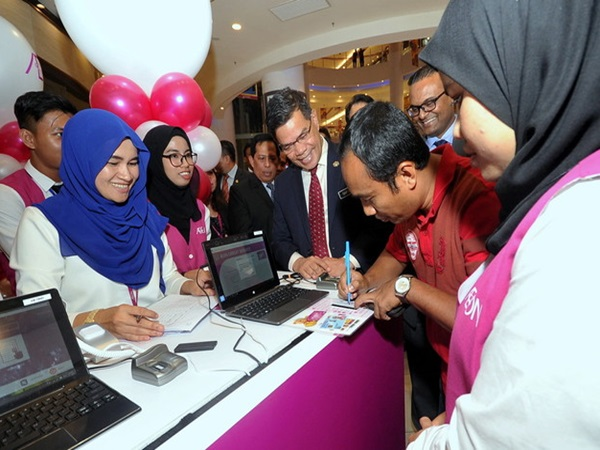 SHAH ALAM, Nov 8 (Bernama) – Aeon Group expects to have one million loyalty card holders of its retail network switch and use the Aeon Wallet application and Aeon Member Plus Visa Card within the next one year.
Shinobu Washizawa, Managing Director of Aeon Asia Sdn Bhd and Aeon Co (M) Sdn Bhd, said the group's latest two products were based on cashless payment concept for shopping, hence they would be attractive to customers as they keep abreast of the latest trends.
He said to-date, some six million loyalty card holders were registered with Aeon's six retail chain stores and all of them were targeted to convert to the two new products in three years' time.
"For example, the Aeon Member Plus Visa Card and Aeon Wallet both feature the latest in cashless payment technologies, as well as security.
"These were developed closely with Visa to ensure that our customers can pay without any worries. Both products are secure as they are integrated with the latest security features from Visa and allow for seamless transactions," he said during his speech at the launch of the two products at Aeon Mall, here today.
The launch was officiated by Domestic Trade and Consumer Affairs Minister Datuk Seri Saifuddin Nasution Ismail.
Meanwhile, Saifuddin Nasution encouraged more retail chains and traders to adopt such digital transaction initiatives in the future in line with the sector's rapid development.
Commending Aeon Group's efforts to launch the new products, he said digital payment or electronic wallet (e-wallet) would facilitate payments compared with the traditional method and was seen as easier, faster, secure and smooth.
"The new payment mode moves in line with the digitalisation phenomena which has driven many industries. When e-wallet is able to carry out payment transactions in a wider business spectrum, we do not need cash.
"The objective is not to push towards a cashless society but to enable everyone to enjoy the facilities and efficiency of electronic payment," he said.
Aeon Group has started offering the Aeon Member Plus Visa Card and Aeon Wallet application to its customers since August this year.
-- BERNAMA