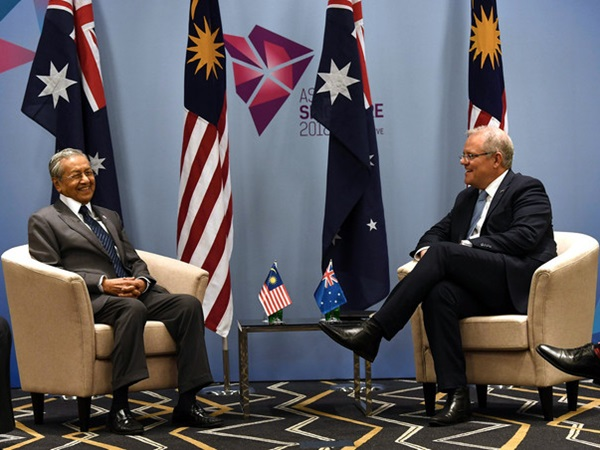 By Massita Ahmad
SINGAPORE, Nov 15 (Bernama) – Malaysia on Thursday described an Australian plan to move its embassy in Tel Aviv to Jerusalem as something that is not going to be helpful.
Prime Minister Tun Dr Mahathir Mohamad said that adding to the cause of terrorism is not going to be helpful.
He said he pointed this out during his bilateral meeting Thursday with his Australian counterpart Scott John Morrison on the sidelines of the 33rd ASEAN Summit and Related Summits here.
"I pointed out that in dealing with terrorism one has to know the cause. Adding to the cause of terrorism is not going to be helpful. I pointed that out," Dr Mahathir told reporters when met after the meeting.
However, Dr Mahathir said, Australia has not made any decision yet to move its embassy from Tel Aviv and "they are looking into it," he said.
The United States' announcement in June that it will move its embassy from Tel Aviv to Jerusalem sparked massive protests in Gaza which saw more than 50 Palestinians killed.
Morrison, who took over as the prime minister in August, has said that he is "open to" following the move, describing it as a "sensible" proposal.
Both Dr Mahathir and Morrison will attend the 13th East Asia Summit later Thursday.
During the bilateral meet, Dr Mahathir said he also spoke a lot about education.
"The fact that there are Australian universities in Malaysia and how they can help poorer people to get an Australian education," he said. Among the top Australian universities in Malaysia are Monash University, Curtin University and Swinburne University of Technology.
Asked whether he raised the matter of the possible extradition of former policeman Sirul Azhar Umar to Malaysia, Dr Mahathir replied: "No".
Dr Mahathir had previously said that the death sentence imposed on Sirul Azhar may be commuted to allow Australia to extradite the former policeman to Malaysia.
Under Australian law, a person cannot be extradited if there is a chance he or she would face the death penalty.
Together with his colleague Azilah Hadri, Sirul Azhar was convicted of the murder of Mongolian woman Altantuya Shaariibuu in Malaysia and sentenced to death in 2009.
-- BERNAMA