KUALA LUMPUR, March 25 (Bernama) -- Tun Dr Mahathir Mohamad has given his commitment that the government will continue to channel all allocations needed by the Royal Malaysia Police (RMP) even though it involves additional cost.
The Prime Minister said this was to ensure the country's security force has the suitable and latest equipment.
"The government is concerned about the needs of police to improve their capability especially now when their duties were getting more challenging," he said in a message on the 212nd Police Day celebration here today.
Also present were Home Minister Tan Sri Muhyiddin Yassin, Chief Secretary to the Government Datuk Seri Ismail Bakar, Attorney General Tommy Thomas and the Inspector-General of Police Tan Sri Mohamad Fuzi Harun.
Dr Mahathir said based on current development and challenges, RMP is not only facing challenges in the context of conventional crimes but also threats of terrorists which are very different and this he said required security agencies especially police to be firm, strategic and effective.
In this context, he said the government was satisfied with the level of professionalism and capabilities which saw security personnel such as RMP shouldering the responsibilities entrusted.


This included combating the threats of Daesh militants in the country which he said saw 464 terrorists apprehended by police.


"The government believes this was achieved because RMP and other security forces have the intelligence team capable of handling the complex issue involving the militant group," he said.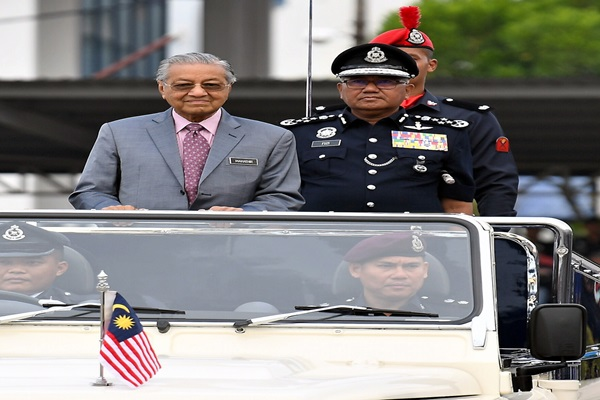 The Prime Minister also congratulated RMP for maintaining the excellent momentum in reducing the national crime index last year to only 88,662 cases compared to 100,611 cases earlier.


"This is a fall of 11.9 per cent. This statistic proves the commitment of RMP to fulfill the hopes of the people now who are very sensitive in terms of their security and wellbeing," he said.

Dr Mahathir also called all strata of society to continue cooperating and assisting RMP in fighting crimes and eradicating elements attempting to threaten national sovereignty and public order.

"The people should be aware that even though the trust to look after national security rests on the shoulders of RMP, the effectiveness of their actions depended on our cooperation.

"As such the slogan of combating crimes together which we heard in the past should be appreciated and put into practice," he said.

Speaking at the 212nd Police Day celebration, Dr Mahathir also hoped all members of RMP would continue to serve to protect the sovereignty, security, well-being of the people and country.

"Rest assured, this is a noble and blessed service...on behalf of the government of Malaysia, I wish to place on record my appreciation and thanks to all RMP personnel for all their services and sacrifices.

"The dedication and service of all RMP members would continue to be appreciated and remembered by country and people as well as our coming generations," he said and prayed for the spirits of the fallen policemen to be blessed.

-- BERNAMA