By Sakini Mohd Said
MUKAH (Bernama) -- Who would have thought that 'linut', a traditional delicacy of the Melanau and Bisaya communities in Sarawak, can be used as a resist for making batik?
Linut, made of fresh sago flour mixed with hot or boiling water, is usually eaten with sambal or other dishes. Also a popular dish in Sabah and Brunei, linut is usually served during festivals or get-togethers with relatives.
When hot water is added to the sago flour, the mixture develops a glue-like texture which makes it an ideal replacement for candle wax, which is commonly used as a resist in the batik-making process.
(To produce coloured designs on a textile, the wax is applied on the parts of the cloth to be left undyed as it prevents the dye from penetrating those parts.)
Using this sago mixture as a resist in batik production is the latest innovation of the Malaysian Handicraft Development Corporation (Kraftangan Malaysia). It was introduced early this year in a bid to inject more uniqueness and exclusiveness into the local batik industry.
Not many people, however, are aware that this traditional food item possesses great potential for the batik industry.
Handicraft maker Andrea James, 34, said the locals themselves who were familiar with linut, let along outsiders, did not have the slightest inkling that it could be used as a substance for making batik.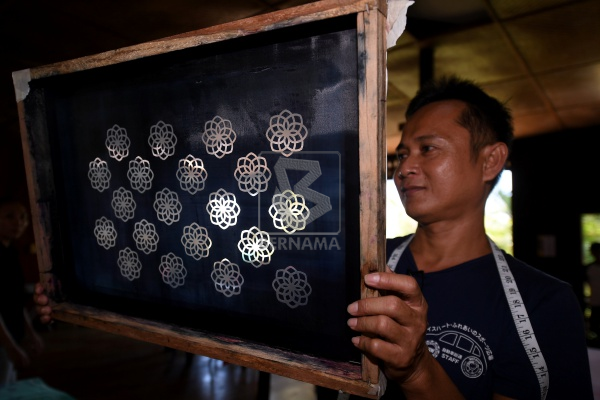 Musa Ahmad, 52, used the silk-screen printing technique in producing Batik Linut. -- fotoBERNAMA (2019) COPYRIGHTS RESERVED.
"To be honest, the people of Mukah have never been involved in batik production prior to this as we mostly focused on weaving handicrafts from the leaves of the 'rumbia' palm, which yields sago," she said.
She said she was excited when she was invited by Kraftangan Malaysia to participate in a pilot project to produce "linut batik" in Kampung Telian Tengah, Mukah, located about 143 kilometres from Sibu.
Andrea was speaking to Bernama when met at a textile craft industry programme organised by Kraftangan Malaysia here, recently.
The programme, from April 1 to 3, gave members of the media a chance to see how a traditional dish like linut can be transformed into a useful substance for batik production.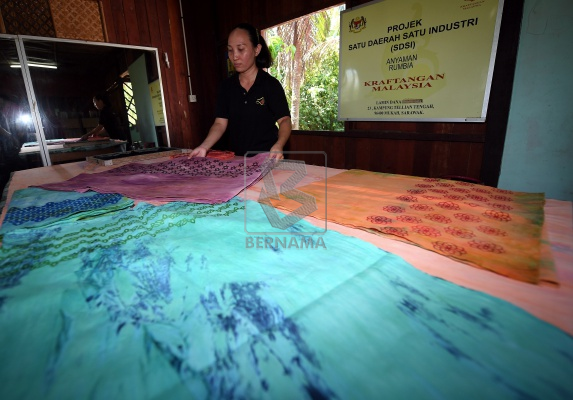 Andrea James ,34, one of the paricipants for the Batik Linut project in Kampung Telian Tengah, Mukah, Sarawak. -- fotoBERNAMA (2019) HAK CIPTA TERPELIHARA
REPLACING WAX WITH LINUT
Besides Andrea, 29 others, including youths and homemakers from the local community, are also involved in the "linut batik" project in Kampung Telian Tengah. They are not only the pioneers of linut batik but are also set to operate it as a business undertaking.
Linut is a good replacement for candle wax because its thick and sticky constituency makes it an effective medium to prevent water and dye from penetrating those parts of the cloth that have to be left undyed, explained Andrea, who is in charge of the linut batik project.
"Not only is it an effective replacement for wax, but the use of linut can also result in the creation of more attractive patterns and colour effects," said Andrea, who had attended a course on linut batik production conducted by Kraftangan Malaysia in Kampung Telian Tengah early this year.
She said the linut batik-making process was similar to the production of batik in other places that use the silk-screen printing technique.
"The only difference is that we use linut as a resist to get the background colour of the fabric and when colouring the motifs," she said.
To ensure that linut serves its functions effectively, close attention must be given to the way it is prepared.
"If it is prepared wrongly and becomes too watery or too sticky, it will affect the colouring process," added the mother of two.
TO BE SHOWCASED IN CRAFT FESTIVAL
Andrea, who is of Melanau descent, said it would take one to three days, depending on the weather, to produce a piece of linut batik cloth measuring 2.5 metres by four metres.
One of the main reasons Kraftangan Malaysia chose Kampung Telian Tengah as the site of its pioneer linut batik project is the plentiful supply of sago all year-around.
"For us, sago is easily available due to the abundance of rumbia palms in the Mukah division. The price is also cheaper here than in Kuching. We usually buy sago once a week in its granular form, and not in the form of flour," said Andrea.
Out of the 46,768 hectares of land planted with rumbia in Sarawak, a total of 40,642 ha is located in the Mukah division.
Kampung Telian Tengah linut batik project coordinator Diana Rose, 57, said the project participants were now busy completing their first batch of linut batik fabrics which were set to be showcased and sold during the 2019 Borneo Textile Craft Festival to be held in Kota Kinabalu, Sabah, from April 12 to 21.
"We are proud that our village was chosen as the pioneer for the development of linut batik. This innovative product has given the local community an opportunity to generate an extra income," she said.
Diana also said that they were working with well-known Sarawak designer Abdul Latif Mohti and young designers like Lyona Stephen to come up with attractive motifs for their linut batik fabrics and ready-to-wear apparel for men and women.
Meanwhile, Kraftangan Malaysia Sarawak branch director Azran Arip said the 2019 Borneo Textile Craft Festival would enable Sabah and Sarawak textile craft entrepreneurs to promote their products and introduce new ones like linut batik.
He said 90 entrepreneurs would participate in the festival, organised by Kraftangan Malaysia.
"I hope this initiative of Kraftangan Malaysia would enable them to expand their marketing network," he said, adding that the agency was targeting sales totalling RM500,000 during the 10-day event.
Translated by Rema Nambiar
BERNAMA