SEREMBAN, Aug 15 (Bernama) -- The family of Nora Anne Quoirin -- the Irish-French teen who went missing in the Negeri Sembilan jungle and was found lifeless after a 10-day search -- expressed their gratitude to all involved in helping to find her.
The Quoirins appreciation was conveyed via a statement issued today by the Lucie Blackman Trust, a charity which says it provides support to British nationals/families with a loved one missing, murdered or in crisis abroad.
The statement quoted them as saying: "We would like to thank all the people that have been searching for Nora and trying their best to find her. We thank the local people here and those far and wide for their prayers and support at this time.
"Nora has brought people together, especially from France, Ireland, Britain and Malaysia, united in their love and support for her and her family. She has truly touched the whole world. To all our friends and family at home, we can't thank you enough for all your love.
"Nora is at the heart of our family. She is the truest, most precious girl and we love her infinitely. The cruelty of her being taken away is unbearable. Our hearts are broken. We will always love our Nora," the family said of their first-born who suffered from a learning disability.
Nora, 15, was found without clothes on near a stream about 2.5km from theDusun resort at 1.57pm on Aug 13 by a group of hikers who had joined the search and rescue operation launched on Aug 4.
Her body was airlifted by helicopter on the same day to Hospital Tuanku Ja'afar in Seremban for a post-mortem which was performed by pathologists from Hospital Kuala Lumpur and Hospital Tuanku Ja'afar.
Today, Negeri Sembilan police chief, Datuk Mohamad Mat Yusop, said the autopsy report reveals that Nora died of gastrointestinal bleeding probably due to prolonged stress and having gone without food for a long time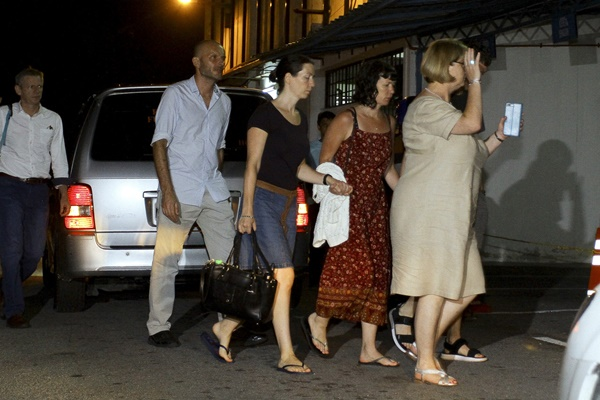 Family member of the missing victim Nora Anne Quoirin was seen in the forensic room at the Tuanku Jaafar Seremban Hospital today.The body of a fair-skinned woman found near The Dusun resort in Pantai today has been confirmed to be that of Nora Anne Quoirin, 15, who was reported missing on Aug 4.
It also reveals she died two - three days before her body was discovered and that there were no signs on the body to indicate rape, he added.
-- BERNAMA