By Fadzli Ramli
MAKKAH (Bernama) -- Four years ago, I sent my grandfather Mohtar Haron, 84, to the Senai International Airport in Johor. He was heading to Makkah to perform haj, and I remember him praying that our family members would one day be granted the same privilege of being the 'guests of Allah'.
I smiled in response. I told him that I was not quite ready to go because the savings I had in my Tabung Haji (TH) account was not quite enough. Furthermore, I added, I was still young and had a lot to improve on before I can deem myself worthy of such privilege.
"You will go if Allah has decreed so. I will pray for you there," he said.
It was those words of his that resonated in my mind last June, when I was told that I would be given the rare opportunity to provide coverage of this year's haj pilgrimage and perform my haj, courtesy of TH.
My grandfather was clearly elated to hear the news of my going. He iterated that if Allah had chosen me as a
duyufurrahman
(guest of Allah), it would be as if my name was "written on the door of the Kaabah " and nothing could prevent me from going.
The phrase "written on the door of the Kaabah" is a figure of speech Malays have used since the olden days to illustrate the significance of a
duyufurrahman.
I have seen this for myself in Makkah, after learning of the 1,001 obstacles faced by the pilgrims I've met. Yet they have all made it there to perform haj, the fifth and final pillar of Islam. It was indeed as if their names were already written on the Kaabah door.
AGAINST THE ODDS
One such person was Fatimah Eral. The 62-year-old only made RM40 a day selling
kuih
and
nasi kuning
back home. The single mother of three from Semporna, Sabah, lived from hand to mouth after her husband left her 10 years ago.
She could hardly believe her luck when she was selected to be sponsored for haj under TH's senior citizen fund (Tabung Warga Tua). Fatimah told me that she cried and expressed her gratitude to God after every night prayer since.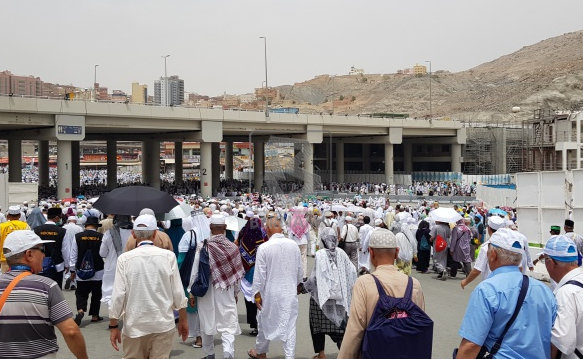 Blind pilgrim Maraini Mat Piah had been determined to fulfill her lifelong dream of going for haj despite her disability. The 55-year-old from Shah Alam, Selangor was ready to go on her own but as fate would have it, she made a friend in Mazita Abdul Ghaffar, 54, whom she met while undergoing medical check-up for haj. The two friends ended up going to Makkah together.
"
Alhamdulillah
(praise to Allah), everything has gone well since we arrived and we have even been performing
tawaf
(one of the rituals of haj) together," she told Bernama.
Mute and deaf couple Ibrahim Ahmad and Azizah Mat Zain were also among the pilgrims I've met who made it to Makkah despite the odds.
Ibrahim, 62, and Azizah, 54, earned a humble income as rubber tappers in Alor Setar, Kedah but was determined to save up for haj despite the constant challenges they faced. They still have a hard time believing that they have finally made it for haj.
GOD WILL PROVIDE A WAY
TH head of haj consultant Datuk Wan Mohamad Abdul Aziz said it reminded him of a hadith that explained how a person would not die until he has received all the provisions apportioned for him.
"This means our sustenance or fortune is in Allah's hands, but to obtain it we need to put in due effort, just as how we need to work towards preventing something that would harm us," he explained.
Being chosen to become a
duyufurrahman
was a gift from Allah, he said, and as such a recipient should plan to spend their time at the Holy Land with meaningful activities.
Wan Mohamad said that every person, despite their age or background should plant a desire to perform haj and become a
duyufurrahman
as it becomes compulsory on those with the means to perform it.
"Muslims should make an effort towards fulfilling this obligation, provided that they meet the compulsory requirements for haj, and this does not only mean financial means. If Allah wills it, He will provide from sources we could never have imagined," he said.
NOT ONLY FOR THE PIOUS
He refuted the misperception that only the pious would be accorded such an opportunity and said that the reasons a person would make it for haj was known only to Allah alone. Therefore, it should not be used as a benchmark for piety.
"We might not think a person is "good" enough to be invited for haj as a guest of Allah, but unbeknownst to us, he might be the one who has been the most gracious in serving his parents.
"We should be happy for everyone who gets to go, even if we deem him lacking in piety. We pray that he becomes a better person tomorrow. We might know of his faults in the past, but he could have repented and become a much better person in the future," said Wan Mohamad.
I also had the chance to discuss the topic with the Deputy Mufti of Selangor Datuk Dr Anhar Opir, who is also a consultant with TH.
He shared with me his experience of becoming a
duyufurrahman,
10 years ago.
"At the time, I was tasked with looking for deserving candidates to be sponsored for haj. A village head and I managed to gather 13 names, but at the last minute one candidate pulled out.
"We went to see a TH officer and the village head asked him if he could take over that candidate's place. The officer said yes, and he asked further if he could bring his wife along. The officer also agreed to it. After the meeting, he called me and said another person would be joining and suggested that I come along as well," he said.
They then submitted the four passports of additional candidates to the TH officer and all four candidates were accepted, even though Anhar himself had yet to open a TH savings account.
He concluded that no one could become a
duyufurrahman
if God had not willed it so, no matter how much wealth and influence they had. Conversely, nothing could stop a person from becoming a guest of Allah if it was decreed that they would.
For myself, I have nothing but tears and prayers of gratitude for the opportunity to perform haj on Aug 13, this haj season.
May the names "written on the door of the Kaabah" continue striving towards bettering themselves.
Translated by Sakina Mohamed
-- BERNAMA