KUALA LUMPUR, Aug 25 (Bernama) -- Prime Minister Tun Dr Mahathir Mohamad will make his first official visit to the Socialist Republic of Vietnam for three days starting tomorrow, since assuming office as the seventh Prime Minister.
The Foreign Ministry (Wisma Putra) in a statement today said Dr Mahathir's last official visit to Vietnam was in 1996.
According the the statement, the Prime Minister is scheduled to hold a bilateral meeting with the Prime Minister of Vietnam Nguyen Xuan Phuc where they will discuss Malaysia-Vietnam bilateral cooperation, as well as regional and international issues of common concern to both countries.
It said, Dr Mahathir will also be having separate meetings with the Malaysian diaspora and Malaysian captains of industry.
"Vietnam is a close friend and an important partner of Malaysia. The visit will provide an opportunity for both countries to consolidate the already close bilateral ties, and further reinforce the commitment outlined in the Framework of the Strategic Partnership, signed in August 2015.
"Malaysia-Vietnam trade and investment relations are substantial. In 2018, the two way trade was valued at USD13.3 billion, making Malaysia the 8th largest trading partner for Vietnam," it said.
Wisma Putra added, for the first quarter of 2019, bilateral trade increased by 1.18% to USD 4.27 billion, as compared to the corresponding period in 2018, and Malaysia is the 8th largest foreign investor in Vietnam, with registered capital valued at USD 12.48 billion at the end of 2018
During the visit, Dr Mahathir will be accompanied by his wife Tun Dr Siti Hasmah Mohd Ali, Minister of Foreign Affairs Datuk Saifuddin Abdullah, as well as senior officials from the Prime Minister's Office, the Ministry of Foreign Affairs and the Ministry of International Trade and Industry.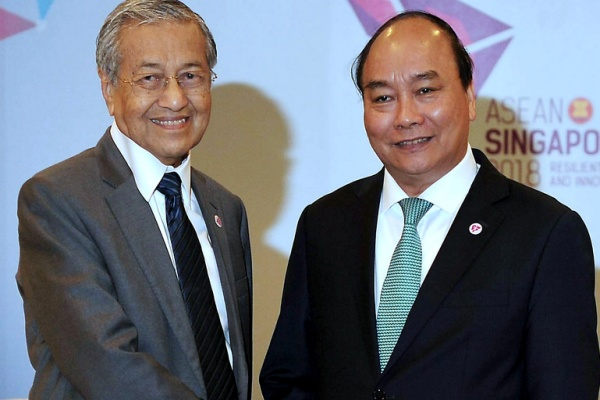 -- BERNAMA