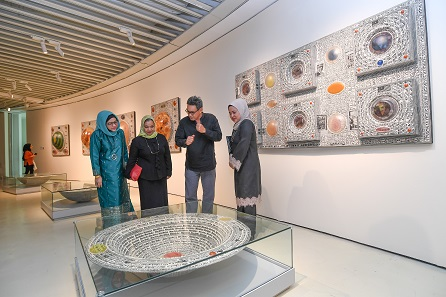 Artiste, Prof Zulkifli Yusoff explaining about his artwork MERDEKA: A Work in Progress to Puan Zahariah Abdul Rahman, Head, Group Strategic Communications PETRONAS, Puan Noor Afizah M Yusoff, Head, Brand Management, PETRONAS and Puan Dzalina A. Manan, Head, GALERI PETRONAS during the exhibition's curatorial walkthrough
KUALA LUMPUR, Sept 12 (Bernama) -- In conjunction with PETRONAS' 45th anniversary on 17 August, and the celebration of Independence Day and Malaysia Day, GALERI PETRONAS proudly presents Bersama Merentas Zaman exhibition.

Complementing PETRONAS' 2019 corporate campaign, the exhibition is part of an integrated element in the 45-day long celebration to commemorate the national oil and gas company's milestones.

Bersama Merentas Zaman fuses together the corporate narratives through Tree of Tales, a digital labyrinth-like installation that displays PETRONAS' corporate social responsibility (CSR) achievements in providing access to education, uplifting community well-being and development, as well as preserving the environment, since its inception in 1974.




For the full text, click
here