EXCLUSIVE PRESS News List
UEM Sunrise Celebrates Nelson Mandela International Day 2019 Through Inspired Good Deeds And Sustainable Actions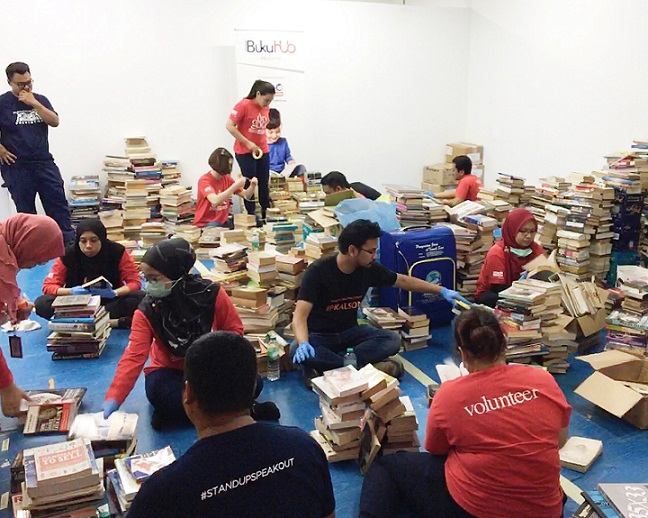 KUALA LUMPUR, July 22 (Bernama) -- Inspired by Nelson Mandela International Day ("Mandela Day") on 18 July 2019, a group of UEM Sunrise Berhad ("UEM Sunrise") staff volunteered their time, sweat and energy to perform good deeds and sustainable actions, sorting out thousands of books donated by the public after the launch of its BukuDrive, which was part of the company's initiative for its community library programme, BukuHub.
Mandela Day was initiated by the United Nations in 2009 after Dr. Mandela's global call to action that celebrates the idea that everyone has the power to transform the world and the ability to make an impact in every community. Dr. Mandela's message was loud and clear: Every one of us can step up and act for enduring change, and we as responsible corporate citizens all have a duty to do so.
AXA Empowered 6,500 Runners To Contribute RM 100,000 To 5 Good Causes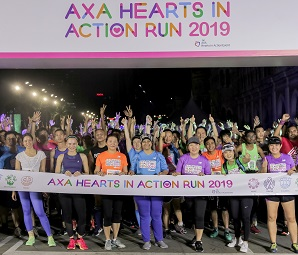 KUALA LUMPUR, July 22 (Bernama) -- With overwhelming support and participation from 6,500 runners this year, AXA Hearts in Action Run 2019 (in its 5th consecutive year) had successfully contributed a total of RM 100,000 to 5 non-governmental organisations (NGO) namely WWF-Malaysia, World Vision Malaysia, National Kidney Foundation of Malaysia, National Cancer Society Malaysia and Yayasan Jantung Malaysia.

This year's theme "Know You Can Make A Difference" supports AXA's purpose in becoming a trusted partner, by encouraging Malaysians to run for better health, and at the same time champion a noble social cause close to their heart.
AG&P Receives Landmark Equity Investment from a Consortium of Preeminent Japanese Investors Osaka Gas and JBIC
SINGAPORE, July 22 (Bernama) -- AGP International Holdings Pte. Ltd. (AG&P) has received a major equity investment from two Japanese institutions to support AG&P's success in innovating and disrupting the global natural gas value chain.
Osaka Gas Co. Ltd., through its affiliate Osaka Gas Singapore Pte. Ltd. (Osaka Gas) and the Japan Bank for International Cooperation (JBIC) have invested in a minority stake in AG&P. This capital will be used to execute AG&P's multiple LNG initiatives worldwide, including the development and roll-out of:
Press Statement Responding To The Allegations Made By Sahabat Alam Malaysia (SAM)
KUALA LUMPUR, July 22 (Bernama) -- In reference to the statement made by Sahabat Alam Malaysia (SAM), I would like to reiterate that it is mandatory for companies registered under Malaysia Sustainable Palm Oil (MSPO) to recognise land use rights and native customary land rights (NCR).
In addition, all entities going for MSPO certification shall have in place, an appropriate conflict and dispute resolution process which has been accepted by all concerned stakeholders.
Osaka Gas Co., Ltd.: Investments and a Conclusion of Collaboration Agreement with AGP International Holdings Pte. Ltd., as Development of Natural Gas Infrastructure Proceeds
OSAKA, Japan, July 22 (Bernama) -- Osaka Gas Co., Ltd., (Osaka Gas) has, through their wholly-owned subsidiary, Osaka Gas Singapore Pte. Ltd. (OGS), and in conjunction with the Japan Bank for International Cooperation (JBIC), invested capital in AGP International Holdings Pte. Ltd. (AGP IH). Osaka Gas has also entered into a collaboration agreement specific to AGP IH and its natural gas value chain.
AGP Group has expanded from its over 100-year old legacy in construction and engineering business to acquisition of Gas Entec Co., Ltd. (Gas Entec), which designs small- to medium-sized LNG vessels. AGP Group possesses high engineering skills and marketing abilities in LNG industry, actively involved in developing the LNG businesses with floating LNG platforms and city gas business to meet the growing demand mainly in Southeast Asia and India.
Malaysia Prime Minister Launches Visit Malaysia 2020 Campaign Logo
SEPANG, July 22 (Bernama) -- YAB Tun Dr. Mahathir Mohamad, Prime Minister of Malaysia, has officially launched the Visit Malaysia 2020 campaign logo today at Kuala Lumpur International Airport simultaneously calling upon all Malaysians to embrace the campaign as a national mission to ensure its success.
The campaign logo, part of the campaign's marketing and promotional efforts, features various recognisable icons of Malaysia such as the hornbill, the bunga raya (hibiscus), the wild fern and colours of the Malaysian flag. Together, they represent the diversity of Malaysia's culture, heritage, flora and fauna as well as experiences offered as a holiday destination.
Immerse Yourself in an e-Sports Extravaganza at the e-Sports & Music Festival in Hong Kong
HONG KONG, July 22 (Bernama) -- This summer, visitors to Hong Kong can enjoy a host of gourmet happenings, shopping sprees, signature city events, and attractions' summer programmes. Attending a large scale e-sports event is one of the must-do activities to enjoy a vibrant summer, especially for those who are young or young at heart. Organised by the Hong Kong Tourism Board (HKTB), the third edition of e-Sports & Music Festival Hong Kong, presented by Cyberport, will be staged from 26 to 28 July (Friday to Sunday) in the Hong Kong Convention and Exhibition Centre (HKCEC), with more exciting new elements and entertainment options than ever.