EXCLUSIVE PRESS News List
The 7th Edition Of The Global Waqf Conference (GWC2018) Launched In Kuala Lumpur
KUALA LUMPUR, Nov 15 (Bernama) -- The 7th edition of the Global Waqf Conference (GWC2019) launched on the 11th of November 2019, in Dewan Tun Abdul Razak, Menara Kembar Bank Rakyat. GWC2019 was organised by Al-Madinah International University (MEDIU) in collaboration with Finterra, Islamic Development Bank (IsDB), International Islamic University, University (IIUM), Tun Abdul Razak (UNIRAZAK) and other supporting partners.
This year, the Global Waqf Conference brought together influential experts, policymakers and practitioners to address and explore new approaches, challenges and wealth generating opportunities for Waqf development globally. With the theme of "The Development, Management & Innovation of Waqf for Millennial Generation", the conference served as a platform to focus on establishing clarity and a collective understanding of the role and potential which the millennial hold in the revival and facilitation of Waqf development on a global scale through the promotion of new economic alternatives, technologies and innovations.
Akwel: 9 Months Turnover Increases +3.3%
PARIS, France, Nov 15 (Bernama) --

14 November 2019

9 MONTHS TURNOVER INCREASES +3.3% Akwel (FR0000053027, AKW, PEA-eligible), the automotive and HGV equipment and systems manufacturer specialising in fluid management and mechanisms, has posted consolidated turnover of €826.3m on the 30 September 2019, up +3.3%.
Initial Hygiene Malaysia "Leaves No One Behind " In Driving Community Awareness On Hygienic Washroom For World Toilet Day
KUALA LUMPUR, Nov 15 (Bernama) -- What will you do when you have the urge for nature's call while out of your comfort home? Will you insist on finding clean public toilets, or just pinch your nose through while getting your "business" done at any nearest public toilet that are unkempt and dirty?

A report from New Straits Times says that 61% out of the 10K public toilet in Malaysia are a disgrace. Only a miserable 3% achieved 5-star ratings, while 10% are too terrible to get even 1-star. Even our Prime Minister, Tun Dr Mahathir commented that he avoids entering the public toilet. The dirty and foul-smelling environment is an embarrassment to everyone. Some of the common sights such as shoes marks heavily stained on the toilet seats, sanitary pads thrown on top of the sanitary bin instead of inside the bin or the hysteric bloody mess on the floor. Eventually public washrooms are labelled as unclean and unhygienic in Malaysia.
Media Statement Certified Sustainable Palm Oil (CSPO) Forum: MSPO Ready 2020, 18 November 2019
KUALA LUMPUR, Nov 15 (Bernama) -- The Malaysian Palm Oil Certification Council (MPOCC) organised its annual event, "Certified Sustainable Palm Oil Forum (CSPO): MSPO Ready 2020", is being held in conjunction with the International Palm Oil Congress and Exhibition 2019 (PIPOC 2019) at the Kuala Lumpur Convention Centre (KLCC).

The half-day event is expected to be attended by about 500 international and local participants.
BERNAMA Radio Now Known As Stesen Berita Bisnes Anda
KUALA LUMPUR, Nov 15 (Bernama) -- BERNAMA Radio has changed its name to Stesen Berita Bisnes Anda with effect from Oct 1, 2019.
The radio station which formerly broadcasts domestic, regional and world news including live field sports, traffic, weather and stock market reports and talk shows in Malay, is now a dedicated Malay language business radio station.
Stesen Berita Bisnes Anda will broadcast the latest business news including talks and discussions centred on entrepreneurial and business development.
Overseas Chinese Cultural Exchange and Cooperation and the Guangdong-Hong Kong-Macao Youth Cultural Creativity Development Conference Held in Jiangmen, China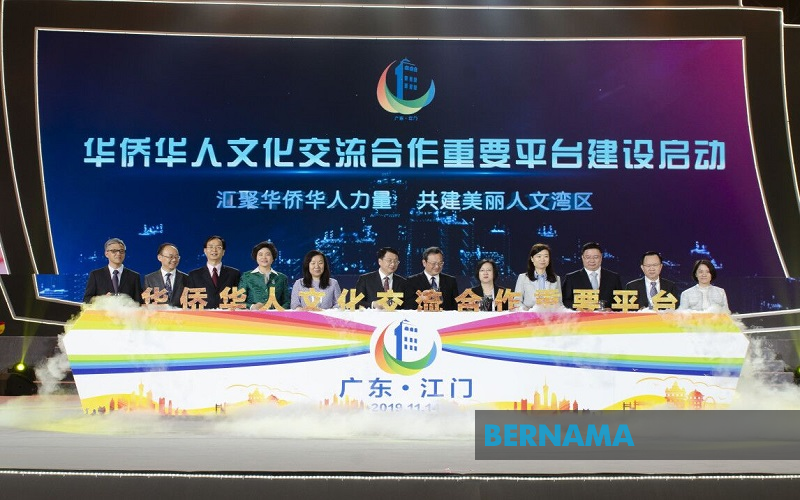 JIANGMEN, China, Nov 15 (Bernama) -- From November 13 to 15, Jiangmen City in Guangdong Province held the Overseas Chinese Cultural Exchange and Cooperation and the Guangdong-Hong Kong-Macao Youth Cultural Creativity Development Conference at the Guangdong Zhuxi International Conference & Exhibition Center. More than 1,000 overseas Chinese and youths participated. Through exchange and mutual learning among civilizations, people-to-people ties between different countries grew stronger. The Conference served as a significant platform to help the world understand the Chinese culture.

Jiangmen City, located in the urban center on the west bank of the Pearl River Delta in Guangdong Province, is about 100 kilometers away from the Guangdong-Foshan metropolitan area and the Shenzhen-Hong Kong economic circle. It is a vital node city in the Guangdong-Hong Kong-Macao Greater Bay Area.
Meltwater Participates in the Launch of AWS Data Exchange
SAN FRANCISCO, Nov 15 (Bernama) -- Meltwater, one of the world's largest providers of news and social data, today announces it is a launch provider on AWS Data Exchange, a new service that makes it easy for millions of Amazon Web Services (AWS) customers to securely find, subscribe to, and use third-party data in the cloud.

"We're delighted to welcome Meltwater in AWS Data Exchange," said Stephen Orban, General Manager, AWS Data Exchange, Amazon Web Services, Inc. "With the market calling for more external data to compliment internal datasets, AWS Data Exchange customers can now leverage Meltwater's data to enhanced visibility into the world around them, so that they can make better informed decisions."