EXCLUSIVE PRESS News List
Cochlear Announces Expansion of Global Repair Centre for Implantable Hearing Solutions in Kuala Lumpur
KUALA LUMPUR, Malaysia, June 18 (Bernama) -- Cochlear Limited (ASX: COH), the global leader in implantable hearing solutions, today announced an expansion of services in its Global Repair Centre located in Kuala Lumpur, Malaysia. The Australian Acting High Commissioner to Malaysia Michael Growder, together with officials from the Australian Trade and Investment Commission, Malaysian Investment Development Authority (MIDA), Association of Malaysian Medical Industries (AMMI), Ministry of Health (MOH), KPJ Healthcare University College and other related bodies attended the ceremony to mark the expansion of the facility.

The Cochlear Global Repair Centre was established in 2015, consolidating eight centres around the globe into one world-class facility. Since its opening, the Global Repair Centre has delivered more efficient, faster and consistent external sound processor repairs for customers, enabling a better customer experience and even greater processor reliability. Cochlear is now expanding its services to assemble replacement Nucleus 6 sound processors, where required, for existing customers covered by Cochlear's processor warranty.
Hospitality Ecosystems in Malaysia: Sabah and Sarawak a Vibrant Tourist Destination
KUALA LUMPUR, June 18 (Bernama) -- The Conference on Tourism Potential in Sabah and Sarawak organised by the Malaysian Investment Development Authority (MIDA) on 18 June 2019 at the MIDA headquarters received an encouraging response with over 80 participants from the Malaysian Association of Hotel Owners (MAHO), Malaysian Association of Amusement Themepark and Family Attractions (MAATFA), hoteliers, tourist attraction operators, business chambers among others.
This inaugural event was an effort with the cooperation of the Ministry of Tourism, Arts and Culture Malaysia (MOTAC), Ministry of Tourism, Culture and Environment Sabah (KePKAS), Ministry of Tourism, Arts, Culture, Youth and Sports Sarawak (MTACYS), Sabah Economic Development and Investment Authority (SEDIA), Malaysia Convention & Exhibition Bureau (MyCEB), MAHO and MAATFA.
Press Release - Despatch Of Offer Document (HLCSB And RSL)
KUALA LUMPUR, June 18 (Bernama) -- We refer to the notice of the offer served on the Board of Directors of Tasek on 28 May 2019.
On behalf of the Joint Offerors, we wish to inform you that the offer document dated 18 June 2019 in relation to the Offer which sets out the details, terms and conditions of the Offer together with the forms of acceptance and transfer enclosed therein ("Offer Document"), has been despatched to the eligible holders of the Offer Ordinary Shares and Offer Preference Shares today.
Experience The Vibrant Culture of Chow Kit with Hilton Garden Inn
KUALA LUMPUR, Malaysia, June 18 (Bernama) -- Hilton expanded its brand portfolio and brought in the first Hilton Garden Inn to Malaysia, making it the first international hotel brand to open in the Chow Kit neighbourhood. A hotel with global reach and local touch, Hilton Garden Inn Chow Kit has welcomed travellers from all over the world since opening its doors.
Chow Kit, named after wealthy Penang businessman Loke Chow Kit who made his mark in the 1880s, has seen a dramatic change to its social and commercial landscape in recent years. The development in one of the city's most treasured neighbourhoods can be attributed to the joint effort between Kuala Lumpur City Hall (DBKL) and Kampong Bharu Development Corporation (PKB).
Taiwan Expo to Wow Penang For the First Time
12 Pavilions across 6 Categories to improve Malaysia-Taiwan collaboration starting July 5

PENANG, Malaysia, June 18 (Bernama) -- Taiwan Expo, organised by TAITRA, is back in Malaysia following the fruitful outings over the past two years in Kuala Lumpur. This year, Taiwan Expo 2019 will make its way to Penang, on the 5th and 6th of July to expand its reach to more Malaysians. Taiwan Expo 2019 has selected six main exhibition categories tailored to Penang's development roadmap. The six categories include Industry 4.0, Green Technology, Medical Care, Halal Products, Fashion, Culture & Tourism.

Event organizer Bureau of Foreign Trade and TAITRA has been building Taiwan Expo since 2017 as a platform for Malaysians to learn more about Taiwan, and up to 88% of visitors have expressed their desire to visit Taiwan within the year. A total of 42,000 visitors participated in the previous years' events, and led to business volume worth some USD 86 million.
VSure.Life Races in as First Digital Mobile Lifestyle Insurance Protection Service in Malaysia and Southeast Asia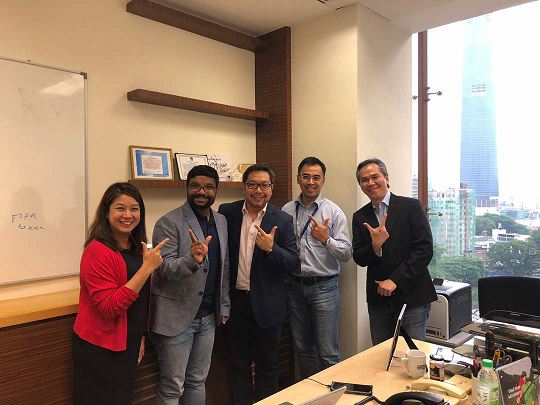 KUALA LUMPUR, June 18 (Bernama) -- Southeast Asia's first on-demand lifestyle insurance protection provider, VSure Tech Sdn Bhd launches the VSure.Life app (application) making it the first digital mobile insurance in the region supported by underwriter partner AXA Affin Life - eMedic medical insurance today.
"I congratulate Eddy Wong and his VSure team for launching eMedic as one of the first products promoted via the VSure.Life app in our pursuit to be the preferred health and protection insurer for millennials," quipped Rohit Nambiar, CEO of AXA Affin Insurance Malaysia.
Study from Project Management Institute Identifies Six AI Technologies Impacting Project Professionals
PHILADELPHIA, June 18 (Bernama) -- Project Management Institute (PMI) today released its 2019 Pulse of the Profession® In-Depth Report: AI Innovators: Cracking the Code on Project Performance
. The report provides an in-depth look at how artificial intelligence (AI) is impacting organizations and the project management profession. Findings reveal that AI disruption is happening and at a large scale: 81 percent of respondents report their organization is being impacted by AI technologies; 37 percent say adopting AI technologies is a high priority for their organization; and project professionals say they expect the proportion of the projects they manage using AI will jump from 23 to 37 percent over the next three years.