EXCLUSIVE PRESS News List
OraStream in Neil Young´s New Book "To Feel the Music "
SINGAPORE, Sept 10 (Bernama) -- OraStream Private Limited is proud to announce that the company's adaptive streaming technology has been featured in Neil Young's new book "To Feel the Music: A Songwriter's Mission to Save High-Quality-Audio." Co-written with Phil Baker, the book tells the story of Neil Young's efforts to improve the quality of audio that consumers hear.
The book describes the business and development story behind Pono and relates how Neil Young's massive online archives, which the Guardian (UK) described as "a revolution in fandom," came about. Neil Young reveals how a unique adaptive streaming technology developed in Singapore made it possible to provide all of his music streaming in high resolution with the Neil Young Archives (www.neilyoungarchives.com).
AM Best Affirms Credit Ratings of BIDV Insurance Corporation
SINGAPORE, Sept 10 (Bernama) -- AM Best has affirmed the Financial Strength Rating of B++ (Good) and the Long-Term Issuer Credit Rating of "bbb" of BIDV Insurance Corporation (BIC) (Vietnam). The outlook of these Credit Ratings (ratings) is stable.
The ratings reflect the company's balance sheet strength, which AM Best categorizes as strong, as well as its adequate operating performance, neutral business profile and appropriate enterprise risk management (ERM). The ratings factor in a neutral impact from the company's ultimate majority ownership by the Vietnam government.
Wow! Taiwan @ Malaysia I-Health Business Matching Concludes in Triumph
KUALA LUMPUR, Sept 10 (Bernama) -- "Wow! Taiwan @ Malaysia I-Health Business Matching" was organized by the Commerce Development Research Institute (CDRI) and supported by the Bureau of Foreign Trade (BOFT) of Taiwan. Spire Research and Consulting (Malaysia) was appointed by CDRI in co-organizing the Business Matching "Wow! Taiwan" project concludes in triumph.

This event aims to introduce quality Taiwanese brands of various industrial fields to ASEAN consumers. "Wow! Taiwan" project has picked I-Health as the topic for this year.
Aptorum Group Has Initiated IND-Enabling Studies For Its ALS-4 Small Molecule Candidate For The Treatment Of Infections Caused By Staphylococcus Aureus Including MRSA
NEW YORK, Sept 10 (Bernama) -- Aptorum Group Limited (Nasdaq: APM) ("Aptorum Group"), a biopharmaceutical company focused on the development of novel therapeutics to address global unmet medical needs, announces that it has initiated investigational new drug (IND)-enabling studies for ALS-4, a small drug molecule candidate indicated for the treatment of infections caused by Staphylococcus aureus (or "S. aureus") including methicillin-resistant Staphylococcus aureus (MRSA, i.e., one of the commonly known "super-bugs") based on a novel anti-virulence approach.

The ALS-4 candidate has been progressing well and the first series of GLP toxicology studies have been completed through an appointed North American based contract research organization (CRO). In particular, ALS-4 candidate did not show any mutagenicity in the in vitro
Ames tests. ALS-4 development is on track and the company targets to submit the related IND in the first half year of 2020 and a hybrid Phase 1 clinical study is currently planned in North America with both healthy volunteers and patients to obtain preliminary efficacy readout.
Agrobank Organises Durian Festival Support Nation New Source Of Wealth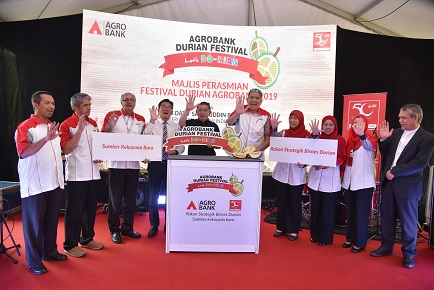 KUALA LUMPUR, Sept 6 (Bernama) -- Agrobank today organised an inaugural Agrobank Durian Festival, an initiative by the Bank to promote durian related businesses as new wealth creation. The festival was part of Agrobank's aim to expand networking and provide business opportunities for agropreneurs in durian businesses.

The festival was launched by YB Dato' Salahuddin Ayub, Minister of Agriculture & Agro-Based Industry (MOA) and witnessed by YB Tuan Sim Sze Tzin, Deputy Minister of Agriculture & Agro-Based Industry, YBhg Dato' Mohd Sallehhuddin Hassan, General Secretary of Ministry of Agriculture & Agro-Based Industry, YBhg Dato' Dr. Ammar Abd Ghapar, Senior Director Domestic & Events Division of Ministry of Tourism, Arts and Culture Malaysia (MOTAC), Khadijah Iskandar, Covering Duties of President/Chief Executive Officer of Agrobank and visitors.

Lithium Battery company Lithium Werks acquiring System Integrator LiiON®
ENSCHEDE, The Netherlands, Sept 6 (Bernama) -- Lithium Werks B.V. (www.lithiumwerks.com), a fast-growing lithium-ion battery and portable power solutions group, announces the acquisition of energy storage system integrator LiiON®, LLC (http://liionllc.com/). The closing of the acquisition is expected to be finalized in the fourth quarter, pending customary closing conditions.

"Liion® is a truly complementary fit with talented people, innovative solutions and leading customers in the fast-growing verticals of UPS (uninterrupted power supply) data centers, telecom, cable and other energy storage markets," said T. Joseph Fisher III, CEO, Lithium Werks.