EXCLUSIVE PRESS News List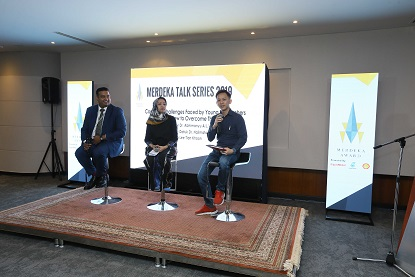 A masterclass on addressing challenges faced in developing Research & Development initiatives

KUALA LUMPUR, Sept 6 (Bernama) -- The road to success is rarely a straight line. Each and every one of us deal with a different set of bumps and challenges in our pursuit to be the best that we can be. But when it comes to finding that solution to address the pressing needs of current times, it all begins with an idea. The challenge however lies in realising those ideas into impactful solutions through research and development, commercialisation and implementation.

To help address some of the challenges currently faced by young researchers, the Merdeka Award Trust organised the Merdeka Talk Series. This one-day masterclass brought together renowned Merdeka Award Laureates, Merdeka Award Grant recipients and young Malaysian researchers from various disciplines to participate in knowledge sharing and discourse that would provide valuable insights to support these young researchers in advancing their work.
P&G, National Geographic And Global Citizen Launch Groundbreaking Series, ACTIVATE: THE GLOBAL CITIZEN MOVEMENT To Drive Action Around Poverty, Inequality And Sustainability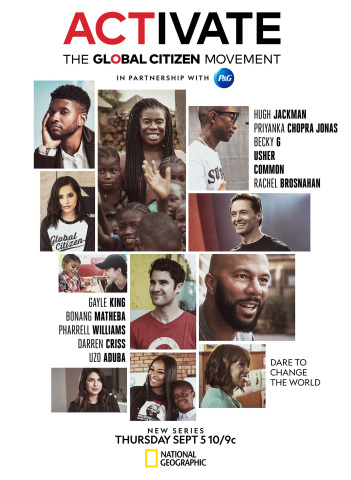 CINCINNATI, Sept 6 (Bernama) -- Procter & Gamble and National Geographic's six-part docuseries ACTIVATE, co-produced by Global Citizen and RadicalMedia, premieres tonight, Thursday, September 5, in the U.S. on National Geographic. Each episode of the six-part series delves into a different issue connected to the root causes of poverty, including sustainable sourcing, criminalization of poverty, disaster relief, girls' education, plastic waste and the global water crisis. The P&G ACTIVATE overview video can be viewed here.
The hour-long episodes begin tonight and will air weekly through October 10 in the U.S. and also on National Geographic in 172 countries and 43 languages. Episodes will highlight the work P&G and its brands - Tide, Always, Charmin and Head & Shoulders - are doing with many of its long-time partners, including Save the Children, World Vision, World Wildlife Fund, WEConnect International, and Matthew 25: Ministries, among many others.
"Japan Media Arts Distributed Museum" Opens at About 10 Locations
SAPPORO, Japan and TOKYO, Sept 6 (Bernama) --
-New Art Exhibition Inspired by Regional Cultural Artifacts Showcases Charms of Japanese Culture- Japan Media Arts Distributed Museum Office is proud to announce the opening of an exhibition, "Japan Media Arts Distributed Museum," in approximately 10 locations, including airports in Japan, as part of a new initiative funded by International Tourist Taxes by the Agency for Cultural Affairs, Government of Japan. As the first endeavor of this initiative, the office is starting off with a large-scale video installation and a decorative window art piece starting Friday, August 30, the first year of Reiwa (2019) at the New Chitose Airport International Arrivals Concourse.
The exhibition marks the start of a new initiative for visitors to Japan called "Japanese cultural media arts dissemination initiative at airports and other institutions" by the Agency for Cultural Affairs, Government of Japan.
Malindo Air Introduces More Meal Choices
PETALING JAYA, Sept 6 (Bernama) -- Malindo Air has announced that for travel effective 15 October 2019, passengers on its Economy Class will have the flexibility of choice over their in-flight meal selection with the discontinuation of complimentary meals and snacks. This would include 10 culinary choices of Oriental, Indian, Western and local cuisine at a pre-purchase price of RM10 (on-board price at RM15) per meal from its in-house catering facility. A variety of snacks have also been introduced for both pre-purchase and on-board purchase.

"The flexibility to select meals gives us the opportunity to save on cost and pass on the savings to our passengers without compromising on safety and security", said Chandran Rama Muthy, CEO of Malindo Air. "Providing this flexibility and savings also means our passengers continue to enjoy our signature extra legroom and in-flight entertainment."
teamLab Planets, a Museum Where You Move Through Water in Toyosu, Tokyo, Is Currently a Space for Autumn. The Carp Swimming on the Water´s Surface Change into Autumn Leaves When They Collide with Visitors.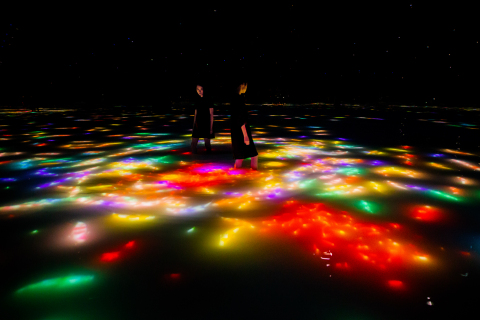 TOKYO, Sept 6 (Bernama) -- Art collective teamLab's "museum where you move through water" in Toyosu, Tokyo, teamLab Planets TOKYO DMM.com (hereafter, teamLab Planets) will change into an autumnal space for a limited time, starting on September 1. Experience an artwork space where autumn leaves and chrysanthemums spread out before you, but only until November 30.
The change to an autumnal space takes place in a massive interactive work entitled Drawing on the Water Surface Created by the Dance of Koi and People - Infinity
, where visitors to the museum can walk barefoot through water. This work changes throughout the year, with flowers that bloom and change with the seasons in real time. During this three-month period only, the koi that swim across the endlessly expansive surface of the water will change into autumn leaves, chrysanthemums, and other autumn flowers as they collide with museum visitors.
SunGen Pharma Receives Seventh ANDA Approval from US FDA
PRINCETON, N.J., Sept 6 (Bernama) -- SunGen Pharma, a privately held specialty pharmaceutical company which develops, contract manufactures, and sells pharmaceutical finished products, today announced it has received its seventh ANDA approval from the US Food and Drug Administration (FDA).
The seventh approved ANDA is for Fosapreptant for Injection 150mg/vial. This drug product is used for treatment of cyclic vomiting syndrome and late-stage chemotherapy induced vomiting. This is a sub blockbuster product of over $350M US market size for 2018 according to IQVIA. RLD Emend®'s orange book patent expired on Sep 4th and SunGen obtained its ANDA approval on Sep 5th, which makes it is the first wave of all generic approvals for RLD Emend®.
CIMB Reiterates Banking Services Remain Unaffected
KUALA LUMPUR, Sept 6 (Bernama) -- CIMB Bank Berhad ("CIMB Bank") and CIMB Islamic Bank Berhad ("CIMB Islamic") ("the banks" or "CIMB") would like to address the current speculation on the banks' IT systems.

We would like to clarify that we detected some suspicious external behaviour towards our IT systems and as a precautionary measure, we immediately suspended certain systems. This affected some aspects of our business, specifically internal functions. We would like to reiterate that our core banking system and customer data remain intact, and our customers have been able to perform their banking transactions as usual, including via CIMB Clicks, BizChannel@CIMB and Self Service Terminals (e.g., ATMs, Cash Deposit Machines).