EXCLUSIVE PRESS News List
Discover Hidden Treasures At The Coca-Cola Collectors Fair 2019
KUALA LUMPUR, April 9 (Bernama) -- If you have been on the look-out for one-of-a-kind vintage Coca-Cola items and iconic advertising images to add to your collection, then the upcoming and much-awaited Coca-Cola Collectors Fair 2019 on 4 May 2019 at Berjaya Times Square is the place to be.
The Coca-Cola Collectors Fair 2019 will see a gathering of approximately 75 collectors from 11 countries, namely China, Hong Kong, Indonesia, Japan, Macau, Philippines, Singapore, Spain, Switzerland, Thailand and Taiwan, exhibit their collectibles ranging from cans, limited-edition bottles, merchandise, miniatures, iconic posters and artwork, souvenirs to even bottle openers. Malaysia will be represented by four members from the Malaysia Coca-Cola Collectors Club Committee which was established in 2012.
Japan Hotel REIT: Reopen Of Oriental Hotel Fukuoka Hakata Station After Major Renovation
TOKYO, April 9 (Bernama) -- Japan Hotel REIT Investment Corporation (TOKYO: 8985) (hereinafter called "JHR") is pleased to announce that Oriental Hotel Fukuoka Hakata Station (hereinafter called the "Hotel") reopened today after a six-month construction for renovation.
The hotel is conveniently located at a minute walk from JR Hakata Station and has a direct access to Subway Hakata Station in the basement, providing direct connection to Fukuoka Airport (five minute train ride from Subway Hakata Station to Fukuoka Airport). In order to make the best use of attractive location facing the station, extensive knowledge and know-how were exploited by JHR and Hotel Management Japan Co., Ltd., the hotel operator. While the number of guest rooms increased to 221 from 194, hotel facilities such as fitness gym and rooftop garden on the 5th floor were newly added for a more comfortable stay by guests. All the guest rooms were renovated to accommodate at least two people with room layouts suitable for inbound and domestic leisure guests. By extensive revision of banquet and meeting rooms, the hotel better satisfies diverse needs of various hotel customers.
Nova Buildings´ Bien Hoa Fabrication Plant Officially Opens with Full Scale Operations
HO CHI MINH CITY & BIEN HOA, Vietnam, April 9 (Bernama) -- At the beginning of the year, Nova Buildings Group announced the acquisition of BlueScope Buildings' key fabrication assets at Bien Hoa City in Dong Nai Province, Vietnam. Since the announcement, the Group had taken over the steel structure fabrication site situated about 30 kilometres from Ho Chi Minh city. Preparations had been underway to refurbish and prepare the site for operation.
"Nova Buildings fabricates pre-engineered structures according to international quality standards. Since taking over the fabrication assets, our operation team has been working hard to put in place standard production procedures and quality inspection processes. The focus has been on training shop floor operators and ensuring all our welders have necessary qualifications and certifications. With the acquired facility and its equipment been in good operating conditions and readiness, and the diligence of our operation team, the preparations for operation restart is ahead of schedule. We are now pleased to be producing the inaugural batch of steel frames for our customers' projects in the region. A plan is also in place to ramp up production quickly with projected increases in demand in our sales pipeline," said Mr Cheong Ku Wei, CEO of Nova Buildings Group.
Aamir hussain appointed chief executive officer
SANTA CLARA, Calif., April 9 (Bernama) -- Collinear, a global technology innovator for intelligent wireless connectivity solutions, is pleased to announce that Aamir Hussain has been appointed Chief Executive Officer.

Mr. Hussain has a long track record in the communications industry where he spent over 28 years in multiple technology and product development roles. Most recently, he was Chief Technology Officer at CenturyLink, where he worked towards digitally transforming the customer facing and networking platforms into Software Defined Networking (SDN) and a Multi Cloud Management platform while driving broadband innovation through implementation of high capacity wireless and wireline technologies (5G, Vectoring/Bonding, GPON and G.fast). Before CenturyLink, Mr. Hussain held senior leadership roles with Liberty Global, Covad, TELUS, Qwest, Bellsouth and Motorola.
CORPHUB Hong Kong's Most Outstanding Services Award 2019
HONG KONG, April 9 (Bernama) -- Presented by CORPHUB, Hong Kong's Most Outstanding Service Awards Ceremony 2019 was successfully held on 21st March, 2019 at Kowloon Shangri-La, Hong Kong. More than 60 local and international companies and organizations were awarded for their remarkable achievements in providing services. All awardees were selected by an independent committee lead by industry experts, business chamber executive members, and leaders to ensure fairness, openness, and recognizability.
Service has always been a flagship feature of Hong Kong for gaining its reputation as one of the best cities in the world. Coming from different sectors, awardees all exhibit best quality of service to businesses, customers, and the public, making positive contribution to societal development.
Dusit And CPN Officially Unveil 'Dusit Central Park' A World-class Mixed-use Development Creating A New City Landmark At The Heart Of Bangkok's CBD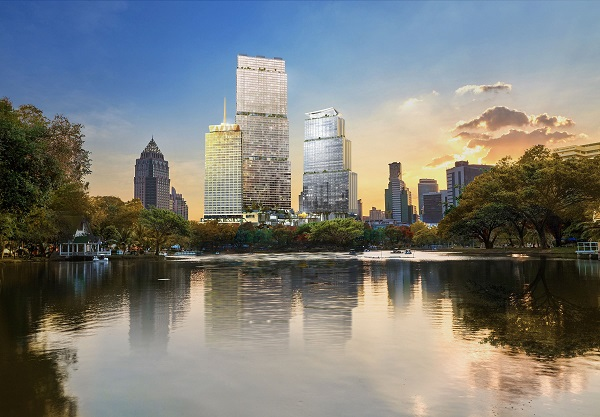 BANGKOK, Thailand, April 9 (Bernama) --
- Unique mixed-use project, developed under the concept 'Here for Bangkok' set to be a junction to connect 4 key areas of Bangkok
- Located at Bangkok's core CBD that features 4 world-class elements: hotel, residences, shopping complex and office tower together with a large green space, delivering value for the broader community.
- Includes 'Dusit Residences' and 'Dusit Parkside' as part of a residential tower providing panoramic views of Lumpini Park and the Bangkok cityscape.
Dusit Thani Public Company Limited, one of Thailand's foremost hotel and property development companies with 70 years of expertise, and Central Pattana Public Company Limited (CPN), Thailand's largest and most diversified property developer for 40 years of expertise, have officially revealed a new creation of their historic collaboration to create a new city landmark and transform a major Silom-Rama4 intersection to become the prime core of the CBD ("Super Core CBD") to link 4 key areas of Bangkok with a one-of-a-kind mixed-use project, called 'Dusit Central Park', developed under the concept 'Here for Bangkok' to create a new way to live the metropolis life and to bring Bangkok to another level as one of the world's best cities. The project is expected to be completed in 2024.
Hard Rock International Joins in Worldwide Commitment To Protect Our Planet During Earth Hour
HOLLYWOOD, Fla., April 9 (Bernama) -- As part as of its on-going commitment to help 'save the planet', Hard Rock International participated in the worldwide Earth Hour movement -- turning off the lights at 18 properties across the globe. As the world clock struck 8:30 p.m. local time on March 30, Hard Rock Hotel guests from China to the West Coast of the U.S. participated in this symbolic lights-out event. From the participating properties, Hard Rock saved a combined total of 11,400 kilowatts, which would be enough to power more than 50 outdoor concerts.

"We are proud to participate in this year's Earth Hour initiative and will continue to make strides to help the environment," said Dale Hipsh, senior vice president of hotels for Hard Rock International. "It is part of Hard Rock's continuous commitment to its founding motto to save the planet."