EXCLUSIVE PRESS News List
Malaysia Promotes Specialised and High-end Plastic Products
KUALA LUMPUR, July 9 (Bernama) -- The Malaysian Investment Development Authority (MIDA), Malaysian Plastics Manufacturers Association (MPMA) and the Malaysian Petrochemicals Association (MPA) co-organised the biennial MPMA-MPA-MIDA Conference on Government Assistance at MIDA headquarters today. The Conference, attended by over 120 participants, aimed to create awareness and update members on the various Government policies, facilitation and assistance available for the plastics industry.
YBhg Dato' Azman Mahmud, Chief Executive Officer of MIDA officiated the Conference said that the growth and sustainability of the domestic downstream plastic sub-sector require the support of a robust upstream industry. The positive progress of Refinery and Petrochemical Integrated Development (RAPID) project by PETRONAS in Pengerang, Johor is a good example whereby its development has directly opened up opportunities for plastic manufacturers to expand and develop their products for higher end and sophisticated clientele.
MITI and TM ONE Host Industry4WRD Seminar to accelerate Industry4WRD Readiness Assessment (RA) Programme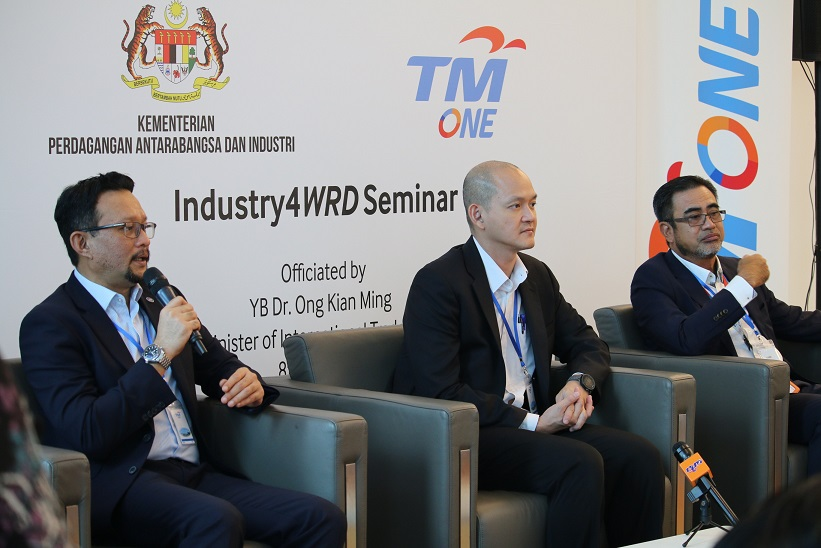 KUALA LUMPUR, July 9 (Bernama) -- The Ministry of International Trade and Industry (MITI) together with TM ONE, the business solutions arm of Telekom Malaysia Berhad (TM) today held a seminar to mark the launch of the joint collaboration between both parties to accelerate awareness on Industry4WRD
Readiness Assessment (RA) programme. The annual roadshow featuring Cloud campaign by TM ONE kick-started in Johor and provided companies with visibility on digital solutions related to Industry 4.0.
Today's seminar was held with the objective of increasing awareness on the Government's initiative for Industry 4.0 especially on the Readiness Assessment programme. Services, technologies and training providers related to Industry 4.0 are encouraged to register with MITI to be part of this ecosystem. MITI also actively facilitate SMEs to enroll in the RA programme for TM ONE's customers in Johor.
SunGen Pharma Receives Sixth ANDA Approval from US FDA
PRINCETON, N.J., July 9 (Bernama) -- SunGen Pharma, a privately held specialty pharmaceutical company which develops, contract manufactures, and sells pharmaceutical finished products, today announced it has received its sixth ANDA approval from the US Food and Drug Administration (FDA).
The sixth approved ANDA is for Methylprednisolone tablets, 4 mg. This drug product is a corticosteroid used to treat conditions including arthritis, allergic reactions, and immune system disorders, as well as dermatologic, ophthalmic, respiratory, and gastrointestinal diseases. Methylprednisolone tablets had total U.S. sales of $93 million for Q1 of 2019, and $113 million and $124 million, respectively, for 2018 and 2017 according to IQVIA.
State Street Appoints Head of its Business in UK, Europe, Middle East and Africa
BOSTON, July 9 (Bernama) -- State Street Corporation (NYSE:STT) today announced that it has appointed Jörg Ambrosius as head of its UK, Europe, Middle East and Africa (EMEA) business. Ambrosius, an 18-year State Street veteran will report to Francisco Aristeguieta, the newly appointed head of State Street's international business. Ambrosius will succeed Liz Nolan who was named head of State Street's Global Delivery team, managing global operations and infrastructure, earlier this year. Ambrosius will also serve on State Street's Management Committee, its senior-most strategy and policy making group. Ambrosius's appointment is subject to regulatory approval.
As head of State Street for EMEA, Ambrosius will be responsible for all business activities in the region including driving strategy, stewarding client engagement, developing talent, overseeing risk management, pursuing growth opportunities as well as managing relationships with diverse stakeholders including local officials and regulators.
"Bangkok RHVAC 2019 and Bangkok E&E 2019, Business Opportunities Like No Others "
KUALA LUMPUR, July 9 (Bernama) -- The Department of International Trade Promotion (DITP), Ministry of Commerce, together with The Federation of Thai Industries (F.T.I.) are organizing BANGKOK RHVAC 2019 (Bangkok Refrigeration, Heating, Ventilation and Air-conditioning) and BAGNKOK E&E 2019 (Bangkok Electric and Electronics) during 25 - 28 September 2019, Hall 98-100 at Bangkok International Trade and Exhibition Centre (BITEC), Bangkok, Thailand. 25 - 27 September 2019 (Trade Days) and 28 September 2019 (Public Day), 10.00 hrs. - 18.00 hrs.

Bangkok RHVAC 2019 and Bangkok E&E 2019 will open up a world of trade opportunities at Bangkok Refrigeration, Heating, Ventilation and Air-Conditioning 2019 (Bangkok RHVAC 2019) and Bangkok Electric and Electronics 2019 (Bangkok E&E 2019). It is an arena for trade negotiation and business network featuring professionals in the industries from around the world which will be showcasing refrigeration, heating, cooling, and ventilation products as well as electric and electronic goods. Besides, it will present Thailand's potential from upstream to downstream industries as well as eco-friendly technologies and innovations to the eyes of the world.
Fluxym Announces Exceptional Growth
MONTREAL, July 9 (Bernama) -- Fluxym, a leader of the Source-to-Pay market, announces a 30% growth of its total revenue for the first semester of 2019.
A strong progression on both sides of the Atlantic
After an exceptional 2018, the company has another year of impressive milestones with a 2-digit organic growth and a 30% increase in its total revenue for the first half of 2019.
Lumina Networks Product Release Improves Service Reliability
SAN JOSE, Calif., July 9 (Bernama) -- Today, Lumina Networks introduced version 9.1 of the company's Lumina Flow Manager, a key product in its SD-Core solution portfolio, to provide Communications Service Providers (CSPs) with advanced network traffic engineering and logical slicing as they move toward 5G. Deployed in a Tier-1 telecommunications network, the product improves reliability for disaggregated greenfield networks by supporting intent based slicing to help operators decongest their traditional MPLS cores and modernize the edge.
With this release Lumina Networks added key capabilities common in carrier grade MPLS networks to greenfield disaggregated whitebox networks - making them deployable in heterogeneous networks. Improving reliability and usability of whitebox resources, new features include automatic multicast optimization, LLDP monitoring, and fast failure detection and reroute, which provides dynamic configuration for MEF compliant E-line and E-Tree services.