EXCLUSIVE PRESS News List
Mary Kay Inc.´s David Holl Named Among Top Ten Most Reputable CEOs in the World, According to Reputation Institute
The second-ever CEO RepTrak® study, performed by the Reputation Institute, states acting responsibly, behaving ethically, and caring about social issues are the most important drivers of CEO reputation


DALLAS, May 23 (Bernama) -- Mary Kay Inc., a global beauty brand, today announced that Chairman and CEO David Holl is among the top ten most reputable chief executives in the world according to the Reputation Institute's CEO RepTrak 2019. The Reputation Institute, the world's leading provider of reputation measurement, measured the reputation of more than 140 global CEOs and canvassed more than 230,000 individual ratings among the informed public. The study was conducted in January and February of this year.

"David's leadership and operational expertise since being named CEO in 2006 has contributed significantly to Mary Kay's success," said Richard R. Rogers, son of Mary Kay Ash, co-founder and Executive Chairman of the Board. "Mary Kay is a brand born of purpose, and David's steadfast commitment to our founding values has made him a truly extraordinary chief executive officer and people leader."
Colony Coworking Space Wins Best Office Interior in Malaysia at Coveted Asia Pacific Property Awards
KUALA LUMPUR, Malaysia, May 23 (Bernama) -- Colony, Malaysia's leading luxury coworking space, famed for its eccentric design and personalised services, was named the recipient of the "Best Office Interior" during the inaugural Asia Pacific Property Awards 2019 - 2020 ceremony held at the Marriott Marquis Queen's Park, Bangkok.
"We are truly honoured to have our coworking spaces recognised by the Asia Pacific Property Awards," said Audrey Ooi, Executive Director of Colony Coworking Space. "This award is a testament to the high level of commitment we place in setting the standard for exceptional workspace and service excellence to every guest who steps into our spaces."
Marine Aquaculture and Seaweed Cooperation of China-ASEAN
ZHU HAI CITY, China, May 23 (Bernama) -- From May, 17th to 18th in 2019, "China-ASEAN Center for Joint Research and Promotion of Marine Aquaculture Technology" and "China Seaweed Base for International Science & Technology Cooperation" established by Sun Yat-sen University and Ocean University of China held the Development of China-ASEAN Mariculture Industry Development Forum and "Seaweed Cooperation Workshop" in Zhuhai, China.

39 international representatives from 28 bodies that from Indonesia, Malaysia, Philippines, Thailand, Vietnam, Cambodia and other ASEAN countries and International organizations such as the Food and Agriculture Organization of the United Nations (FAO), ASEAN Fisheries Education Network (ASEAN-FEN), Asia-Pacific Aquaculture Center Network (NACA), and more than 300 representatives from 100 educational, scientific and corporation units in China attended this conference.
Trade and Investment Mission to Latin America in Santiago, Chile
SANTIAGO, Chile, May 23 (Bernama) -- International Trade and Industry Minister Datuk Darell Leiking began his trade and investment mission to Latin America in Santiago, Chile following the APEC Ministers Responsible for Trade Meeting in Valparaíso, Chile from 17-18 May 2019.
Minister Leiking met with the Chile-Malaysia Chamber of Commerce (CAMCHIMAL) and Chamber of Automotive Parts and Components (CAREP). The meetings explored the opportunities to improve trade and investment relations in various sectors including automotive, ICT mobility solutions, Internet of Things (IoT) and halal industry. The meetings also discussed the key concerns faced by both parties.
UMW Holdings' Net Profit Increased 16.8% to RM86.5 million in 1Q19; Higher Revenue Achieved by all Three Core Businesses
KUALA LUMPUR, May 21 (Bernama) -- UMW Holdings Berhad's revenue from Continuing Operations rose 14.9% to RM2,774.8 million, propelled by better showing from all three core business segments. The Automotive segment registered higher vehicle sales in the first quarter of 2019, while improving sales in the heavy equipment business boosted the performance of the Equipment segment. Furthermore, the Manufacturing & Engineering (M&E) segment achieved robust revenue growth on the back of ramping up of fan cases delivery to Rolls-Royce as well as better sales in the auto components business. UMW's profit before taxation (PBT) from Continuing Operations narrowed to RM140.7 million in the first quarter of the year due to higher depreciation attributable to the new Bukit Raja plant coupled with lower margin in the Equipment segment. Nonetheless, the Group's consolidated net profit surged to RM86.5 million for the first quarter of 2019 compared to RM74.1 million registered in the same quarter of last year as the losses from the Unlisted Oil & Gas segment significantly reduced.
UMW Holdings Berhad President & Group CEO, Badrul Feisal bin Abdul Rahim said, "Subsequent to our strategic decision to refocus on our three core businesses, we have begun to realise the benefits of some of our key initiatives this year. We will continue to strengthen our presence in the automotive market, especially with our new state-of-the-art assembly plant. Since commercial production began in January, we have introduced the all-new Toyota Vios and Toyota Yaris with high local content to be more competitive in the market. The revival of the major infrastructure projects is expected to spark optimism in the Equipment segment as demand increases. In the M&E segment, KYB-UMW will commence its plant modernisation activities to meet increasing demand, while we continue to ramp-up production of fan cases for Rolls-Royce. We also see potential to explore and penetrate more markets in ASEAN for our very own Grantt brand of lubricants.
Potboy First Launch of Drop Zone at Prima Avenue, Cyberjaya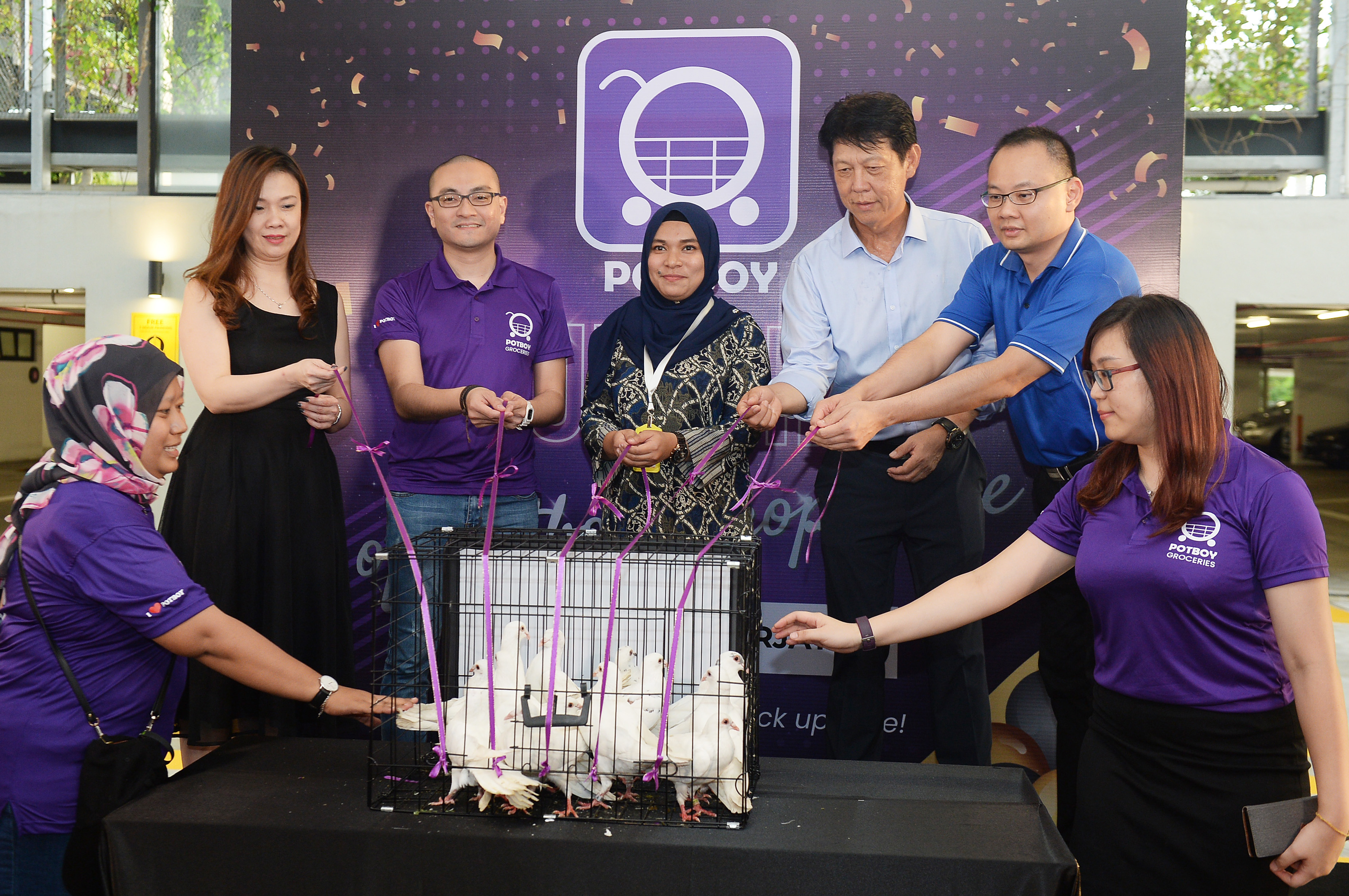 CYBERJAYA, May 21 (Bernama) -- Potboy Groceries, a homegrown online groceries platform, once again had brought an online to offline (O2O) grocery shopping for Malaysian consumer to experience and this time it called "Potboy Raya O2O" event. Alongside the Raya O2O event, Potboy Groceries has launched its first drop zone in Cyberjaya witnessing by representative Dengkil state assemblyman Adhif Syan Bin Abdullah, CM Chong, CEO Prima Avenue, Wee Li Ying, Coca-Cola Head of Key Account and Digital, and Unicharm General Sales Manager Beh Kok Seong on 18 May 2019.
PB Grocery Group Sdn Bhd chief executive officer and founder, Eddie Chew, said: "PB Grocery Group Sdn Bdn (Potboy Groceries) is taking the opportunity of this O2O event to educate the public on cashless transaction and e-payment as an alternative shopping method to Malaysian Consumers. Further, the drop zone concept in Cyberjaya is to further provide an option to busy working adults to have a safe delivery harbor and pick up at convenience within the neighbourhood. Currently, we have 5 drop zone for customers to come and pick up their purchase item. Prima Avenue supports our idea to open up new drop zone in their area. This will definitely help us to expand our market and attract greater crowd for the event. "