EXCLUSIVE PRESS News List
Mentality and Experience Shine Above Talent
KUALA LUMPUR, Sept 13 (Bernama) -- GOLOG, (Go Logistic) Malaysia first Integrated Mobile Internet Intelligent cold chain logistic platform has successfully obtained the CIP300 funding from Cradle recently. According to GOLOG Founder and CEO, Ivan Chin, they have applied for the funding since March 2019 and was one of the four finalist among the hundreds that applied for the funding. The CIP300 fund by Cradle is a pre-commercialisation programme which provides a conditional grant and value added assistance amounting up to RM300,000 for entrepreneurs. It is intended to kick-start innovative technology based start-ups to enhance and commercialize their products or services.
"Getting the CIP300 funding from Cradle is like a dream. It's not just the opportunity to be funded but also the status that comes by being funded by Cradle, which is a benchmark by VC in the country. This means that GOLOG has been recognized as a startup with good potential," Ivan elaborated further. As to what will be the funding be utilized for, Ivan said that 60% of the funds will be used for the commercialization of the platform as well scaling the business up. And while they are happy to receive the CIP300 funding, GOLOG isn't resting on their laurels as they are also in the midst of raising seed funding to the tune of USD$1 million for further up scaling of their systems and market share expansion.
Vanta™ Element Handheld XRF Analyzer Offers Fast Material and Alloy Grade ID at an Affordable Price
WALTHAM, Mass., Sept 13 (Bernama) -- The new Vanta™ Element X-ray fluorescence (XRF) analyzer offers the essential features that the Vanta series is known for—speed, reliability, ruggedness, connectivity and smartphone-like ease of use—in a cost-effective model. Easy to learn, fast to use and weighing a slim 2.9 lb. (1.32 kg), the Vanta Element analyzer is up to the challenge of all day, high-throughput testing.
The Vanta Element analyzer offers speed and ease of use in a variety of testing environments, including scrap recycling and metal manufacturing. Users can obtain clear material and grade ID in seconds and compare alloy grades on the instrument's screen. With a dual-core processor and powered by Olympus' proven Axon Technology™, the Vanta Element analyzer has the same stability and resolution as the rest of the Vanta series for rapid sorting and a fast ROI.
EB5 Capital Announces Trip To Singapore To Meet Families Interested In The United States' EB-5 Immigrant Investor Program
WASHINGTON, Sept 13 (Bernama) -- EB5 Capital announced today its scheduled travel to Singapore, between September 16 - September 22, to meet with individuals interested in investing in and immigrating to the United States.
"We are thrilled to be making this much-needed trip to Singapore," said Katherine Guo, EB5 Capital's Business Development Manager, who will make the trip on behalf of the company. "We have a number of clients from Singapore who have trusted us with their EB-5 investment and I'm looking forward to sharing our track record of successful EB-5 projects with interested parties."
ExxonMobil Launches Mobil EV™ Offer For Battery Electric Vehicles
FRANKFURT, Germany, Sept 13 (Bernama) -- ExxonMobil announced today the global launch of its Mobil EV™ offering at the 2019 IAA, which features a full suite of fluids and greases designed to meet the evolving drivetrain requirements of battery electric vehicles. In combination, plug-in hybrids, battery electric and fuel cell vehicles are predicted to exceed 20 percent of the world's light-duty fleet by 2040[1].
"Mobility is changing and electric vehicles are becoming a greater part of the mix," said Russ Green, ExxonMobil's vice president of finished lubricants. "Customers and OEMs are looking to optimize the range and safety performance of their electric vehicles, and ExxonMobil is uniquely positioned to deliver these benefits. This is just the start of the product and service solutions we'll be developing to support the evolving needs of our customers."
Cloudflare Announces Pricing of Initial Public Offering
SAN FRANCISCO, Sept 13 (Bernama) -- Cloudflare (NYSE: NET) today announced the pricing of its initial public offering of its Class A common stock at a price to the public of $15 per share. Cloudflare is offering 35,000,000 shares of its Class A common stock, plus up to an additional 5,250,000 shares that the underwriters have the option to purchase at the initial public offering price less underwriting discounts. The shares are expected to begin trading on the New York Stock Exchange on September 13, 2019 under the ticker symbol "NET" and the offering is expected to close on September 17, 2019, subject to customary closing conditions.
Goldman Sachs & Co. LLC, Morgan Stanley & Co. LLC, and J.P. Morgan Securities LLC are acting as joint lead book-running managers for the offering. Jefferies LLC, Wells Fargo Securities, LLC, and RBC Capital Markets, LLC are also acting as joint book-running managers. JMP Securities LLC, Evercore Group L.L.C., Needham & Company, LLC, Oppenheimer & Co. Inc., BTIG, LLC, and SunTrust Robinson Humphrey, Inc. are acting as co-managers for the offering.
Cultivating Change Through Kids For Kids, A Nation Building Programme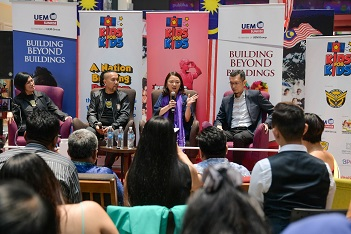 KUALA LUMPUR, Sept 12 (Bernama) -- – Kids For Kids, an initiative driven by Change Your World, is Malaysia's first nation building programme developed for kids towards the sustainable development goals set by the United Nations. Change Your World Sdn Bhd is a social enterprise founded by Kelvin and Cathryn Lim. The goal of Change Your World is to create social awareness among the youth of Malaysia, by focusing on matters that are important to them.

Kids For Kids, which was launched on 12th September 2019, is a two-month programme that caters to kids aged 9 to 12 years old. The programme aims to bridge the societal gap in the education system and to create an entrepreneurial spirit in kids.