EXCLUSIVE PRESS News List
3d ago
AM Best Affirms Credit Ratings of The Dai-ichi Life Insurance Company, Limited
HONG KONG, Jan 23 (Bernama) -- AM Best has affirmed the Financial Strength Rating (FSR) of A+ (Superior) and the Long-Term Issuer Credit Rating (Long-Term ICR) of "aa-" of The Dai-ichi Life Insurance Company, Limited (DL) (Japan). The outlook of these Credit Ratings (ratings) is stable.

The ratings reflect DL's balance sheet strength, which AM Best categorizes as very strong, as well as its strong operating performance, favorable business profile and appropriate enterprise risk management.
AmInvestment Bank Wins Two Awards at The Asset Triple A Country Awards 2019
KUALA LUMPUR, Jan 23 (Bernama) -- AmInvestment Bank Berhad ("AmInvestment Bank") was presented with the coveted "Malaysia's Best Corporate and Institutional Adviser – Domestic" at The Asset Triple A Country Awards 2019. Leong Hup International Berhad's RM1.19 billion IPO won the "Best IPO" award. AmInvestment Bank acted as a joint bookrunner and joint underwriter for this transaction. The awards ceremony was organised by The Asset, in Hong Kong on Thursday, 16 January 2020.
"We are extremely honoured to receive these awards. This recognition is an affirmation of our continuing commitment to offer innovative and differentiated financing solutions that will serve the ambitions of our clients. We will continue to build on this positive performance to maintain our market leadership and strengthen our footprint across the regional markets." said Dato' Sulaiman Mohd Tahir, Group Chief Executive Officer, AmBank Group.
SESB Embarking On Digital Transformation Journey, Paving Way to Become World Class Utility
KOTA KINABALU, Jan 23 (Bernama) - Sabah Electricity Sdn Bhd (SESB) has embarked on a digital transformation programme to realise greater operational efficiencies and further uplift customer satisfaction levels with an aim of becoming a world-class utility.

Its chief information officer Ismail Chekima said that SESB is currently working with world-renowned enterprise solutions provider SAP to establish itself as a leading energy enterprise, while also recognising the need to develop world-class data-management and business intelligence capabilities to accurately forecast energy demands and optimise operations.
Information On Malindo Air OD1231 From Kota Bharu To Subang
PETALING JAYA, Jan 23 (Bernama) -- Malindo Air has confirmed that one of the engines on flight OD 1231 suffered a minor fire event during the engine starting up at the Sultan Ismail Petra Airport, Kota Bharu at about 8.10pm. This flight was bound to Sultan Abdul Aziz Shah Airport, Subang.

Flight OD1231, operated on the ATR72-600 was scheduled to depart Kota Bharu at 7.10pm, carrying 43 passengers and 4 crew members. The aircraft was scheduled to arrive at Lapangan Terbang Sultan Abdul Aziz, Subang at 8.15pm.
Senior Executives and Accountants Can Now Earn A Professional Certificate in Digital Business Leadership, Courtesy of MIA and APU
KUALA LUMPUR, Jan 22 (Bernama) -- Acknowledged as a leading advocate of digital business transformation for board and management executives as well as finance and accountancy professionals, the Malaysian Institute of Accountants (MIA) is now collaborating with other leaders in professional development and education to expand its range of continuing professional education programmes geared towards Industrial Revolution (IR4.0) and digital economy.

In January 2020, MIA successfully completed its first joint programme with a Premier Digital Tech University, Asia Pacific University of Technology and Innovation (APU) – the MIA-APU 3-day Professional Certificate in Digital Leadership (PCDL). "This is aligned with our MIA Digital Technology Blueprint which encourages collaboration and partnership to hasten digital adoption and boost value creation and nation building," said MIA CEO Dr. Nurmazilah Dato' Mahzan.
Guangzhou Night Debuted in WEF Annual Meeting
DAVOS, Switzerland, Jan 22 (Bernama) -- On the night of January 21 (GMT+1), Guangzhou, China organized Guangzhou Night event in the World Economic Forum (WEF) Annual Meeting for the very first time. Guangzhou Night is co-organized by the People's Government of Guangzhou Municipality and Cedar Holdings, a Guangzhou home-grown conglomerate. According to public information, as a world-leading Chinese commodities company, Cedar Holdings ranked 301st on the Fortune Global 500 with US$40.6 billion in total revenue. During the Guangzhou Night, a SPA was signed that sees Cedar Holdings purchase the entire share capital of Stemcor. Headquartered in the UK, Stemcor was a Top 3 global independent steel and raw materials trading company.
Guangzhou introduced itself to the world, shared information about the development opportunities of Guangzhou and communicated its willingness to be open and cooperative. Representatives of governments from dozens of countries and regions, senior executives of Fortune Global 500 companies and WEF participants from dozens of countries and regions attended Guangzhou Night. Wen Guohui, Mayor of Guangzhou and King Cheung, Chairman of the Board of Cedar Holdings gave a speech on the event.
CENDANA Continues to Inspire Young Malaysians to Appreciate the Arts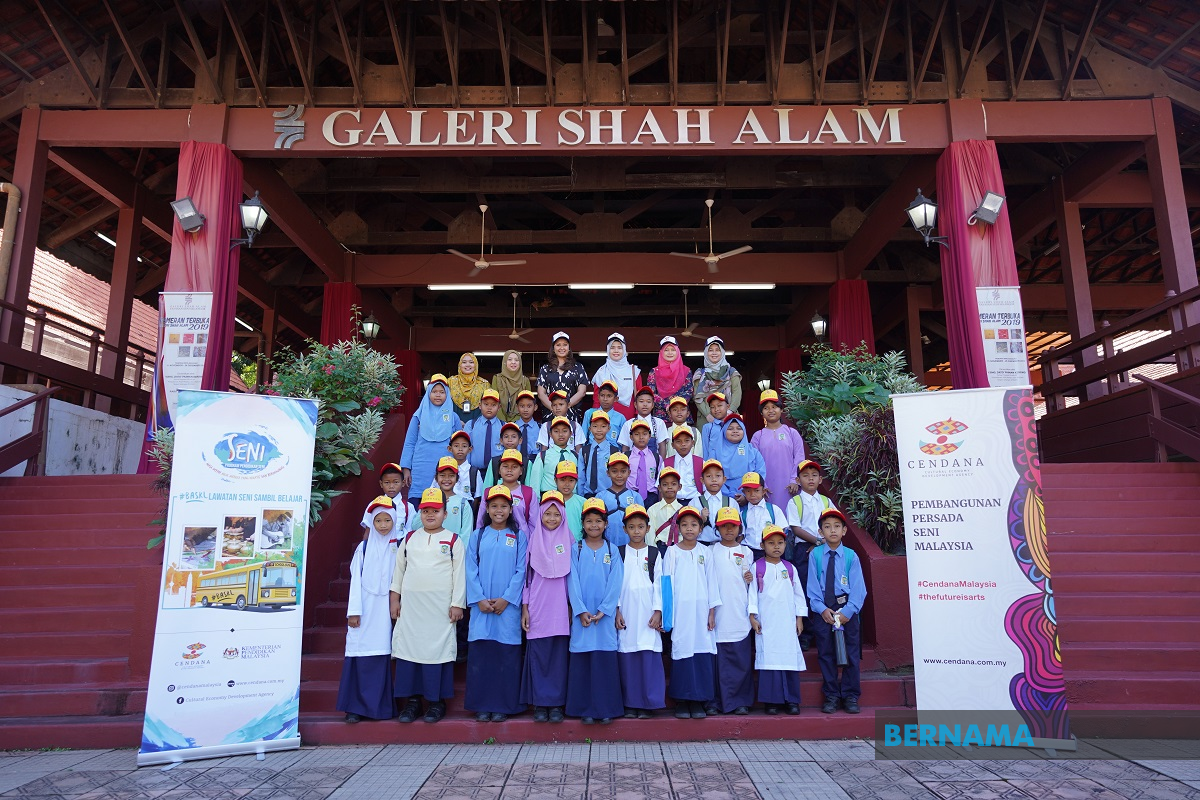 KUALA LUMPUR, Jan 22 (Bernama) -- An initiative in collaboration with the Ministry of Education (MoE), the Cultural Economy Development Agency's (CENDANA) #BASKL Arts Excursion Programme (AEX) kicked off the year with hosting students from SK Sungai Melut at Galeri Shah Alam today. Thirty six (36) standard three (3) to standard six (6) students were provided with experiential learning through a guided visit to the visual arts exhibition and participation in an art workshop. An extension of the Bandar Aktiviti Seni KL (BASKL) destination awareness campaign, AEX is a subsidised arts excursion programme for public primary schools to have their students gain first positive experiences in the arts. It is designed to nurture interest and appreciation for the arts as extra-curricular activities to complement the existing school arts education syllabus.

CENDANA Founding CEO,
Izan Satrina Mohd Sallehuddin today shared that the Arts Education Schemes were part of the recommendations from CENDANA's KL as a Cultural and Creative City Report
(that was launched in 2018), which hopes to address the gaps in the market when it comes to appreciation of arts and culture in the country. Izan was sharing the journey when hosting the SK Sungai Melut students at Galeri Shah Alam today.