EXCLUSIVE PRESS News List
Malaysia's Startup, Delyva, to Forge More Profitable SMEs through Shipping
PETALING JAYA, Malaysia, March 25 (Bernama) -- A Malaysia-based shipping solution, Delyva, today announced the new breakthrough in shipping software, allowing e-commerce and SMEs to retrench manual work and cost through more efficient shipping processes. Launched in January 2019, the Malaysia's leading multi-carrier shipping solution is equipped with special features to streamline any order fulfillment and shipping process, resulting in a maximum business profit.

Special features include automation process, enabling the platform to instantly print the shipping label, auto-schedule and pick-up the delivery to ensure end-to-end shipping processes faster and easier. Customers will immediately get instant notification for any progress of the shipment and easily track their delivery with just a few clicks, through email and mobile text.
CIMB Is Crowned Malaysia's Best Digital Bank 2018, And Best Retail Bank For Third Consecutive Year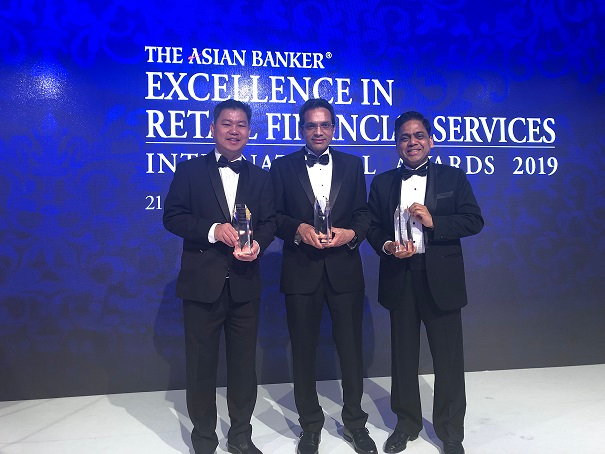 KUALA LUMPUR, March 23 (Bernama) -- CIMB Bank Berhad ("the Bank" or "CIMB") recently received a slew of prestigious awards for its Consumer banking business. The Asian Banker not only crowned CIMB as Malaysia's Best Digital Bank 2018, and Best Retail Bank for the third consecutive year; but also named Samir Gupta, CIMB Group's Consumer Banking CEO, as Retail Banker of the Year in Asia Pacific 2019, which recognises the exceptional achievements of a best-in-class leader in the region's retail banking industry. CIMB has also been ranked one of the top 10 banks in Asia Pacific in Asian Banker's league table, from seventeenth place previously.
ASEAN's fifth largest banking group by assets also garnered the title Asia's Leader in Loans at the IDC Financial Insights Innovation Awards 2019, for its Consumer Banking's innovative CIMB 1-Minute Financing InstaApproval, which was recognised for its responsiveness to market needs, effectiveness of deployment, market response and long-term business viability.
Public Financial Planning Literacy Seminar with Stimulant Gameplay
PORT DICKSON, March 23 (Bernama) -- In the Council's efforts to help Malaysians acquire financial literacy, and make a switch on their attitudes and behaviours towards money management, the Malaysian Financial Planning Council (MFPC) has organised a one-day Financial Literacy Workshop for Members of the Public at Auditorium Pejabat Daerah & Tanah Port Dickson on 23 March 2019 from 9.00am until 4.30pm.
The core objective of the programme is to help Malaysians make better financial decisions, as data indicates Malaysians lack successful money management knowledge. The S&P Global Literacy Financial 2014 report indicated that financial literacy in Malaysia is low at 36% compared to 59% in developed countries. The low level of financial literacy, according to Finance Minister Lim Guan Eng, is a reason why many young people are falling into the debt trap and bankruptcy.
MOVAD and IDOOH Sign Memorandum of Understanding for Strategic Collaboration
HO CHI MINH CITY, Vietnam, March 22 (Bernama) -- MOVAD Joint Stock Company ("MOVAD"), a startup pioneering in-car interactive advertisement in Vietnam, and IDOOH ("IDOOH"), the largest network of in-vehicle screens in Asia Pacific, today announced the signing of a Memorandum of Understanding (MOU) to express the willingness of both parties to engage in an holistic co-operation in Vietnam.
Malaysia's First Bond And Equity ETFs Declare Income Distribution
KUALA LUMPUR, March 22 (Bernama) -- Malaysia's first Exchange-Traded Funds[1] ("ETFs"), namely ABF Bond Index Fund ("ABF Malaysia") and FTSE Bursa Malaysia KLCI etf ("FBM KLCI etf") have declared an income distribution of 4.65 sen and 2.80 sen per unit respectively for its financial year ended 31 December 2018. AmInvest manages both ETFs.
ABF Malaysia's income distribution of 4.65 sen per unit in December 2018 represents an income distribution yield (the rate of the return of the ETF based on income distribution) of 4.06%, which was computed based on the ETF's net asset value of RM1.1457 per unit as at 31 December 2018.[2] ABF Malaysia is the only bond ETF in the market and its portfolio consists of mainly Malaysian government bonds. It tracks the performance of Markit iBoxx®ABF Malaysia Bond Index.
Odakyu Group Starts "2019 Sakura Campaign"
TOKYO, March 22 (Bernama) --

- Member Companies of Odakyu Group in Shinjuku, Hakone, Enoshima and Kamakura to Join Hands in Welcoming Tourists from Abroad -

The Odakyu Group started a "2019 SAKURA Campaign" from Friday, March 15, to Sunday, April 21, 2019. There are numerous cherry blossom-viewing spots along the Odakyu lines, such as Hakone and Kamakura in Kanagawa Prefecture. Hakone, where the time when cherry trees bloom differs from area to area, is a particularly popular spot because visitors can enjoy viewing cherry blossoms over a longer period than in Tokyo. The "2019 SAKURA Campaign" is designed to ensure tourists from abroad will enjoy viewing cherry blossoms along the lines.
An overview of the campaign is as follows.