EXCLUSIVE PRESS News List
Cooperative, Efficient And Win-win: Dongguan Qualities Highlighted Through FIBA
DONGGUAN, China, Sept 12 (Bernama) -- In the evening of 11th September, 2019 (Beijing Time), the Dongguan Basketball Center witnessed the long-expected quarterfinals of the 2019 FIBA Basketball World Cup, with Team France beating its USA counterpart by 10 points. "Many domestic and overseas journalists are drawn to the quarterfinals for live report, helping the world know more about Dongguan," said the head of the Media Department of the Dongguan Local Organizing Committee of the 2019 FIBA Basketball World Cup after the match.
Visited by most basketball players for the first time, though, Dongguan has already made connections with them through "Dongguan Manufacturing". Famous for manufacturing, Dongguan boasts a modern manufacturing industry system including such core fields as electronic information products, electrical machinery and equipment, textile, clothing, shoes and hats, paper-making and paper products, stationery and sporting goods, and furniture. The manufactured products like clothing, hats, furniture and cellphones are sold globally. Dongguan foreign trade report on August of 2019 reflects its total import and export volume has gone up by 6.8% to around USD 88.906 billion.
Getting The Best Of Furniture China
19 Malaysian furniture companies capitalise on the vast business opportunities the expo offers by exhibiting their best products under MTC's pavilion in Shanghai, China


KUALA LUMPUR, Sept 12 (Bernama) -- Furniture China 2019, which is also known as the 25th China International Furniture Expo, is one of the largest furniture exhibitions in Asia. With a total floor space of over 350,000 square metres, Furniture China is known to attract some of the world's finest industry-related exhibitors and buyers to China's shores.

The Malaysian Timber Council (MTC) has maintained a strong and consistent presence over the years at this expo as China is an important market for Malaysian furniture. In 2018, China was the seventh largest importer of Malaysian wooden furniture valued at RM254.3 million which was a 26.7 percent increase from 2017.
Vista Global Brings Fastest In-Flight Connectivity to Private Aviation
DUBAI, United Arab Emirates, Sept 12 (Bernama) -- Vista Global, the group simplifying private aviation, announces a revolutionary technology partnership with Collins Aerospace Systems that will provide private aviation customers with the fastest broadband speeds available. This is a further demonstration of Vista Global bringing the latest and most innovative technology to market and driving radical technological change across the private aviation industry.
The ground-breaking agreement will see LuxStream connectivity services fitted across Vista Global's fleet of 116 owned aircraft, including both the VistaJet and XO brands, offering customers unrivaled digital connectivity. LuxStream will be integrated first across the 36 Global business jets operating under the VistaJet brand.
Travel through Time into the Future with Bersama Merentas Zaman Exhibition at GALERI PETRONAS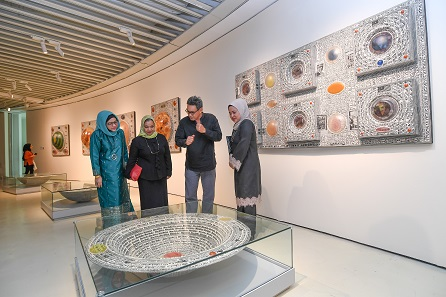 KUALA LUMPUR, Sept 12 (Bernama) -- In conjunction with PETRONAS' 45th anniversary on 17 August, and the celebration of Independence Day and Malaysia Day, GALERI PETRONAS proudly presents Bersama Merentas Zaman
exhibition.

Complementing PETRONAS' 2019 corporate campaign, the exhibition is part of an integrated element in the 45-day long celebration to commemorate the national oil and gas company's milestones.

Bersama Merentas Zaman
fuses together the corporate narratives through Tree of Tales, a digital labyrinth-like installation that displays PETRONAS' corporate social responsibility (CSR) achievements in providing access to education, uplifting community well-being and development, as well as preserving the environment, since its inception in 1974.
PR Newswire's APAC Survey Reveals Content Quality Is The Top Priority For Journalists
HONG KONG, Sept 12 (Bernama) -- As APAC media and PR professionals are getting to grips with rapid technological progress and shifting audience preferences, PR Newswire released its Asia-Pacific Media Survey 2019
report to track how journalists are adapting.
This year's report was PR Newswire's largest ever in the region, surveying nearly 1,000 journalists and media professionals across nine key markets - Australia, mainland China, Hong Kong, Taiwan, Indonesia, Malaysia, Singapore, South Korea, and Vietnam. To help international businesses better understand the diverse APAC media landscape, our Audience Development team has also compiled a list of the top ten business media[1] in each of these nine markets.
'GoDigital YOUTH' By PROFICEO to Catalyse Entrepreneurship Ecosystems around Malaysia
KUALA LUMPUR, Sept 12 (Bernama) -- After a decade of building a formidable entrepreneurship ecosystem in the Klang Valley, PROFICEO is now on a mission to replicate this success all around Malaysia. In their maiden foray outside Klang Valley, PROFICEO successfully held their first GoDigital - YOUTH community event in Ipoh, Perak on 7 September 2019 at the Perak Youth Hub.
"PROFICEO has a deep understanding of entrepreneurship having worked with thousands of entrepreneurs over the past 10 years. I look back at our journey and am amazed that PROFICEO has literally built our own mini ecosystem together with our coaches, trainers, mentors and Alumni. The PROFICEO ecosystem is unique as it has been imbued intrinsically with a "PAY-IT-FORWARD" culture that stems back from when we first launched our signature coaching programme the Coach and Grow Programme or better known as the "CGP" with Cradle Fund in 2011
," said Renuka Sena, CEO and Chief Explorer of PROFICEO.
San Juan Mercantile Exchange Now Available Through Deltix CryptoCortex
NEW YORK, Sept 12 (Bernama) -- Deltix, Inc. announced that its CryptoCortex digital asset trading platform is now connected to the San Juan Mercantile Exchange ("SJMX") Dark Pool. This connection, according to Deltix, will provide cryptocurrency brokers/dealers, OTC desks, market makers and arbitrageurs with unique and world-class trading functionality in connection with submitting and managing their SJMX Dark Pool orders.
Deltix has been providing quantitative research, analytics and algorithmic trading solutions for equities, futures, options and forex for over 12 years. Its CryptoCortex platform, launched in 2018, is one of the world's most advanced, allowing creation and streaming of a consolidated order book, smart order routing, algo execution, flexible pre-trade risk management, and a post-trade TCA system, among other things.