EXCLUSIVE PRESS News List
UMW Holdings' Net Profit Increased 16.8% to RM86.5 million in 1Q19; Higher Revenue Achieved by all Three Core Businesses
KUALA LUMPUR, May 21 (Bernama) -- UMW Holdings Berhad's revenue from Continuing Operations rose 14.9% to RM2,774.8 million, propelled by better showing from all three core business segments. The Automotive segment registered higher vehicle sales in the first quarter of 2019, while improving sales in the heavy equipment business boosted the performance of the Equipment segment. Furthermore, the Manufacturing & Engineering (M&E) segment achieved robust revenue growth on the back of ramping up of fan cases delivery to Rolls-Royce as well as better sales in the auto components business. UMW's profit before taxation (PBT) from Continuing Operations narrowed to RM140.7 million in the first quarter of the year due to higher depreciation attributable to the new Bukit Raja plant coupled with lower margin in the Equipment segment. Nonetheless, the Group's consolidated net profit surged to RM86.5 million for the first quarter of 2019 compared to RM74.1 million registered in the same quarter of last year as the losses from the Unlisted Oil & Gas segment significantly reduced.
UMW Holdings Berhad President & Group CEO, Badrul Feisal bin Abdul Rahim said, "Subsequent to our strategic decision to refocus on our three core businesses, we have begun to realise the benefits of some of our key initiatives this year. We will continue to strengthen our presence in the automotive market, especially with our new state-of-the-art assembly plant. Since commercial production began in January, we have introduced the all-new Toyota Vios and Toyota Yaris with high local content to be more competitive in the market. The revival of the major infrastructure projects is expected to spark optimism in the Equipment segment as demand increases. In the M&E segment, KYB-UMW will commence its plant modernisation activities to meet increasing demand, while we continue to ramp-up production of fan cases for Rolls-Royce. We also see potential to explore and penetrate more markets in ASEAN for our very own Grantt brand of lubricants.
Potboy First Launch of Drop Zone at Prima Avenue, Cyberjaya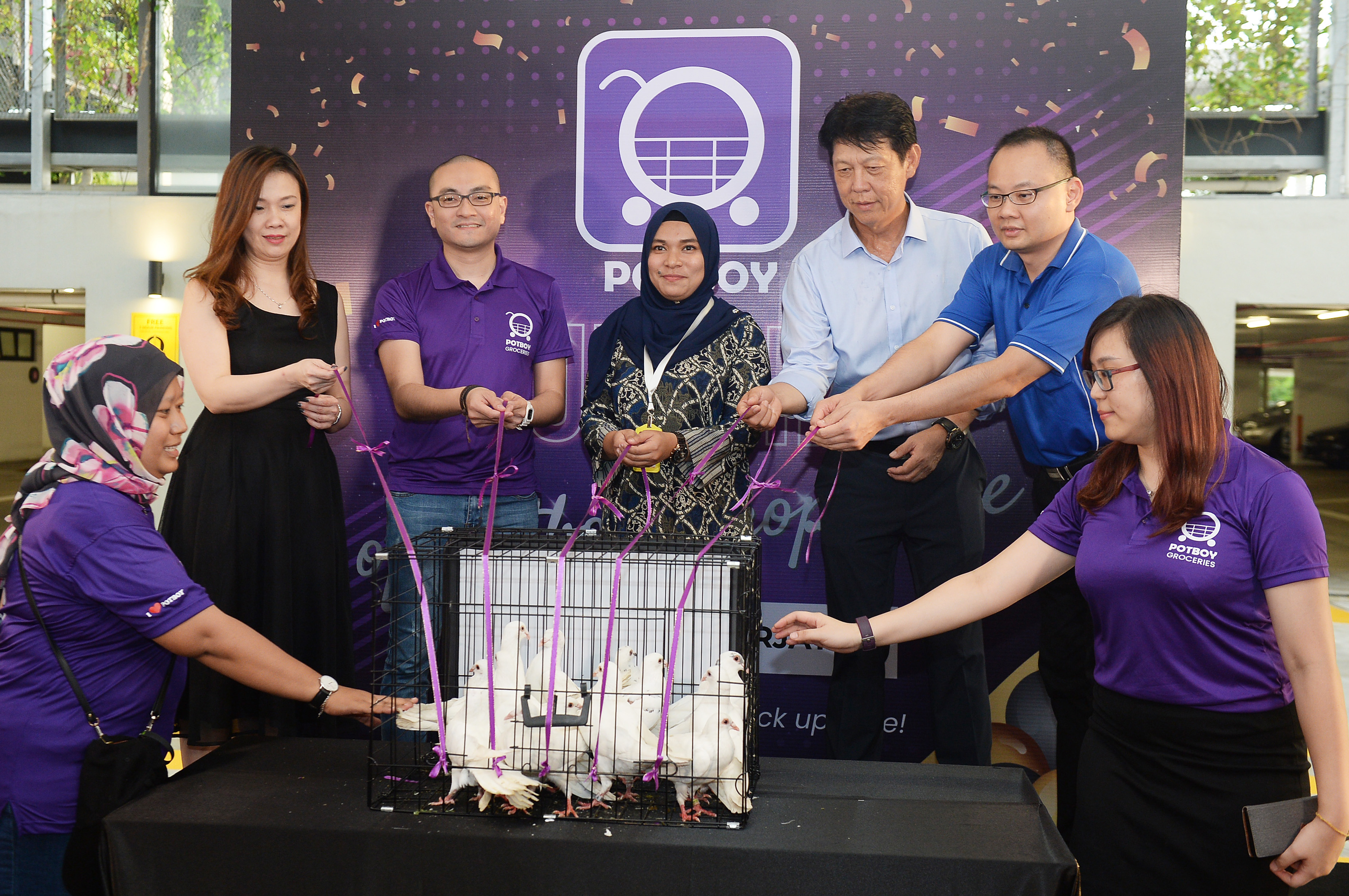 CYBERJAYA, May 21 (Bernama) -- Potboy Groceries, a homegrown online groceries platform, once again had brought an online to offline (O2O) grocery shopping for Malaysian consumer to experience and this time it called "Potboy Raya O2O" event. Alongside the Raya O2O event, Potboy Groceries has launched its first drop zone in Cyberjaya witnessing by representative Dengkil state assemblyman Adhif Syan Bin Abdullah, CM Chong, CEO Prima Avenue, Wee Li Ying, Coca-Cola Head of Key Account and Digital, and Unicharm General Sales Manager Beh Kok Seong on 18 May 2019.
PB Grocery Group Sdn Bhd chief executive officer and founder, Eddie Chew, said: "PB Grocery Group Sdn Bdn (Potboy Groceries) is taking the opportunity of this O2O event to educate the public on cashless transaction and e-payment as an alternative shopping method to Malaysian Consumers. Further, the drop zone concept in Cyberjaya is to further provide an option to busy working adults to have a safe delivery harbor and pick up at convenience within the neighbourhood. Currently, we have 5 drop zone for customers to come and pick up their purchase item. Prima Avenue supports our idea to open up new drop zone in their area. This will definitely help us to expand our market and attract greater crowd for the event. "
NRI FT India and Digital Asset to Deliver DAML Driven Applications to Capital Markets
KOLKATA, India, May 21 (Bernama) -- Nomura Research Institute Financial Technologies India Pvt. Ltd. (NRI FT India), a wholly-owned subsidiary of Nomura Research Institute (NRI) (TOKYO: 4307), has partnered with Digital Asset to create innovative capital markets applications using DAML, the open source smart contract language created by Digital Asset to synchronize business processes and make transaction workflow more transparent and efficient.
DAML is used to model business processes using smart contracts, capturing the rights and obligations associated with any asset class, business transaction or complex multi-party workflow to drive automation and efficiency. DAML is a core component of a number of Digital Asset projects and proofs of concept, including those with the ASX, HKEX and other market infrastructure providers.
PETRONAS Floating LNG Satu Achieves Its First LNG Drop Post Relocation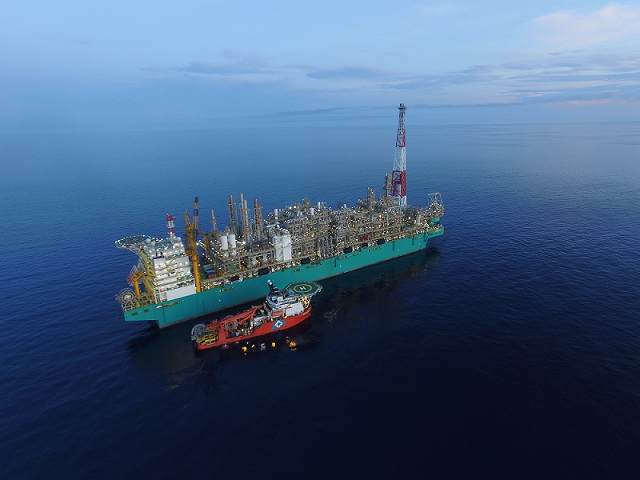 SABAH, May 21 (Bernama) -- PETRONAS achieved its first liquefied natural gas (LNG) drop by its floating LNG facility, PETRONAS Floating LNG Satu (PFLNG Satu) at the Kebabangan cluster field, 90 kilometres offshore Sabah, recently. Operated by Kebabangan Petroleum Operating Company Sdn Bhd (KPOC), Kebabangan field is the second location for PFLNG Satu after its successful operation in Kanowit field, Sarawak.
The introduction of first gas into the PFLNG Satu, achieved on 4th May 2019, was from Kebabangan field to the PFLNG Satu's turret system via a 5-km flexible pipeline. The commencement of a series of start-up activities included the cooling down of natural gas until the production of the first LNG drop on 7th May 2019, just 3 days after.
Best´s Market Segment Report: Growth Opportunities Abound in Hong Kong´s Health Insurance Market
HONG KONG, May 21 (Bernama) -- High out-of-pocket payments by patients at private hospitals and overwhelming demand for public health care underscores the need for further development of Hong Kong's health insurance sector, according to a new AM Best market segment report. With the recently launched Voluntary Health Insurance Scheme (VHIS), which encourages individuals to utilize insurance protection, and the subsequent regulatory approval for more than two dozen insurers to launch VHIS insurance products, the uptake of health insurance in Hong Kong should grow significantly.
In the new Best's Market Segment Report
, titled, "Growth Opportunities Abound in Hong Kong's Health Insurance Market," AM Best notes that while insurers are cognizant of and keen to leverage the growth potential, they must also be mindful of challenges affecting profitability and sustainability of the health insurance business. Total non-life gross premiums from direct medical insurance expanded robustly, with year-over-year growth rates rising to 11% from 4% in a five-year span (2013-2017). As direct medical products account for approximately three-quarters of the accident and health (A&H) line, A&H business now represents the largest share of domestic non-life gross premiums written, at 33% as of 2017. Despite the strong growth momentum, the A&H line of business has shown declining profitability. A&H underwriting performance has remained close to breakeven and the underwriting margin has declined sharply. Additionally, the expense ratio on direct medical insurance has continued to edge upward, to 21.3% in 2017 from 18.9% in 2013.
Trading Technologies Launches Connectivity To CoinFLEX, World's First Physically Delivered Crypto Futures Exchange
SINGAPORE, May 21 (Bernama) -- Trading Technologies International, Inc. (TT), a global provider of high-performance professional trading software, infrastructure and data solutions, today announced that connectivity to CoinFLEX, the world's first physically delivered bitcoin futures exchange, is now available to eligible professional and retail traders outside the U.S. through the TT® trading platform.
With this new link to CoinFLEX, TT users who are eligible to trade on CoinFLEX now have access to the world's first physically delivered stablecoin-to-stablecoin futures contract, offering Tether (USDT) against Circle's USD Coin (USDC). These stablecoins are pegged to the U.S. Dollar and allow traders and investors to trade on global cryptocurrency markets without dealing with slow and expensive bank wires.
Asia-Pacific Economic Cooperation (APEC) 2019 25th APEC Ministers Responsible for Trade (MRT) Meeting
KUALA LUMPUR, May 21 (Bernama) -- The 25th Asia Pacific Economic Cooperation (APEC) Ministers Responsible for Trade (MRT) Meeting was held on 17 and 18 May 2019 in the port city of Valparaiso, Chile. All 21 APEC Economies attended the Meeting, namely Australia, Brunei, Canada, Chile, China, Hong Kong China, Indonesia, Japan, Korea, Malaysia, Mexico, New Zealand, Papua New Guinea, Peru, the Philippines, Russia, Singapore, Chinese Taipei, Thailand, the United States and Viet Nam. Representatives from the ASEAN Secretariat, Pacific Economic Cooperation Council (PECC) and The Pacific Island Forum (PIF) also attended the Meeting as observers, together with the APEC Business Advisory Council (ABAC). The Malaysian Delegation was led by YB Datuk Darrell Leiking, Minister of International Trade and Industry. The meeting was chaired by Hon. Roberto Ampuero, Minister of Foreign Affairs of Chile.
Chile, as host, has chosen "Connecting People, Building the Future" as the theme of APEC throughout 2019. Ministers deliberated their ideas in regards to APEC's supports to the WTO, deepening regional economic integration in responding to opportunities and challenges emerged from the Fourth Industrial Revolution, the need to take concrete actions in implementing Bogor Goals which will expire in 2020, future of APEC post-2020, as well as strengthening inclusive and sustainable growth in the digital era.