EXCLUSIVE PRESS News List
Hansoh Pharma and Atomwise Launch Strategic AI Drug Discovery Collaboration for Multiple Therapeutic Areas
Hansoh Pharma to innovate using artificial intelligence (AI) technology to generate first in-class and best in-class small molecules.


SHANGHAI & SAN FRANCISCO, Sept 12 (Bernama) -- Hansoh Pharmaceutical Group Company Limited ("Hansoh Pharma"), a leading biopharmaceutical company in China, and Atomwise, Inc. ("Atomwise"), the leader in artificial intelligence (AI) for drug discovery, have announced a collaboration to design and discover potential drug candidates for up to eleven undisclosed target proteins in multiple therapeutic areas.

Scientific teams from Atomwise and Hansoh Pharma will work closely together on the programs. The combination of complementary expertise and technologies has the potential to dramatically increase success and compress timelines for drug discovery and clinical development.
Search Relevancy for Retailers Made Easy With Lucidworks Predictive Merchandiser
The new feature in Lucidworks Fusion 5.0 empowers merchandising teams to curate ecommerce experiences in real-time, while improving conversions, click-through rates, and average order values without involving IT

SAN FRANCISCO, Sept 12 (Bernama) -- Lucidworks, a leader in AI-powered search, today announced the new Predictive Merchandiser feature for Fusion 5.0, the latest version of the company's flagship product. This new feature lets ecommerce product merchandisers optimize search relevancy, manage rules, and analyze results without involving IT.

Relevant search results are the key driver of ecommerce conversions. The Predictive Merchandiser solution provides an intuitive, easy to use interface to help merchandisers decrease bounce rates by ensuring the right products are displayed to shoppers. Additionally, the visual analytics dashboard provides insight into opportunities for better conversion and allows merchandisers to apply rules that pin, boost, bury, block and hide specific products.
Nestree Partners With Luniverse, The Leading Blockchain As A Service (BaaS) Provider Backed By Dunamu, Operator Of Upbit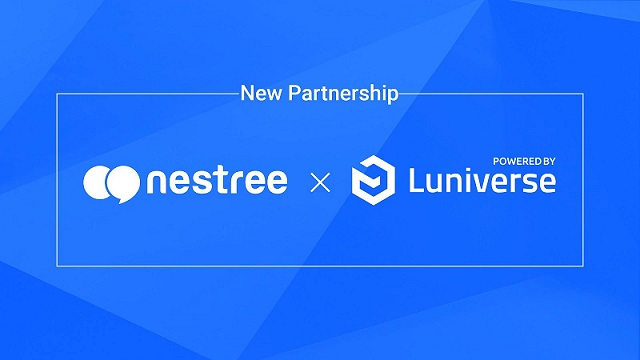 SINGAPORE, Sept 12 (Bernama) -- A reward-based blockchain messenger, Nestree, announced a partnership with Luniverse, South Korea's leading Blockchain as a Service (BaaS) provider backed by Dunamu, operator of the global crypto-asset exchange Upbit.
Acquired more than 80,000 users since June 2019, Nestree is recognized as a messenger for community growth and engagement. Nestree provides a decentralized wallet for mainnets and token transfer in the chat interface.
Lucidworks Fusion 5.0 Features Data Science Toolkit Integration and Microservices Architecture Orchestrated by Kubernetes
SAN FRANCISCO, Sept 12 (Bernama) -- Lucidworks, the leader in AI-powered search, today announced the release of Fusion 5.0, the latest version of the company's flagship product. Lucidworks Fusion 5.0 lets customers rapidly develop and deploy AI-powered search and data discovery applications in a modern, Kubernetes-based containerized architecture. This update includes features that simplify implementation for data science teams and developers to create both a more personalized experience for digital commerce customers and also improve employee productivity and engagement in the digital workplace.
Fusion 5.0 makes search application development faster and more effective in three key areas. First, a new data science toolkit integration allows data scientists and analysts to leverage existing Python models without having to rewrite them. Second, Fusion's new cloud-based microservices architecture orchestrated by Kubernetes further reduces time-to-deployment by minimizing the effort and risk of managing deployments in public or private cloud environments. Finally, updates to Fusion App Studio help reduce the time to deploy new applications and also simplify app management.
More techs to tackle environmental issues
MIMOS to showcase advanced solutions for environment at DoE's Ozone Day


BUKIT JALIL, Sept 11 (Bernama) -- More technology solutions for tackling environmental issues are in the pipeline, said national applied research and development (R&D) centre MIMOS.
Among MIMOS' solutions for the environment include Internet of Things (IoT)-based systems for peat forest management, flora and fauna protection and river quality monitoring.
Paying Close Attention To Shenyang, China, Foreign Journalists Gave Highly Praise To This City's Charming Culture And Its Economic Development
SHENYANG, China, Sept 11 (Bernama) -- From September 1st to 5th, journalists and representatives from Agency Prensa Latina, Tokyo Shimbun, Agencia Colpisa of Spain, the Lusa News Agency of Portugal and other media came to Shenyang, China for the first time, according to the Information Office of Shenyang Municipal Government. It was a good chance for these foreign journalists to have a deep study of Shenyang's economic development and a personal experience of Shenyang's charming culture.
The foreign journalists conducted field interviews and investigations to Shenyang Brilliance BMW factory, Chinese Industry Museum, Shenyang Yuanda Group, Shenyang Shengjing Embroidery Culture, Mukden Palace, Rice Dream Space Farmland in Shenbei new district, Shenyang Acrobatic Troupe and other places. They were intrigued by the traditions and modernity, folk customs and culture of Shenyang, the central city in northeast China, which impressed journalists with everything from handicraft production to large-scale equipment manufacturing and to drone research and development.
The Republic of the Marshall Islands Announces Timed Release Monetary Issuance of the Marshallese Sovereign
SINGAPORE, Sept 11 (Bernama) -- The Republic of the Marshall Islands (RMI) is moving ahead with its blockchain-based national currency, the Marshallese sovereign (SOV). The next step, announced today at the Invest: Asia cryptocurrency conference in Singapore, will be to introduce the sovereign in a highly visible way before the circulation in the Marshall Islands is initiated. Specifically, the currency will be introduced through a sale over an extended period of time in a Timed Release Monetary Issuance (TRMI). The units sold during this introductory period are intended to be exchanged for the Marshallese sovereign once it is officially launched. The TRMI units are to be released continuously in equal daily allotments via auctions.
The bulk of the proceeds will be placed in trust funds focused on key challenges for the Marshall Islands, such as combating climate change and mitigating the ongoing health crisis caused by nuclear testing at Bikini Atoll.