EXCLUSIVE PRESS News List
Commerce.Asia Acquires Panpages Lab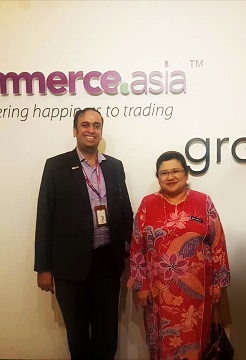 -Panpages
Lab acquisition provides Commerce.Asia access to seven million SMEs spanning six SEA countries

-Commerce.Asia pledges to continue supporting MED and objectives outlined within the National Entrepreneurship Framework (NEF)

-Ministry of Entrepreneur Development (MED) calls for greater public-private partnership participation


KUALA LUMPUR, March 22 (Bernama) --The Ministry of Entrepreneur Development (MED) today called for greater public-private partnership participation to realise the objectives outlined within the National Entrepreneurship Framework (NEF).

Its Secretary-General Datuk Wan Suraya Wan Mohd. Radzi said that such partnerships are an important element in nurturing the entrepreneurial spirit among Malaysian businesses as set out within the strategic objectives of the National Entrepreneurship Framework (NEF).
PETRONAS Awards Two Offshore Blocks in Peninsular Malaysia
KUALA LUMPUR, March 22 (Bernama) -- Petroliam Nasional Berhad (PETRONAS) has awarded Block PM407 and Block PM415, approximately 160km offshore Peninsular Malaysia, to PTT Exploration and Production Hong Kong Offshore Limited (PTTEP HKO), a wholly-owned subsidiary of PTT Exploration and Production Public Company Limited (PTTEP) and PETRONAS Carigali Sdn Bhd (PETRONAS Carigali), a wholly-owned subsidiary of PETRONAS.
A signing ceremony for the Production Sharing Contracts (PSC) and Joint Operating Agreement (JoA) for the Blocks, awarded as part of the 2018 Malaysia Bidding Round, was held here yesterday.
NexOptic Appoints Rich Geruson, Former Lexmark CEO, to Board of Directors
VANCOUVER, British Columbia, March 22 (Bernama) -- NexOptic Technology Corp. ("NexOptic" or the "Company") (TSX VENTURE: NXO) (OTCQX: NXOPF) (FRANKFURT: E3O1) is pleased to announce that Richard J. (Rich) Geruson has joined its Board of Directors, effective immediately.
Mr. Geruson's experience spans CEO roles at Lexmark International, Phoenix Technologies and VoiceSignal Technologies, and Senior Vice President and executive positions at Nokia, IBM, Toshiba, and McKinsey & Co.
24 Students Graduated From MIDA-MOE-FMM Apprenticeship Programme
Second phase will commence at the end of April 2019


KUALA LUMPUR, March 21 (Bernama) -- A total of 24 graduates from the first batch of the Apprenticeship Programme received their Sijil Kemahiran Malaysia
at the convocation ceremony held at the Malaysian Investment Development Authority (MIDA)'s headquarters, today. The programme is a joint-effort between MIDA and the Ministry of Education Malaysia (MOE), the Department of Skills Development (DSD) and the Federation of Malaysian Manufacturers (FMM).

The Apprenticeship Programme is a 2-year initiative which targets PT3 (Pentaksiran Tingkatan Tiga
or Form Three Assessment) leavers. This programme is adapted from the German TVET training model, of which 70 per cent of training is carried out in the industry while the remaining 30 per cent is conducted in training institutions. This is a fast-track programme which aims to provide skilled workers that can be absorbed immediately into the industry.
Approval of RM270 million from 1B government guarantee
KUALA LUMPUR, March 21 (Bernama) -- Pursuant to its RM 1 Billion Sukuk Facility ("Third Fund") that was launched in August 2017, Malaysia Debt Ventures Berhad (MDV), has recently received approval for the issuance of RM 270 Million under its Islamic Medium Term Notes ("iMTN"). This approval will be used to finance companies under MDV's mandate primarily the Small Medium Enterprises ("SMEs") involved in the ICT, Green Technology and Emerging Technology in Malaysia.
The approval will facilitate MDV's existing commitment of timely funding to customers in implementing their projects and generating new economic and employment activities targeted towards supporting technology and growth sectors. Furthermore, this approval will facilitate MDV's role in assisting SMEs that are looking for small scale financing of RM 3.0 Million to RM 5.0 Million that among others are undertaking projects or contracts in telecommunication, energy performance contracting and IT projects.
Malindo Air Announces Flights To Adelaide
PETALING JAYA, March 21 (Bernama) -- Malindo Air will begin its new service to Adelaide from 16 April 2019. Booking is now available at a promotional one way fare of RM679 for Economy Class and RM2,399 for Business Class, on the Malindo Air website www.malindoair.com, ticketing offices, customer care centre and preferred travel agents.

There are 4 flights from Kuala Lumpur weekly, on every Sunday, Tuesday, Thursday and Saturday. Flight OD173 will depart from Kuala Lumpur International Airport (KLIA) at 7:55p.m. and arrive at Ngurah Rai International Airport (Bali) at 11:05p.m. At 12:05a.m. the following day, the flight will continue and arrive in Adelaide Airport at 6:40a.m.