EXCLUSIVE PRESS News List
Agrobank Celebrates Asnaf Children With A Ramadan Treat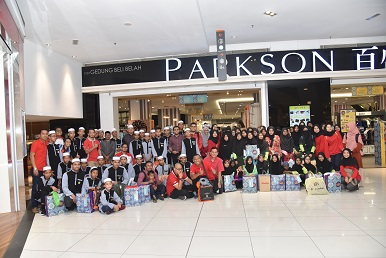 KUALA LUMPUR, May 17 (Bernama) -- Agrobank organised Program Kasih Ramadan
to celebrate asnaf children from Pertubuhan Baitul Ehsan Al-Khairi on 16 May 2019. The programme includes talk on financial management as well as shopping session for Raya preparation.

Program started in the morning with "Celik Wang" session and a visit to the Bank Negara Museum and Art Gallery. In the afternoon, the asnaf children were taken to Parkson Nu Sentral for a shopping session assisted by volunteers (staff) from Agrobank.
Address Tourism Complaints to Proper Channel for Action
PUTRAJAYA, May 17 (Bernama) -- Regarding the recent spate of news on the Asia Pacific Tourism and Travel Federation, Tourism Malaysia wishes to clarify that we are in no way associated or involved with the Federation, nor have we endorsed the Asia Pacific Tour and Travel Awards.
Should the public wish to lodge any complaints regarding tourism matters, they are advised to use the proper channel provided by the Ministry of Tourism, Arts and Culture, i.e. the Public Complaints Management System (SISPAA) which is accessible via www.motac.gov.my.
Accountancy professionals must adapt to machine learning to remain relevant
· Huge opportunities for better business intelligence and across a range of activities carried out by accountants

· Adoption of machine learning needs to be based on legitimate business need rather than just wanting to be seen as using AI

· Ethical challenges lie ahead - accountants need to align professional competence and due care with AI and machine learning


KUALA LUMPUR, May 17 (Bernama) -- In response to strengthening the on-going structural reforms to become a developed nation, Malaysia launched the National Policy for Industry 4.0 or Industry4WRD last year, which is expected to transform the nation's manufacturing sector and related services to be ready for the 4th Industrial Revolution.

As stakeholders embrace Industry 4.0, corporate Malaysia will face a new set of challenges. Accountants, being gatekeepers of the company's finances, must adapt and learn to use the tools at their disposal to upskill themselves to remain relevant, increase credibility and competitiveness in the digital era.
Mondelēz International Makes Headway In Sustainable and Mindful Snacking Goals
KUALA LUMPUR, May 17 (Bernama) -- Mondel?z International announced its 2018 Impact Progress Report which highlights significant progress against its 2020 Impact Goals. The report underscores how the world's leading snacking company met a major well-being target, achieving 15% of net revenue from portion control snacks, two years ahead of expectations. The significant progress delivered against its Impact goals demonstrates the company's mission to lead the future of snacking by creating snacks the right way for both people and planet.
The report also describes advancements against Mondel?z International's 2020 sustainable agriculture and environmental footprint goals to combat deforestation while protecting land and human rights and scale these efforts in areas where they can have the greatest positive impact. In addition to sourcing 43 % of cocoa for Chocolate brands through the company's signature cocoa sustainability program, Cocoa Life, in 2018, the company has continued to play a significant role in creating a sustainable palm oil supply chain by accelerating action against plantation companies contributing to deforestation.
Meat Substitutes Recorded USD 19.5 Billion Sales Globally in 2018
VILNIUS, Lithuania, May 17 (Bernama) -- Global market research company Euromonitor International unveiled today new research about the impact of climate concerns on dietary habits during the webinar, "The driving forces behind plant-based diets".
According to Euromonitor International, 24 percent of the surveyed global consumers are trying to cut down their meat intake, driving sales of global meat substitutes to reach USD 19.5 billion in 2018.
PEP-Therapy Reports Positive Results From GLP-Toxicity Study of PEP-010 Drug Candidate
PARIS, May 17 (Bernama) -- PEP-Therapy, a biotechnology company developing peptides as targeted therapies for oncology, announces that its first-in-class drug candidate, PEP-010, successfully completed Good Laboratory Practice (GLP) toxicity study, moving towards its first-in-human clinical trial.
PEP-010 was studied in rodent and non-rodent species, in a 4-week toxicity study. The administration schedule was chosen to cover all possible schedules that could be implemented during clinical trial. The study was performed by a world leading CRO specialized in safety and toxicology studies and in accordance with the OECD principles of Good Laboratory Practice as accepted by regulatory authorities.
"Tour Around Fujian, Have All Blessings" Activity Series -- The 1st Culture And Tourism Industry Development Conference Of Longyan, Fujian Takes Place In Gutian, Shanghang County
GUTIAN, China, May 17 (Bernama) -- In the warm and beautiful days of May, guests and friends come from around the world to gather in Longyan. Recently the 1st Culture and Tourism Industry Development Conference of Longyan, Fujian was officially unveiled in Gutian, Shanghang, a well-known revolutionary holy land of China. It was sponsored by Fujian Provincial Department of Culture and Tourism, CPC Longyan Municipal Committee and Longyan Municipal People's Government, and undertaken by Longyan Municipal Culture and Tourism Bureau, CPC Shanghang County Committee and the People's Government of Shanghang County.
The conference's attendees included Huang Qiyu, Deputy Director of the Standing Committee of the People's Congress of Fujian Province and Chairman of the Provincial Federation of Trade Unions, the relevant leaders of the Ministry of Culture and Tourism, the relevant leaders of General Office of the Fujian Provincial People's Government and the departments directly under the leadership of the provincial government, the investor representatives of the culture and tourism industry, the important travel agency representatives, representatives of Longyan's Olympic champions, and the representatives of cultural and tourist enterprises from Hong Kong, Macau and Taiwan.