EXCLUSIVE PRESS News List
Best´s Market Segment Report: Asia-Pacific Captive Domiciles Poised for Growth
HONG KONG, May 17 (Bernama) -- AM Best expects to see significant growth of captive formations in Asia-Pacific domiciles as economies grow and businesses seek new and more sophisticated ways of risk management and control.

In a new Best's Market Segment Report
, titled, "Asia-Pacific Captive Domiciles Poised for Growth," AM Best looks at the state of Asia-Pacific captive domiciles. According to the report, captive insurer growth in the region to date has remained relatively slow, mainly due to the persistently competitive insurance market. With abundant capacity available at cheaper costs, the benefits of establishing a captive may not seem particularly attractive. A lack of knowledge and understanding about captive insurance also pervades the Asia-Pacific region. Not only is there limited information available on captive insurance and its benefits in Asia, but also there are few avenues for businesses to turn to for more information. This general lack of awareness also has contributed to the low captive insurer count in this region.
"Super brains" in board and card games from all over the world play together in Hengshui
HENGSHUI, China, May 17 (Bernama) -- The 2019 IMSA World Masters Championship (Hengshui) is an international A-level event hosted by the International Mind Sports Association (IMSA) and organized by the Board and Card Games Administrative Center of the General Administration of Sport of China, Hebei Provincial Sports Bureau, and Hengshui Municipal People's Government.

A grand opening of the event themed "Beautiful Hengshui, Bright Future" was held in Hengshui Poly Theatre on 13th May, 2019. The Honorable Member of the International Olympic Committee and President of World Xiangqi Federation, Timothy Fok Tsun-Ting, President of IMSA, Chen Zelan, and Grand Master and Vice Chairman of the Chinese Go Association, Nie Weiping, as well as Masaki Takemiya and Koichi Kobayashi, world-class Go masters attended the opening ceremony.
Trade and Investment Mission to Chile, Argentina and Brazil, from 20-24 May 2019
KUALA LUMPUR, May 17 (Bernama) -- International Trade and Industry Minister Darell Leiking will be leading a trade and investment Mission to Santiago, Chile on 20 May 2019; Buenos Aires, Argentina on 21 May 2019; as well as Brasilia and Sao Paulo, Brazil from 22-24 May 2019.
Minister Leiking will be accompanied by officials from the Ministry of International Trade and Industry, Malaysia External Trade Development Corporation (MATRADE), Malaysian Investment Development Authority (MIDA), Malaysia Automotive, Robotics & IoT Institute (MARii), as well as representatives from Malaysian companies.
Involve Asia "Scores " With Quality Partnership Rating System
KUALA LUMPUR, May 17 (Bernama) -- Popular affiliate marketing solution provider, Involve Asia Technologies Sdn Bhd ("Involve Asia") has recently introduced Partner Quality Score ("PQS") on its Involve network platform. The latest feature was developed as another value-added service for its advertisers to identify and establish partnerships with potential affiliates in a more efficient manner.
PQS provides an overview of a marketing partner's score based on ongoing records of their overall performance by niche, category, and quality of work. It capitalises a profile of 20,000 affiliate marketing partners and curates them based on their focus areas, historical campaign performances and quality of conversions. Through this, advertisers can dive deep into the potential partners' platforms, understand and develop ways to working with them to yield the desired results.
AmBank Level Up Your Lifestyle Campaign Phase 1 - Lucky AmBank Customer walks away with The All New Mercedes-Benz A-Class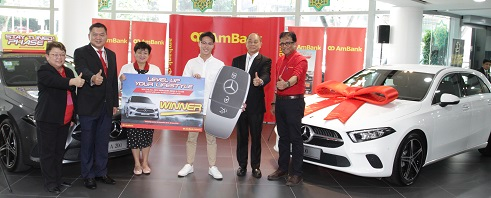 KUALA LUMPUR, May 17 (Bernama) -- Mr Tey Jian from Johor emerged as the Grand Prize winner of AmBank's Level Up Your Lifestyle Campaign. Mr Tey, a 25-year-old executive, received the all-new Mercedes-Benz A-Class at a prize presentation ceremony which was held in Menara Hap Seng, Kuala Lumpur on Thursday, 16 May 2019.

Present at the prize giving ceremony were Jade Lee, Managing Director, Retail Banking, AmBank (M) Berhad, Lenon Cheong, Head, Cards and Merchant Services, AmBank (M) Berhad, Liau Wai Choo, Head, Retail Products Management, AmBank (M) Berhad, Syed Anuar Syed Ali, Executive Vice President, Group Corporate Communications and Marketing, AmBank Group, Dato Alex Wong, General Manager, Finance and Administration, Hap Seng Star Sdn Bhd, senior management of AmBank Group, campaign partners and invited guests.
Dr. Deep Saini appointed as Dalhousie University´s 12th President
Halifax, NS, May 17 (Bernama) -- Dalhousie University's Board of Governors announced today that Dr. Deep Saini has been appointed as the university's 12th President and Vice-Chancellor.
Dr. Saini, who is currently Vice-Chancellor and President of the University of Canberra in Australia, was the unanimous choice of the search committee. He is an accomplished leader who combines significant Canadian post-secondary experience with a global outlook; a distinguished scientist whose belief in the transformative power of education has defined his life's journey; and a warm, genuine and inspiring individual ready to build on Dal's 200 years of achievement and chart a course towards even greater success in our third century ahead.
PETRONAS Celebrates Harvest Festival With Poignant Kaamatan And Gawai Webfilms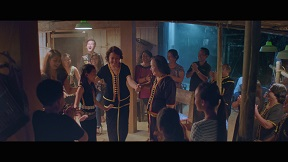 KUALA LUMPUR, May 17 (Bernama) -- PETRONAS today released its much-awaited Hari Kaamatan and Hari Gawai Webfilms and television commercials to celebrate the upcoming festivities in Sabah and Sarawak.

The two stories emphasise the gift of life, reflecting the Anugerah Kita
or blessings theme for 2019, a reminder that no matter what the circumstances, we must always cherish precious moments in life.