EXCLUSIVE PRESS News List
3d ago
Media Statement Eligibility for Malaysia Sustainable Palm Oil (MSPO) Certification Scheme Incentives
KUALA LUMPUR, Jan 21 (Bernama) -- Malaysian Palm Oil Certification Council (MPOCC) would like to refer to the Government announcement on 5 October 2019 that ONLY those who have successfully obtained the Malaysia Sustainable Palm Oil (MSPO) certification or initiated the certification process before 1 January 2020 are eligible to apply for MSPO incentive.

Thus, with effect from 1st January 2020, MSPO incentives are only claimable by those entities who have signed agreements with Certification Bodies (CBs) before 1st January 2020 or are already in the process of MSPO certification audit.
Gojek and The Trade Desk Launch Advertising Partnership in Indonesia
First Online to Offline (O2O) measurement solution in South East Asia bringing partners' business growth to the next level


JAKARTA, Indonesia, Jan 21 (Bernama) -- Gojek, Southeast Asia's leading technology platform, and The Trade Desk (Nasdaq: TTD), a global advertising technology leader, launch an exclusive partnership to provide advertisers with unprecedented insight into the impact of their online advertising campaigns on offline sale, which can improve the efficiency of marketing decision to boost business growth. This partnership marks the first Online to Offline (O2O) measurement solution in Southeast Asia, launching initially in Indonesia.

Pulkit Khanna, Gojek's Vice President for Merchant Research and Analytics, said, "Our mission is to remove life's daily friction by connecting consumers to the best providers of goods and services in the market. This partnership will enable advertisers on The Trade Desk platform to use Gojek's insight to measure their campaigns and ultimately increase the effectiveness of their advertising."
Keio Plaza Hotel Tokyo Hosts "Hina-Matsuri " Girls´ Doll Festival Art Exhibition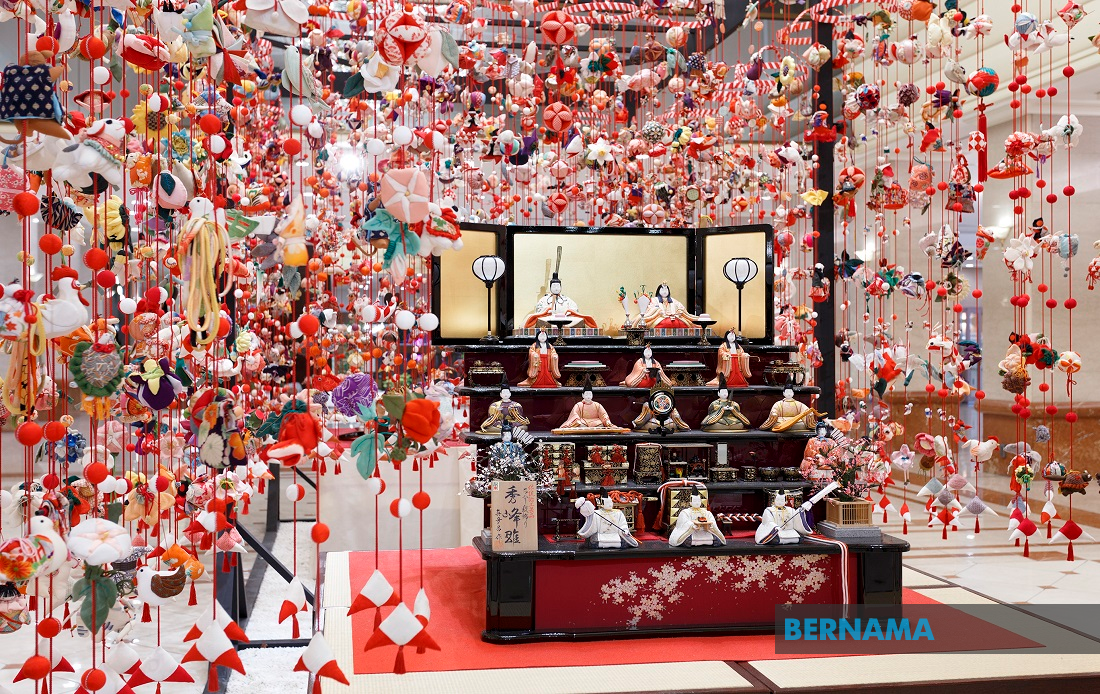 TOKYO, Jan 21 (Bernama) -- Keio Plaza Hotel Tokyo (KPH), one of Japan's most prestigious international hotels located in Shinjuku, Tokyo, will host an event entitled "Hina-Matsuri Girls' Doll Festival Art Exhibition" to help guests celebrate Japan's cultural event known as Girls' Doll Festival or Hina-Matsuri from February 1 to March 26, 2020. This highly popular event is held annually and displays some 6,800 magnificent and ornate hanging art ornaments made by hand from old silk cloth. These ornaments are carefully crafted for this exhibition and symbolically reflect the hopes for health and happiness of children. Also, peach flowers are featured as a theme for exhibition, concerts and workshops in this year's event in keeping with the "Peach Festival" and the belief that peaches lead to longevity as they drive off evil spirits.
Flower-themed works of art exhibition will be held in the 3rd floor Art Lobby area. "Exhibition of Flower Vases without Flowers" displaying vases made of lacquer, pottery, bamboo and other materials will demonstrate the special beauty of vases. In addition, the Japanese painting artist Masatsugu Ito will display his dynamic paintings of "Sakura" cherry blossoms on traditional Japanese sliding-door panels to show guests the elegant beauty of Japanese paintings.
PETRONAS continues to assist OGSE vendors through financing solution with CIMB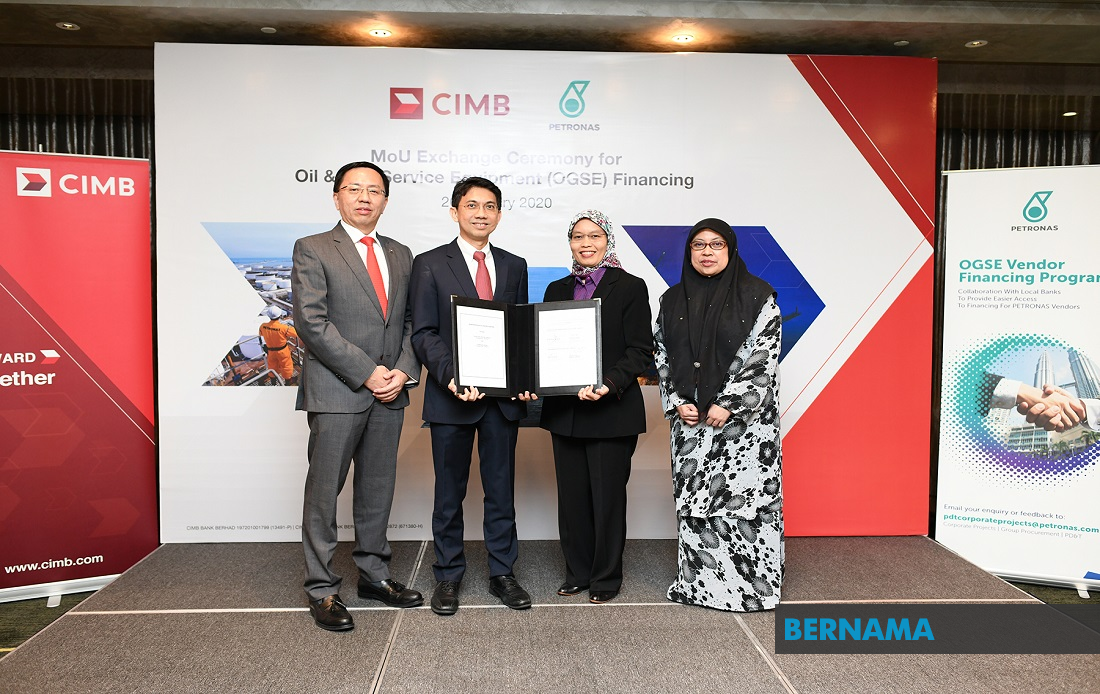 KUALA LUMPUR, Jan 20 (Bernama) -- Petroliam Nasional Berhad (PETRONAS) and CIMB Bank Berhad and CIMB Islamic Bank Berhad (collectively "CIMB") have entered into a partnership under the PETRONAS Vendor Financing Programme to offer financing solutions to Small and Medium Enterprise (SME) vendors in the Oil and Gas Service Equipment (OGSE) sector to grow their business and reach their full potential.
The collaboration was marked by a Memorandum of Understanding (MoU) exchange ceremony held here today.
PETRONAS sparks Lunar New Year joy with 'Bao Bei' Webfilm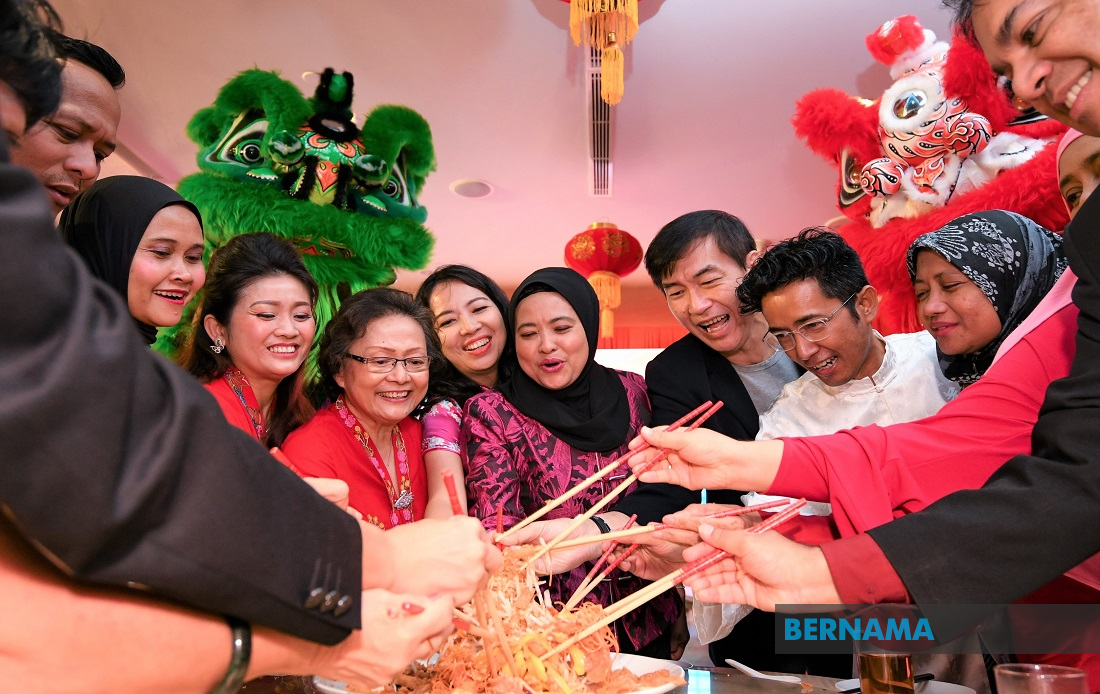 KUALA LUMPUR, Jan 20 (Bernama) -- PETRONAS launched its first Webfilm of the year titled 'Bao Bei' (??), anchored on its 2020 festive theme - 'Our Unique Family', in conjunction with the upcoming Chinese New Year celebrations, with the official hashtag #StoriesOfJoy.
'Bao Bei', which loosely translates to 'precious blanket', symbolises both a fresh start and the beginning of PETRONAS' journey into a new realm of storytelling, that showcases non-human characters to evoke the audiences' emotions.
Evercore Awarded Best M&A Adviser in Singapore for the Fourth Time by The Asset´s Triple A Country Awards 2019
SINGAPORE, Jan 20 (Bernama) -- Evercore (NYSE: EVR), the leading global independent investment banking advisory firm, was once again recognized as the Best M&A Adviser in Singapore by The Asset
magazine at its 2019 Triple A Country Awards ceremony in Hong Kong on January 16, 2020.

The annual awards, now in their 21st year, are Asia's preeminent recognition for best-in-class institutions operating within the region. Evercore has received this award four of the past five years since 2015, the first full year that Evercore obtained its Capital Markets Services ("CMS") license from the Monetary Authority of Singapore. Since its establishment, Evercore has advised on some of the largest, most complex and transformational transactions in Singapore, one of the world's largest financial centers.
PETRONAS Concludes 12-Year LNG Deal With Shenergy
KUALA LUMPUR, Jan 20 (Bernama) -- PETRONAS, through its subsidiary, PETRONAS LNG Ltd. (PLL), signed a Heads of Agreement (HOA) with Shenergy Group Company Limited (Shenergy) to supply approximately 1.5 MTPA of liquefied natural gas (LNG) to its Wuhaogou receiving terminal in China.

The LNG supply agreement is for a 12-year term starting from 2022, also involves a shipping collaboration to construct and charter new mid-sized LNG vessels for the cargo delivery. Through this new long-term agreement, PETRONAS continues to establish itself as Shenergy's preferred LNG solutions partner, having been a major LNG supplier to its subsidiary, Shanghai LNG Co., Ltd since 2006.