EXCLUSIVE PRESS News List
OKEx Native Token OKB And OKLink Stablecoin USDK Listed On Bitfinex
VALLETTA, Malta, June 13 (Bernama) -- OKEx, a world-leading cryptocurrency exchange, announced the listing of its native token, OKB, on another leading cryptocurrency exchange, Bitfinex. Bitfinex will also list USDK, which is a stablecoin co-developed by OKLink, a blockchain technology company, and Prime Trust, a registered Trust Company based in Nevada, US (Read more). The nine new trading pairs will officially open on Bitfinex from 10am, June 13, 2019 (UTC), including USDK/USD, BTC/USDK, ETH/USDK, USDT/USDK, EOS/USDK, OKB/USD, OKB/BTC, OKB/ETH and OKB/USDT.
Empowering OKEx's ecosystem, OKB allows OKEx users to perform various tasks such as setting up an OKEx partner exchange, settling trading fees, and subscribing for new tokens on the token sale platform OK Jumpstart.With multiple use-cases, OKB has been capturing more market share over the months, according to the data revealed on CoinMarketCap.
MIMOS Clarifies On Dismissal Of 4 Senior Executives
KUALA LUMPUR, June 12 (Bernama) -- Reference is made to newsreports in two local Malay language dailies on June 10.
MIMOS Berhad (MIMOS) vehemently denies the allegation of any cover-up being the cause of the recent dismissal of four senior executives, including its President & CEO. The two local Malay language dailies had reported yesterday on these allegations made by a local political party that the four executives were dismissed as an attempt to cover-up pilferage of large sums of project funds.
A Promising Front for Trade and Investment Ties with Africa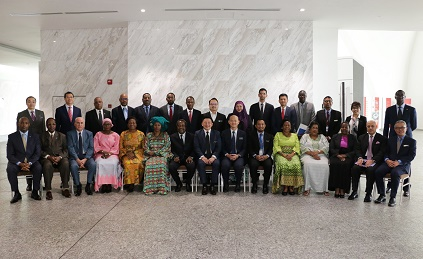 KUALA LUMPUR, June 12 (Bernama) -- As part of MITI's continuous effort to enhance Malaysia's trade and investment performance with global economies, International Trade and Industry Minister YB Datuk Darell Leiking hosted a roundtable dialogue with the African Heads of Mission to Malaysia on 3 June 2019 at MITI Tower in Kuala Lumpur.

Led by the Dean of the African Ambassadors H.E. Cuthbert Zhakata who is also the Ambassador of Zimbabwe, the African delegation comprised of 21 officials including 14 Ambassadors and High Commissioners of Algeria, Egypt, The Gambia, Ghana, Kenya, Lesotho, Namibia, Senegal, Somalia, South Africa, Sudan, Uganda, Zambia and Zimbabwe as well as embassy senior officials from Guinea, Morocco, Nigeria and Tanzania.
New Trends in Asset Allocation: Mercer Report Takes the Pulse of Retirement Plans across the Globe
KUALA LUMPUR, Malaysia, June 12 (Bernama) -- Mercer, a global consulting leader in advancing health, wealth and careers, and a wholly owned subsidiary of Marsh & McLennan Companies (NYSE: MMC) launches its inaugural issue of Growth Markets Asset Allocation Trends: Evolving Landscape
, a report that provides insights on the asset allocation and investment trends impacting pension fund assets of almost US$5 trillion in AUM across Latin America, the Middle East, Africa, and Asia.
Mercer's report noted significant variation in broad asset allocation among countries, driven by regulatory factors as well as market conditions, such as high levels of local interest rates supporting investment in domestic fixed income and cash.
Eaton transforms circuit breakers with connectivity, intelligence into next generation IoT technology supporting fail-safe buildings and processes
SINGAPORE, June 12 (Bernama) -- Power management company Eaton has unveiled its latest innovation in circuit protection technology with the release of the Power Defense™ molded case circuit breakers. Eaton's new and globally certified molded case circuit breaker provides in-depth system visibility and predictive diagnostics in a foundational electrical system component. The Power Defense circuit breakers generate real-time, data-driven insights that can improve system reliability and cost savings, and optimize operational efficiency for global original equipment manufacturers (OEMs), commercial construction and data center applications.
By 2040, Asia-Pacific will account for over 40 percent of the world's cumulative energy investments. As Southeast Asia undergoes urbanization, it will need to add 354 gigawatts of extra capacity for power generation within the same time frame. With the building and construction sector being one of the biggest energy consumers in ASEAN, the region is developing a Green Building Code to drive sustainable building practices. Anticipating the rising demand for better energy efficiency and levels of sustainability, Eaton offers the Power Defense circuit case breakers as part of its range of power management solutions to address these needs.
WBFex Is The World's Highly Anticipated Crypto Exchange Of 2019, Says The WBF Group
SHANGHAI, June 12 (Bernama) -- The WBF Group was founded on Wall Street in New York, and has launched the WBFex exchange in 2018. After the first generation of "Centralized Cryptocurrency Exchange" and the second generation of "Platformized Digital Asset Exchange," WBF Exchange has pioneered the new concept of "Generation III of Digital Asset Exchange" and using multiple security protection technologies to create a global digital financial integrated service platform.
WBFex's objective is to achieve 4.5 million registered platform users by December 31, 2019, and have 18 million registered platform users by June 30, 2020. WBFex exchange is planning to launch the new perpetual contract trading (a popular type of futures contract) in October of 2019, which WBFex aims to become the largest digital asset exchange of registered users worldwide.