EXCLUSIVE PRESS News List
WeWork Closes $6 Billion Investment From SoftBank
NEW YORK, Jan 9 (Bernama) -- WeWork today announced it had received a $6 billion investment from SoftBank. $5 billion is in the form of primary growth capital and the remaining $1 billion in secondary capital which will be used to fund share purchases from investors and employees. WeWork's post-money valuation is now $47 billion.
This investment includes a previously announced $4 billion funding commitment from SoftBank in the form of a $1 billion convertible note and a $3 billion warrant. WeWork and its subsidiaries have now raised more than $10 billion in total commitments from SoftBank since 2017.
Global Infrastructure Partners Announces the Appointment of James Yong Kim as a Partner and Vice Chairman
New York, New YORK, Jan 9 (Bernama) -- Global Infrastructure Partners (GIP), a leading independent global infrastructure investor, today announced that Dr. Jim Yong Kim, who has been President of the World Bank since 2012, will join GIP as a Partner and Vice Chairman on February 1, 2019.
Adebayo Ogunlesi, Chairman and Managing Partner of GIP commented, "The leadership and vision that Dr. Kim brought to the World Bank as well as his prior roles as President of Dartmouth College and Director of the World Health Organization's HIV/AIDS Department speak for themselves.
DoubleVerify Partners With MoPub To Combat Mobile Ad Fraud
NEW YORK, Jan 9 (Bernama) -- DoubleVerify ("DV"), the leading independent provider of marketing measurement software and analytics, today announced a partnership with MoPub, a leading provider of monetization solutions for mobile app publishers and developers around the globe. As part of the partnership, DoubleVerify will provide fraud detection and reporting for mobile app campaigns across MoPub's exchange – extending quality coverage for global advertisers and enabling MoPub to continuously refine the quality of its mobile ad inventory.
"DV's partnership with MoPub reflects our commitment to provide consistent, comprehensive quality coverage for global brand advertisers," said Matt McLaughlin, COO at DoubleVerify. "With ad spend increasingly concentrated in mobile, it's imperative that brands have clarity into the quality of mobile app inventory. We are proud of our partnership with MoPub, which expands the footprint of our fraud prevention capabilities and further distinguishes DV as the leader for mobile app verification."
TCL Debuts Expanded Range of AI-Powered 8K TVs at CES 2019
LAS VEGAS, Jan 9 (Bernama) -- TCL, top three global television brand and leading consumer electronics company, today debuted its latest artificial intelligence (AI)-powered 8K TVs, including the flagship TCL X10 QLED 8K TV and an 8-Series flagship TV, its first QLED 8K TV for the US market, at the International Consumer Electronics Show 2019. The company also officially announced it has joined the 8K Association as a founding member and launched its new branded platform for AI solutions, TCL AI-IN.
TCL AI-IN is TCL's new branded AI platform, under which all of its AI-powered products will be grouped, and successfully integrate its smart technology partners such as Android TV™, Roku (North America only) and Amazon Alexa. With this platform, TCL is building an intelligent ecosystem that provides consumers with a simple, personalized life experience.
Press Release - Closing of Offer (Hovid Berhad)
KUALA LUMPUR, Jan 8 (Bernama) -- (Unless otherwise stated, the words and abbreviations used herein shall have the same meaning as defined in the offer document relating to the Offer dated 5 October 2018 ("Offer Document'), the notice of extension of closing date dated 28 November 2018 ("Notice of Extension") and the notice of offer becoming unconditional dated 4 December 2018 ("Notice of Offer Becoming Unconditional"))

We refer to the Offer Document which sets out the details and the terms and conditions of the Offer, the Notice of Extension, and the Notice of Offer Becoming Unconditional.
Press Release - Disclosure Of Dealings (Hovid Berhad)
FAJAR ASTORIA SDN BHD AND HO SUE SAN @ DAVID HO SUE SAN (COLLECTIVELY, THE "JOINT OFFERORS")

CONDITIONAL VOLUNTARY TAKE-OVER OFFER BY THE JOINT OFFERORS THROUGH CIMB INVESTMENT BANK BERHAD ("CIMB") TO ACQUIRE ALL THE REMAINING ORDINARY SHARES IN HOVID BERHAD ("HOVID") (EXCLUDING TREASURY SHARES) ("OFFER SHARES") NOT ALREADY HELD BY THE JOINT OFFERORS FOR A CASH OFFER PRICE OF RM0.38 PER OFFER SHARE ("OFFER")

DISCLOSURE OF DEALINGS IN ACCORDANCE WITH RULE 19 OF THE RULES ON TAKE-OVERS, MERGERS AND COMPULSORY ACQUISITIONS ("RULES")

KUALA LUMPUR, Jan 8 (Bernama) -- We refer to the announcement dated 14 September 2018 by Hovid on the Offer.

Pursuant to Rule 19.04(1) of the Rules, we wish to inform that Fajar Astoria Sdn Bhd ("FASB") has dealt in the securities of Hovid, details of which are as follows:
"Leveraging ASEAN Solutions For Trade Through ASSIST: The EU's Support Under The ARISE Plus Programme"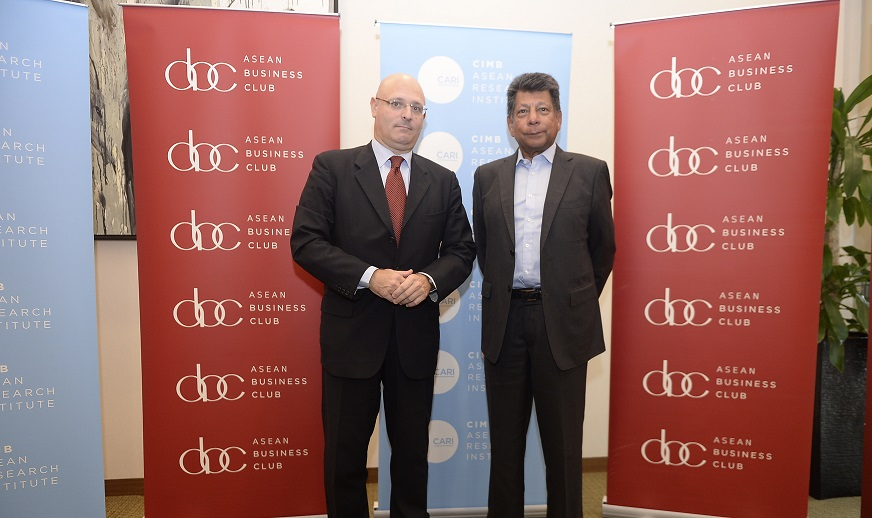 KUALA LUMPUR, Jan 8 (Bernama) -- EU trade expert calls for private sector to fully utilise the ASEAN Solutions for Investments, Services and Trade (ASSIST) as the best platform to address intra-ASEAN trade problems that limit SMEs' ability to take advantage of the ASEAN Economic Community (AEC) - the regional integration agenda that has an end goal to facilitate the free movement of goods, services, investment and freer flow of capital across ASEAN.
The ASSIST initiative, under the support of ARISE (ASEAN Regional Integration Support by the EU) Plus, is a non-binding and consultative mechanism that helps expedite solutions for operational cross-border problems related to the implementation of ASEAN economic agreements encountered by ASEAN-based entities. The online solution allows businesses encountering problems exporting goods or services (the latter effective second quarter of 2019) to other ASEAN countries to lodge e-complaints, interacting directly with ASEAN Member State (AMS) Governments.