EXCLUSIVE PRESS News List
Milrem Robotics Introduces the New Generation Multi-Purpose Unmanned Ground Vehicle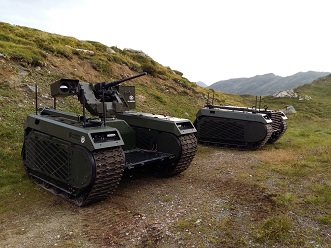 LONDON, Sept 10 (Bernama) -- Milrem Robotics, the leading European manufacturer of unmanned ground vehicles (UGV) and developer of robotic warfare solutions, introduces the fifth generation THeMIS UGV at DSEI 2019 in London designed to assist warfighters and enhance combat effectiveness.  "In 2015 we exhibited the first THeMIS concept here at DSEI in London. Now, four years later, after extensive testing with industry partners and NATO forces in very demanding environments we are proud to be back here and present a mature and robust product that will greatly enhance warfighting capabilities," stated Kuldar Väärsi, CEO of Milrem Robotics. 
Euromonitor International launches new whitepaper 'How to become a sustainable brand'
LONDON, Sept 10 (Bernama) -- Global market research company Euromonitor International launched today a new whitepaper, 'How to become a sustainable brand'.
This whitepaper explores how companies can utilise different strategies to align with new government policies and consumer behaviours, while maximising profitability. More consumers are proactively leading a sustainable lifestyle. According to Euromonitor International's latest sustainability survey, 54 percent of global consumers believe ethical purchase decisions will make a difference.
Best´s Market Segment Report: China Non-Life Insurance Market Outlook Remains Negative
HONG KONG, Sept 10 (Bernama) -- AM Best is maintaining its negative outlook on the China non-life sector, owing to persistent pressure on the motor business, execution risks as the market turns toward a non-motor-focused business model and the industry's dependence on investment returns to support earnings.

The new Best's Market Segment Report
, "Market Segment Outlook: China Non-Life Insurance," also notes that the ongoing U.S.-China trade war inadvertently has lowered consumer and business sentiment on the mainland. For the second quarter of 2019, China reported its weakest quarter-on-quarter GDP growth in decades, registering just 6.2%. Although the U.S. tariffs are notable, the current slowdown of China's economy in large part is due to domestic pressures, including a decline in the pace of infrastructure investment, a cooling down of construction industry activity and a decrease in industrial output. AM Best expects that China's economic growth will continue to expand moderately in the coming quarters, with GDP growth remaining in the 6.0-6.5% range.
Silk Road Maritime International Cooperation Forum Held In Xiamen To Boost Information Exchange
XIAMEN, China, Sept 10 (Bernama) -- The Silk Road Maritime International Cooperation Forum (SRMF), hosted by the People's Government of Fujian Province, kicked off on September 7 in Xiamen. Under the theme of "sharing prosperity through cooperation and connectivity", the forum brought together hundreds of participants from several countries including China, Egypt, Japan, the Philippines, Singapore, Serbia and so on.
The two-day forum aims to promote the connectivity of maritime transport along the 21st Century Maritime Silk Road. It also aims to enhance the exchange and cooperation within the port and shipping industries related to the 21st Century Maritime Silk Road and to improve the liberalization and facilitation of investment and trade.
Singsys Acclaimed With The 'Company Of The Year, 2019' Recognition By SiliconIndia
SINGAPORE, Sept 10 (Bernama) -- Singsys, a globally celebrated Multinational Corporation, head-quartered at Singapore with its state-of-art development center in Lucknow, India has been ranked 1st in India's 'Prominent Companies List' in Laravel Development for 2019 by SiliconIndia. It is essentially a quantum leap forward for the firm, emerging as India's top company from having already upheld similar top recognitions in Singapore.
This accomplishment cements Singsys' commitment towards curating and nurturing the culture for building and sustaining its philosophy of high-trust and high-quality. Sophisticated R&D has been the major plank to bring forth this prestigious perceiving with experiential learning, custom-made strategic frameworks in place for the yet visionary perspectives towards 'Digital Evolution' that Singsys aims to enthusiastically uptake for its Indian expansion disposals. Great Start Indeed !!
Aptorum Group Announces the Development of Microbiome Drug Candidate Targeting Obesity and Repurposed Drug Candidates Targeting Neuroblastoma
NEW YORK, Sept 10 (Bernama) -- Aptorum Group Limited (Nasdaq: APM) ("Aptorum Group"), a biopharmaceutical company focused on the development of novel therapeutics to address global unmet medical needs, announces the development of two preclinical drug candidates which target obesity and neuroblastoma, respectively.
About CLS-1: Treatment of obesity via modulation of chemical signaling relating to gut microbiota
Under the recently-announced microbiota modulation platform operated by Aptorum Group's wholly-owned subsidiary Claves Life Sciences Limited, we have commenced the preclinical development of macromolecule candidate CLS-1 targeting the treatment of obesity. CLS-1 is undergoing lead optimization and is expected to progress into the IND enabling stage in 2020.
Sports Exchange Program (Rugby): Visit from ASEAN Countries and Timor-Leste Under Japan´s Friendship Ties Program "JENESYS 2019 "
TOKYO, Sept 10 (Bernama) -- As part of Japan's Friendship Ties Program "JENESYS 2019" promoted by the Ministry of Foreign Affairs, 165 young students (Boys and Girls) who have interests in Rugby and officials from Rugby association of ASEAN countries (Brunei , Cambodia, Indonesia, Lao PDR, Malaysia, Myanmar, Philippines, Singapore, Thailand, Vietnam) and Timor-Leste will visit Japan from September 13th to 21st.
The group will visit Shizuoka prefecture and interact with High school students and University students of Shizuoka thorough Rugby. Moreover, the program provides lectures on the theme (Relationship between Japan and ASEAN through Tag Rugby, Rugby World Cup 2019, and Activities on Rugby in Shizuoka etc.). It is expected to exchange across the countries through Joint Training and Friendly Match of Tag Rugby.