EXCLUSIVE PRESS News List
Seiko Dream Square -- Interactive Hub Of Seiko's Watchmaking World -- Opens In Tokyo
TOKYO, Jan 7 (Bernama) --
Seiko Watch Corporation is proud to announce the opening of Seiko Dream Square, a new four-story retail complex in the heart of its birthplace in Tokyo's Ginza district. Seiko Dream Square allows visitors to "look, feel and experience" the rich history and heritage of Seiko's watchmaking since 1881 through its museum, showrooms and entertainment functions. Welcoming with the spirit of "Omotenashi," a Japanese term meaning the best possible service and hospitality, Seiko Dream Square is a point of destination for visitors of all ages and a center for communicating the brand's story globally -- from Ginza to the world.
Lantronix to Present at the 21st Annual Needham Growth Conference on January 16, 2019
IRVINE, Calif., Jan 7 (Bernama) -- Lantronix, Inc. (the "Company") (NASDAQ: LTRX), a global provider of secure data access and management solutions for the industrial Internet of Things (IoT), today announced that President and CEO Jeff Benck, and CFO Jeremy Whitaker will present an overview of the Company's business at the 21st Annual Needham Growth Conference on January 16, 2019 at 8:20 AM Pacific Time (11:20 AM Eastern Time) at the Lotte New York Palace Hotel in New York City, NY. A live webcast and copy of the Company's slide presentation will be available on the investor relations section of the Company's website at www.lantronix.com. Management will also hold one-on-one meetings with institutional investors and analysts throughout the conference.

Investors attending the conference who wish to meet with Lantronix management should contact Shahram Mehraban at investors@lantronix.com.
AAOIFI and SALIHIN Shariah Advisory Collaboration in Human Resource
KUALA LUMPUR, Jan 7 (Bernama) -- AAOIFI, Accounting and Auditing Organization for Islamic Financial Institutions (Bahrain), and SALIHIN Shariah Advisory (Kuala Lumpur) signed a collaboration agreement in the area of Islamic finance education.
By virtue of this collaboration, SALIHIN Shariah Advisory becomes an Education Partner of AAOIFI in Malaysia. The objective of the collaboration is to promote the professional fellowship programmes of AAOIFI in Malaysia. These include Certified Islamic Professional Accountant (CIPA) qualification and the Certified Shariah Advisor and Auditor (CSAA) qualification respectively.
CIMB Offers 6 Months Paid Maternity Leave For First-time Mothers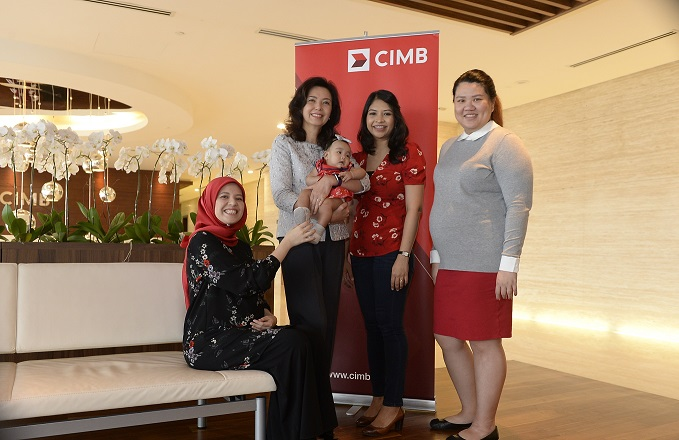 KUALA LUMPUR, Jan 6 (Bernama) -- CIMB Group Holdings Berhad ("the Group" or "CIMB"), a leading ASEAN universal bank has announced a fresh benefit of six months paid maternity leave for its employees who become first-time mothers. This benefit, which took effect on 1 January 2019 for all employees in Malaysia, is another step forward for new parents, following CIMB's one-month paid paternity leave – announced last year – for first-time fathers.
First time mothers will have the flexibility to commence this benefit as early as 30 days prior to their estimated delivery date. This benefit could be further complemented by CIMB's Staff Rejuvenation Programme, which allows employees up to six months' unpaid leave. Hence, first-time mothers could effectively take a whole year off to care for their first-born.
Finterra - MOC brings Blockchain to Islamic Finance
KUALA LUMPUR, Jan 5 (Bernama) -- The Islamic Finance / FinTech industry, the former being heavily regulated, is one that FINTERRA is targeting with the upcoming launch of its WAQF chain. FINTERRA, a Malaysian based FinTech company, whose WAQF chain will be launched mid-February 2019, recently signed a Memorandum of Cooperation (MOC) with the International Shari'ah Research Academy for Islamic Finance (ISRA).
The MOC provides for collaboration and cooperation between both FINTERRA and ISRA in the area of Islamic FinTech, Financial Instruments, Shari'ah compliance, Financial Service Act and regulatory framework. This agreement propels the advancement of applied research in Islamic finance to drive development in the fields of Islamic social financing, Islamic Banking, Money services, Waqf Development fund raising, Blockchain and Technology.
Press Release - Disclosure Of Dealings (Hovid Berhad)
KUALA LUMPUR, Jan 4 (Bernama) -- We refer to the announcement dated 14 September 2018 by Hovid on the Offer.
Pursuant to Rule 19.04(1) of the Rules, we wish to inform that Fajar Astoria Sdn Bhd ("FASB") has dealt in the securities of Hovid, details of which are as follows:
Trading Center For Hainan International Tropical Agricultural Products Inaugurated In Haikou
HAIKOU, China, Jan 4 (Bernama) -- The trading center for Hainan international tropical agricultural products was inaugurated in Haikou, capital of south China's Hainan Province on December 18, 2018.
On the same day, the Xinhua-HSF natural rubber series price indexes were released, consisting of concentrated latex price index, standard rubber (TSR20) price index, mixed rubber (20#) price index, and field latex price index.