EXCLUSIVE PRESS News List
PETRONAS Sprinta Makes MotoGP Debut At The Dutch Grand Prix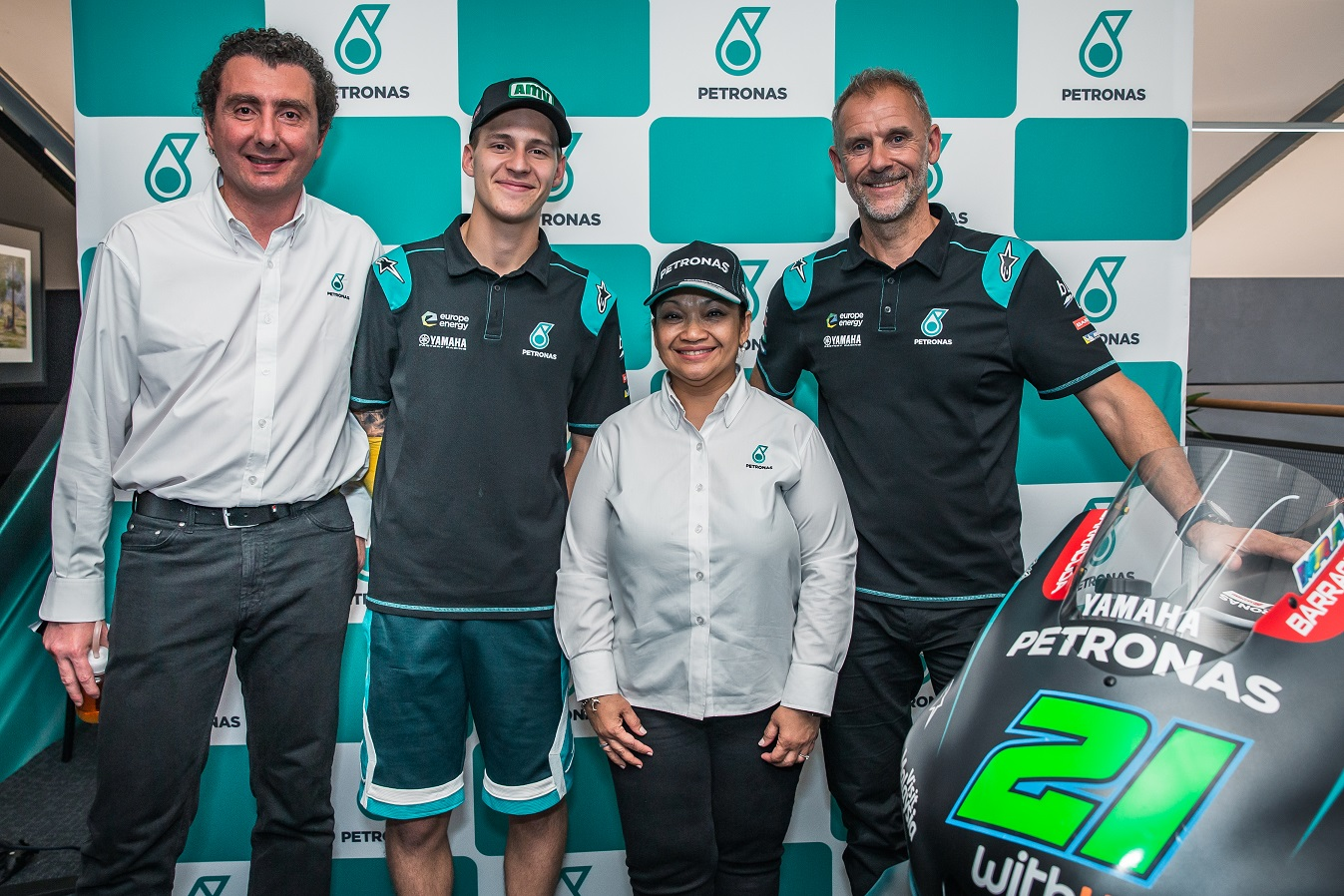 KUALA LUMPUR, July 13 (Bernama) -- PETRONAS Yamaha Sepang Racing Team's title sponsor, PETRONAS announced at the recent Dutch Grand Prix in Assen, that it has successfully integrated its new engine oil, PETRONAS Sprinta with the Yamaha YZR- M1 of Franco Morbidelli and Fabio Quartararo.
Uniquely formulated to suit the characteristics of the Yamaha bikes, Sprinta is expected to boost the engine's performance and reliability while providing superior engine cleanliness. It was an opportune time for PETRONAS to introduce the new engine oil as rookie Fabio took pole postion and finished third at the Dutch Grand Prix.
Singapore Exchange Launches New Multi-Matching Trading Engine from Nasdaq
STOCKHOLM, Sweden, July 12 (Bernama) -- On June 3, Singapore Exchange (SGX) successfully went live with a new multi-matching trading engine via Nasdaq's (Nasdaq: NDAQ) Nasdaq Financial Framework for SGX's securities market. The technology upgrade provides SGX a standardized and unified operations, messaging and data infrastructure that gives unparalleled flexibility to seamlessly launch new products and services more quickly and cost-effectively for its securities market. SGX and Nasdaq have been technology partners since 2003.
"It was an excellent collaboration working with our industry partners comprising of trading members, clearing members and data vendors to move towards a new securities trading engine," said Vincent Low, Head of Software Delivery and Integration, SGX. "With this upgrade, SGX has standardized the API messages for both cash and derivatives products of our Equities business, bringing connectivity and maintainability convenience to our customers' Order Management Systems. With a more robust and efficient platform, we are also able to enhance our market offerings to our customers."
Lubrizol Integrates Personal, Home and Health Care Divisions; Now Lubrizol Life Science
New brand to maximize client speed-to-market, providing enhanced solutions

CLEVELAND, July 12 (Bernama) -- The Lubrizol Corporation announces the reorganization of its Personal, Home and Health Care business lines, integrating them under a newly dedicated brand, Lubrizol Life Science. The change reflects the company's commitment to evolve with the beauty, health, home and wellness markets, which continue to cross over and converge. The newly formed Lubrizol Life Science team seeks to enhance the value of its solutions and services to customers and end users through its collective expertise in chemistry, applications and market insights.

"Lubrizol Life Science brings together a great variety of formulation and product development experience to sit under one umbrella," says Lubrizol Advanced Materials President Rick Tolin. "Our internal capabilities are focused and aligned to help our customers quickly meet the expectations of today's consumers for products that ensure them of a healthier, more beautiful and comfortable life."
FPT announces strategic investment in Homa Techs Inc., entering Southeast Asia smart home market
HO CHI MINH CITY, Vietnam, July 12 (Bernama) -- Vietnamese largest IT firm FPT Corporation (FPT) on Thursday entered into an agreement to become the strategic investor of Homa Techs Inc. (Homa)., a provider of Internet of Things (IoT) networking and smarthome/building devices.

The announcement was made at Homa's grand launching of Multi-Protocol IoT Hubs which seamlessly and securely integrate all smart devices in the house into IoT applications. Up to 240 devices could be connected at the same time, including switches, smart plugs, light controllers, sensors, door bells, door locks with camera, mobile apps, home service softwares, etc.
Cloudflare Registers Trademark for The Network is the Computer®
SAN FRANCISCO, July 12 (Bernama) -- Cloudflare, a leading Internet security, performance, and reliability company, today announced that it has successfully registered with the United States Patent and Trademark Office the trademark for the phrase, "The Network is the Computer." Cloudflare took on this trademark as it embodies the company's approach to utilizing its network to pave the way for the future of the Internet.
The phrase was first coined in 1984 by John Gage, the 21st employee of Sun Microsystems, where he was credited with building Sun's vision around "The Network is the Computer." When Sun was acquired in 2010, the trademark was not renewed, but the vision remained.
Blue Magic Inc. to Launch japanese-cuisine.com, Using e-Learning to Teach the Culture and Techniques of Authentic Japanese Cuisine
TOKYO, July 12 (Bernama) -- Blue Magic Inc., headquartered in Tokyo, Yukiko Akimoto, CEO, has developed an e-learning program to teach the culture and techniques of authentic Japanese cuisine in conjunction with the Japanese Culinary Academy, located in Kyoto, Yoshihiro Murata, Director. The program is slated for a worldwide launch on July 12, 2019.
Although there are more than 120,000 Japanese restaurants worldwide, figures indicate that only a mere three percent of those are run by Japanese chefs. There is a great interest in Japanese cuisine among professionals working in Japanese restaurants worldwide as well as among students at culinary academies. Many people are eager to learn how to authentically master Japanese cuisine.
AM Best Affirms Credit Ratings Of DB Insurance Co., Ltd.
HONG KONG, July 12 (Bernama) -- AM Best has affirmed the Financial Strength Rating of A (Excellent) and the Long-Term Issuer Credit Rating of "a+" of DB Insurance Co., Ltd. (DBI) (South Korea). The outlook of these Credit Ratings (ratings) is stable.
The ratings reflect DBI's balance sheet strength, which AM Best categorizes as very strong, as well as its strong operating performance, favorable business profile and appropriate enterprise risk management (ERM).