Eight ex-Sabah UMNO leaders join Bersatu

Last Update: 15/03/2019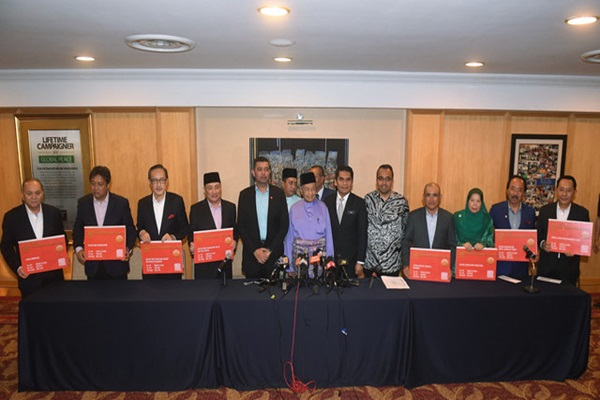 PUTRAJAYA, March 15 (Bernama) -- Bersatu chairman Tun Dr Mahathir Mohamad today announced the entry of eight ex-Sabah UMNO leaders to the party and also gave the assurance that they would support the Parti Warisan Sabah (Warisan)-led state government.
The eight received their Bersatu membership cards from the Prime Minister at the Perdana Leadership Foundation here.
Four are MPs, two are senators and two assemblymen.
The MPs are Datuk Zakaria Edris (Libaran); Datuk Seri Dr Ronald Kiandee (Beluran); Datuk Azizah Mohd Dun (Beaufort) and Datuk Abdul Rahim Bakri (Kudat) while the assemblymen are Datuk Hajiji Mohd Noor (Sulaman) and Datuk Seri Masidi Manjun (Karanaan). The senators are Datuk Abdul Ghani Mohamed Yassin and Datuk John Ambrose.
Dr Mahathir also said that the entry of Bersatu to Sabah was not meant to sideline or replace the Warisan-led state government there.
"Bersatu members in Sabah will support the Warisan government now. We do not have any intention to replace any party. We want to be there (Sabah) only to support the Sabah Warisan government," he said of the peninsula-based party (Bersatu).
Dr Mahathir said that even though Bersatu planned to launch Bersatu Sabah on April 6, "there have already been requests to join Bersatu in Sabah."
He added that although Warisan was not a component of Pakatan harapan (PH), nevertheless three of its leaders were given minister posts and two made deputy ministers, at the federal level.
"We support the government formed by Warisan in Sabah. This is the stand of all four components in PH including Bersatu," said the PH chairman.
The leaders mentioned are Minister in the Prime Minister's Department (Laws) Datuk Liew Vui Keong, Datuk Ignatius Darell Leiking (International Trade and Industry Minister) and Datuk Mohamaddin Ketapi (Tourism, Arts and Culture Minister).
The deputy ministers are Datuk Aziz Jamman (Home Ministry) and Isnaraissah Munirah Majilis (Energy, Technology, Science, Climate Change and Environment) .
With this latest development, Bersatu now has 26 MPs in the Dewan Rakyat.
Yesterday, Hajiji, who is also former Sabah UMNO chairman, was reported as saying that more ex-Sabah UMNO elected representatives would be joining Bersatu when the party formally takes off In Sabah on April 6, with the launch scheduled to be held in Kota Kinabalu.
On Feb 15, Dr Mahathir had announced that Bersatu would be spreading its wings to Sabah after getting the blessings of its top leadership.
Asked whether Sipitang MP Yamani Hafez Musa will also be joining Bersatu, Dr Mahathir said the party would look into the matter first.
"Because they must be independent first, and then we will study their record and commitment to Bersatu and PH, only then can we accept them," he said on Yamani Hafez, who is still with Sabah UMNO.
He said six more assemblymen who had submitted membership forms to join Bersatu would also be considered.
The six are Datuk Japlin Akim (Usukan), Datuk Isnin Aliasnih (Klias), Datuk Nizam Abu Bakar Titingan (Apas), Datuk Mohd Arifin Arif (Membakut), Datuk Ghulam Khan Bahadar (Kawang) and Matbali Musah (Lumadan).
Meanwhile, Hajiji said he was ready to take on the role of Bersatu Sabah chairman if given the mandate.
He also assured that Bersatu Sabah would give its full support and cooperation to the Warisan-led state government.
"I have met (Warisan president) Datuk Seri Mohd Shafie Apdal several times. For me, there is no problem for us to work together and we will help the state government," he said.
-- BERNAMA