National Gawai Dayak 2019 celebration in Bintulu, May 17-19

Last Update: 31/03/2019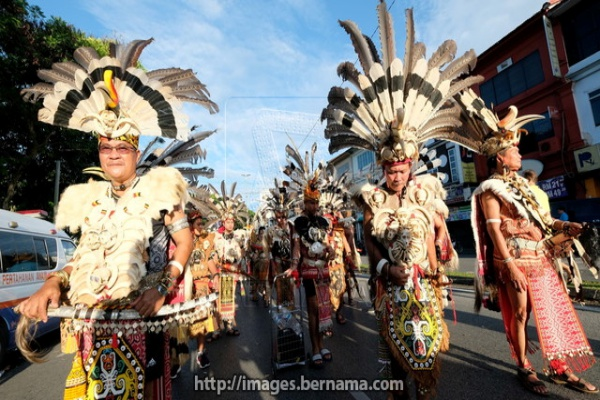 KUCHING, March 31 (Bernama) -- The National Gawai Dayak 2019 celebration will be held in Bintulu from May 17 to 19.
Its organising chairman, Dr John Brian Anthony said the celebration themed, "Bejalai Betungkatka Adat, Tinduk Bepanggalka Pengigat" (know your culture and roots in the Iban language) was also expected to see the participation of the Dayak communities from Sabah and Kalimantan in neighbouring Indonesia.
"Why this Gawai was proposed is that for the last 53 years we had state Gawai celebrations, and now there is a lot of public feedback saying that more Gawai events and activities be held and exposed through radio and TV to create better understanding of the diverse cultures across Malaysia," he told Bernama here today.
He said this inaugural national-level event was being organised by the Ministry of Communications and Multimedia Malaysia (KKMM) with the organising committee drawn from local non -governmental organisations (NGOs) to provide technical input to the ministry.
As a curtain raiser, KKMM minister Gobind Singh Deo is scheduled to attend a welcoming dinner on May 17 in Bintulu to mark the start of the festivity.
The following morning, a Dayak cultural parade will also be held in Bintulu, with participants in full Dayak regalia and showcasing the ethnic group's music, while more cultural events await at Rumah Tuai Henry Nuni, a 35-door Iban longhouse in Sg Gelam, Sebauh, 24 km from Bintulu, until May 19.
John Brian said Gobind was also expected to join the Gawai celebrants and visitors at the longhouse to partake in the Iban "Sandau Hari" Gawai ritual, various Dayak cultural performances as well as witness the age- old Iban custom of "Nyabung Manuk" or cock-fighting.
"We have extended our invitation to our fellow Dayaks in Sabah and Kalimantan, Indonesia to share in this celebration in order to better understand the similarities of our cultures," he said, adding that they would also be invited to showcase their culture.
He said the organising committee had also extended an invitation to Prime Minister Tun Dr Mahathir Mohamad, whom he described as an "advocate of creating better understanding among Malaysians of different cultures and races" to officiate at the closing ceremony in Bintulu on the evening of May 19.
During the three-day event, members of the public could also visit the Dayak Food Festival in Bintulu town featuring authentic Dayak fare including traditional delicacies, he added.
-- BERNAMA