Jaafar is proof that graduates can make it big in business

Last Update: 01/04/2019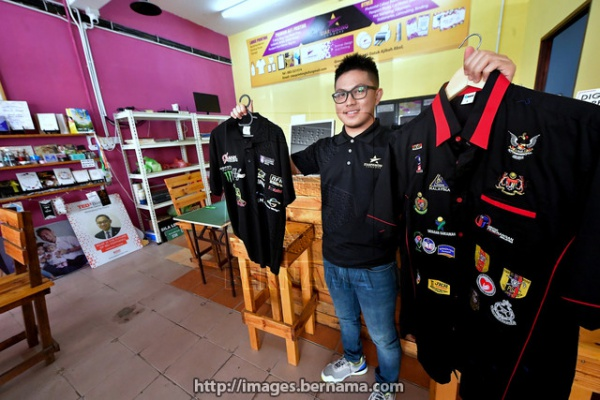 KUCHING, April 1 (Bernama) -- It is every graduate's dream to run his or her own business and generate income of up to RM70,000 a month.
While many only dream of such a venture, one man, a Universiti Teknologi Mara (UiTM) graduate Jaafar Mohamed, 28, made it happen by chasing his dream.
It didn't happen overnight, though. It was only after many ups and downs and sacrifices that Jaafar, who holds a Bachelor's degree in Arts and Design, finally struck gold when he set up Printing Star, a company that prints shirts, buntings, banners, corporate shirts and custom-made souvenirs.
"My first business was in the Padungan area here. I sold traditional Sarawak handicraft products and also took my first tentative steps into the printing business on a small scale.
"But that only lasted a year and I was jobless for two months, which was the worst time of my life as I was broke," he said, adding that he even suffered from depression.
Desperate, he took to selling ice-cream outside a primary school in Kuching before working as a marketing officer for a mall in the city.
That was when the business bug bit him again. So, he began by printing shirts for his customers from his small rented room.
Surprisingly, the response was good. Not wanting to fail again, he began to do more research by reading up about business management to make sure his second foray into business was more structured.
"In 2016, I finally rented a shop lot, which is still operational with three employees. Business is now good," said Jaafar, who hails from Kampung Sungai Aur, Telaga Air near here.
Asked how he bounced back from his two failed ventures earlier, he said that in business one had to be hardworking and have a never-say-die attitude.
"What I learned after my first failure was that in business, you must have knowledge and a mentor for reference and advice," he said, adding that his mentor was a friend who now runs his own business in Singapore.
He said that among his clients were the state Internal Revenue Board, North Kuching City Council, Universiti Malaysia Sarawak and the Sarawak Fishermen's Association.
Jaafar said his company had also moved towards digital economy as encouraged by the state government, with a major part of negotiations and discussions with customers being done through digital platform, like Facebook and Instagram.
"Previously, they would come to my shop to choose the designs or patterns and place orders but now we interact via social media, which is faster and easier," he said.
He advised graduates wishing to start their own business to gain as much knowledge as possible first by reading and doing research so as to reduce the risk of failure.
-- BERNAMA