MOE officers and staff are social agents to develop the community - Maszlee

Last Update: 15/04/2019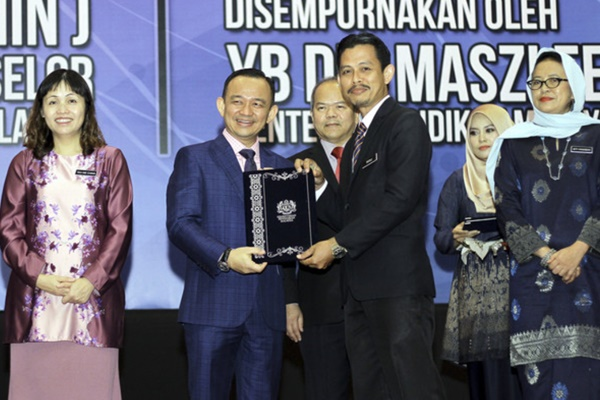 NILAI, April 15 (Bernama) -- All officers and staff of the Ministry of Education (MOE) should strive to be social agents with the primary task of developing the community and the responsibilities should be shared together.
Its Minister Dr Maszlee Malik said that all frequently received complaints should be addressed well to ensure MOE strived as a ministry that always cared about matters closely related to the public.
"MOE personnel should work hard to ensure that all policies, programmes and activities planned at the ministry level could move smoothly to the implementation stage at the lower level.
"What would be the point if we plan on various things but it does not give positive impact to the target group," he said in his speech at the MOE excellent service award (APC) 2018 here today.
Also present were Deputy Education Minister Teo Nie Ching and MOE secretary-general Datuk Dr Mohd Ghazali Abas.
Maszlee said this year's APC theme of 'Perkhidmatan Cemerlang, Integriti Dijulang' (Excellent Service, Integrity Exalted) is in line with the current government policies not only emphasising on excellent work and services but also integrates integrity to produce sincere and clean productivity from any misconduct.
"One of the country's focus is to ensure that integrity and anti-corruption element become the backbone to governance.
"Hence, in implementing government policies, in particular, the national education policy, every individual must appreciate the value of integrity that not only contributes to individual service excellence but also serves as a measure of excellence in service of the nation as a whole," he said.
A total of 731 recipients were feted at the 2018 MOE APC which was aimed at recognising and appreciating the ministry's personnel from the headquarters, the higher education department, the polytechnic and community college education department and PERMATA, who have provided excellent services as well as being the driving agents for productive and quality delivery in culture and service.
-- BERNAMA