Sandakan centre training special needs children

Last Update: 10/05/2019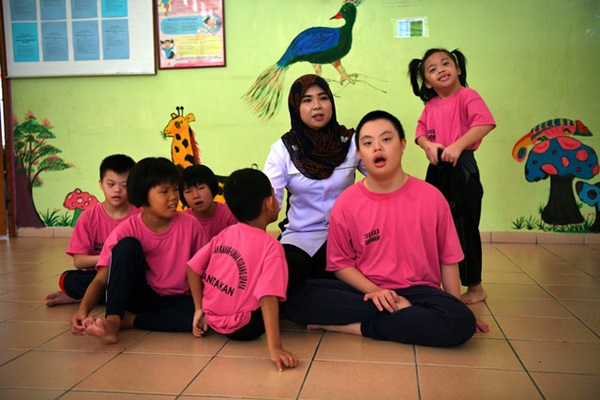 SANDAKAN, May 10 (Bernama) -- The Sandakan Centre for Children with Disability has been playing an important role in equipping special needs children with self-help skills.
The 43-year-old centre, set up under the auspices of the Sabah Social Welfare Department, provides free welfare services to people in the district.
Its supervisor Syaidatul Syafekah Salleh said the centre's main role is to build up the self-care skills of special needs children so that they would be able to rely on themselves and keep themselves clean when they have grown up.
"These special needs children are not being burdened with academic work, but if they have an inclination for it, that would be a bonus," she told Bernama here.
According to her, all the children, aged under 14 years and referred to as trainees, are given self-care training, including bathing, self-feeding and dressing themselves.
She added that the training also includes fine motor skills like colouring, connecting dots and early basic academic discipline such as recognising letters and numbers so that they could at least know their own names, as well as speech therapy.
The centre now has 11 children with special needs comprising six autistic children, three with Down syndrome and one each with disability and learning difficulties.
Syaidatul Syafekah said five of the trainees live around Sandakan town and are sent to the centre daily by their parents. The centre is open daily from 8 am to 5 pm.
She said those who live further from the town centre stay at the hostel. The centre is responsible for sending them home during school breaks and bringing them back when school reopens.
According to her, Malaysians with the OKU (Disabled People) card are eligible to enrol at the centre. Application forms can be obtained at the Sandakan Division Welfare Department at Bangunan Negeri Batu 7.
On receiving the application forms, the centre will conduct a review and house visit for assessment to ensure that the child could be trained, she said.
Syaidatul Syafekah started serving the centre in January 2013 as a trained nurse and assumed the role of supervisor in August 2018, She is assisted by 10 staff members.
She said the centre, which can accommodate up to 30 trainees, has staff working on day and night shifts.
-- BERNAMA