Sandakan by-election result an endorsement of PH's performance - Chong

Last Update: 12/05/2019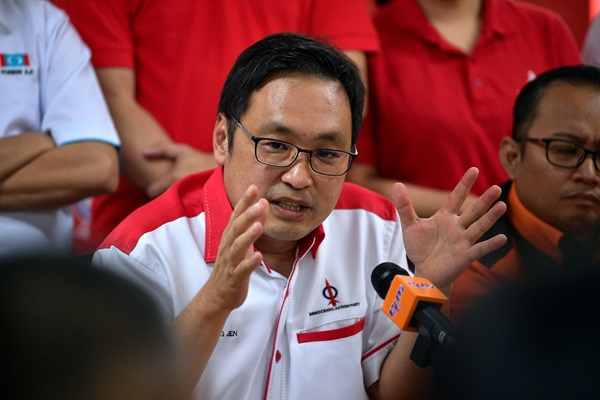 KUCHING, May 12 (Bernama) -- The Sandakan by-election result is an endorsement by the people of Sandakan on the performance of the Pakatan Harapan (PH) and Warisan governments in the past one year, said Sarawak PH chairman Chong Chieng Jen.
He said that despite a much lower voter turnout of only 54 per cent compared to 73 per cent in the 2018 General Election's in Sandakan, the DAP candidate Vivian Wong won with a bigger majority of 11,531 votes as compared to the late Stephen Wong's 10,098 majority in 2018.
"In short, the Sandakan people in particular and Sabahans in general are happy with the good co-operation between the Warisan-led state government and the PH government at the federal level. "
Sabah's politics is similar to Sarawak's in that both do not have the 3R elements, Race, Religion and Royalty which have been fully manipulated by UMNO and PAS," he said in a statement here today.
In fact, for the past one year, he said with the good relationship between the Federal and Sabah governments, much has been done to benefit Sabahans.
On the contrary, in Sarawak, with Gabungan Parti Sarawak (GPS) constantly playing politics in all Federal-State matters, a lot of good initiatives of the Federal Government were hampered or even sabotaged, he said.
"As a result, Sarawakians were denied many of the benefits of the Federal Government's initiatives," said Chong, who is also Sarawak DAP chairman. He said one example was the proposed Article 1(2) of the Constitution amendment to restore Sabah and Sarawak's status to their original 1963 positions under the Malaysia Agreement 1963. This was rejected by the Sarawak GPS Government.
Another example, he said was the RM1 billion extra allocation from the repayment of loan for the repairs of the dilapidated schools in Sarawak, which the Sarawak GPS Government insisted that the Federal Government should bypass the constitutional financial procedures.
"This just goes to show that for the benefit of the people of Sarawak, we need a state government which is willing to co-operate with the Federal Government, not a State Government which is at all the time is looking for an opportunity to discredit and find fault with the Federal Government," he said.
-- BERNAMA