YWJ tempts with tom yam, bone broth bubur lambuk

Last Update: 15/05/2019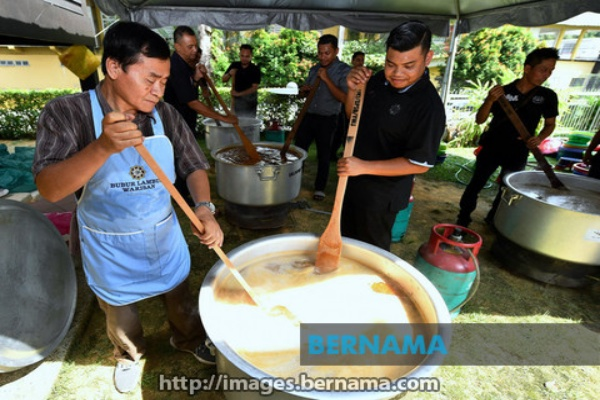 JOHOR BAHRU, May 15 (Bernama) -- Yayasan Warisan Johor (YWJ) is continuing its decade-long tradition of distributing bubur lambuk (congee) to the public for iftar, and uniquely in a tom yam and sup tulang gearbox (bone broth) flavour.
Kitchen leader and former YWJ history officer, Kamdi Kamil, 70, said preparations for the once-a-week affair began at 8am today with the help of 30 YWJ staffers who produced 1,750 packets of bubur lambuk which started being distributed at 1pm.
He said apart from a YWJ allocation, there are also contributions from the public for the preparation of the bubur lambuk which entails two hours of stirring.
"This tradition is synonymous with Ramadan. Today, two pots of tom yam-flavoured bubur lambuk were prepared, as well as one pot each in a kurma, sup tulang gearbox and biryani flavour," he told reporters.
Kamdi said the recipes -- particularly the tom yam and bone broth bubur lambuk -- were created based on 20-years of cooking experience when he was Kampung Melayu Majidee mosque chairman.
He said to produce 350 packets of bubur lambuk, 12kgs of broken rice grains are required. The other main ingredients are 10kgs of meat, 20kgs of mutton bones, five chickens and kerisik (toasted grated coconut).
"For the tom yam bubur lambuk, 2kgs each of prawns and squid are required, as well as bunga kantan (ginger flower), daun limau purut (kaffir lime leaves) and serai (lemongrass)," he said.
Kamdi said the YWJ porridge doesn't just tempt civil servants, but has drawn the attention of the Johor royal family, too.
-- BERNAMA