Agong, Permaisuri Agong break fast with Kuantan people at MPK field

Last Update: 15/05/2019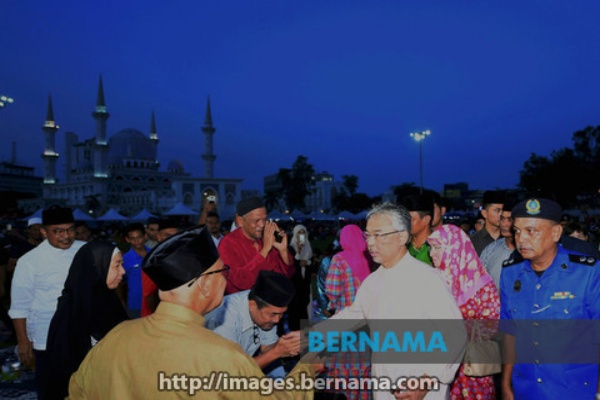 KUANTAN, May 15 (Bernama) -- Yang di-Pertuan Agong Al-Sultan Abdullah Ri'ayatuddin Al-Mustafa Billah Shah today joined the people to attend the buka puasa (break-of-fast) session at the Ramadan Mahkota Square here tonight.
His arrival at the bazaar, together with Raja Permaisuri Agong Tunku Azizah Aminah Maimunah Iskandariah, was greeted by Pahang Menteri Besar Datuk Seri Wan Rosdy Wan Ismail and state secretary Datuk Seri Salehuddin Ishak at 6.50 pm.
Their Majesties' later walked around the bazaar and spent nearly 15 minutes to buy food and drinks for buka puasa, and as well as to say hello to traders and visitors, who were excited to see the King and Queen.
The King and Queen were also seen buying kathira drink (a concoction of water, sugar, evaporated milk, malva seeds, basil, kathira and pandan (for flavour and colour), sata (grilled fish in banana leaves), puding diraja (Royal pudding), murtabak (stuffed pan-fried bread) and pulut panggang (grilled glutinous rice).
Later, Al-Sultan Abdullah and Tunku Azizah broke fast at MPK1 field, which is situated next to the bazaar and it is an annual tradition of the royal couple started many years ago during fasting month.
Meanwhile, sata trader Safiuddin Omar, 27 from Kota Bharu, Kelantan admitted he was rather shocked to see Al-Sultan Abdullah wanting to buy sata and pulut panggang from his stall, as it is situated at the last row.
"I was amazed when the King was in front of my stall because this is the first time I received a Royal customer although I have been doing business for the last three years. Probably, it is my lucky day today for His Majesty to buy.
"Before this, I have only heard from my trader friends who have met Al-Sultan Abdullah before," he said. Saifuddin has been in the business for five years.
A drink trader, Khairul Afendi Mohamed, 31, said Al-Sutlan Abdullah bought the Kathira drink, coconut water, milk-tea and soursop drink at his stall.
"The King is also friendly.. he managed to say hello and wanted to know the progress of the business this time, while I was packing his drink. I was nervous but pretended to be calm," he added.
-- BERNAMA