Sultan Ibrahim wants action taken against mosque officials who provide platform to politicians

Last Update: 16/05/2019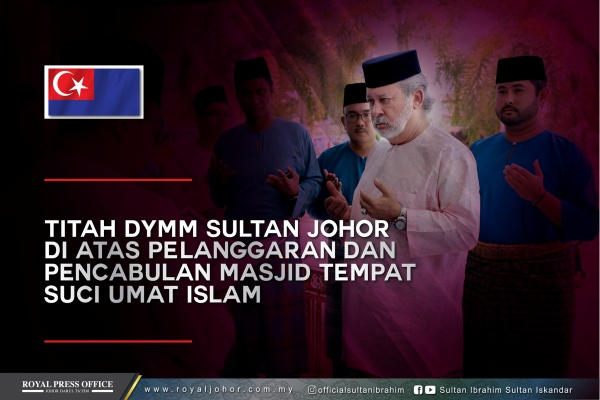 JOHOR BAHRU, May 16 (Bernama) -- Sultan Johor Sultan Ibrahim Almarhum Sultan Iskandar wants the Council of the Religion of Islam Johor (MAIJ) to take stern action against mosque officials who provide a platform for politicians to conduct activities in the mosques.
Sultan Ibrahim said although several reminders had been given, there was still a tendency for mosque and surau officials to allow politicians to use their premises for their activities.
"The institution of the mosque in Johor is a zone which is free of political parties. The mosque is a place for the people to obtain tranquility and a peaceful environment as they get close to Allah without any political elements from any parties.
"You can discuss politics and the different political ideologies from morning till night, from coffee shop to hotels, from the sidewalks to the mountain peaks, in order to get support, but not in the mosques," he said in a posting on the Royal Johor official website here today.
Sultan Ibrahim was referring to complains that Labis Member of Parliament Pang Hok Liong delivered a speech at Masjid Tenang Stesyen, Labis, near Segamat, which caused dissatisfaction among Muslims in the community and the state.
Sultan Ibrahim said the incident was a serious transgression of the sanctity of the mosque and the position of Islam in the state.
"I do not want clashes between Muslims of different parties to start from the mosque," Sultan Ibrahim start.
He stressed that all political parties or those who represent any political parties are not allowed to deliver speeches and conduct their activities in mosques.
-- BERNAMA