Sultan Abdullah wins the hearts of Melaka residents

Last Update: 17/05/2019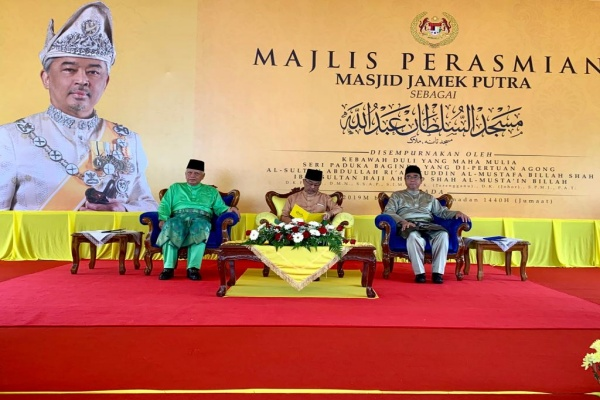 MELAKA, May 17 (Bernama) -- Yesterday, the social media accounts of netizens in the state were abuzzed with visuals of the Yang di-Pertuan Agong Al-Sultan Abdullah Ri'ayatuddin Al-Mustafa Billah Shah and the Raja Permaisuri Agong Tunku Azizah Aminah Maimunah Iskandariah who visited the Ramadan Bazaar in Peringgit here.
The friendly and casual royal couple mingled and had selfies with the people at the bazaar which endeared the image of Sultan Abdullah and Tunku Azizah Aminah Maimunah in the hearts of Melaka residents.
The King and Queen who are currently on a two-day visit to the state which ends today, began their itinerary yesterday by receiving a courtesy call from the Yang Dipertua Negeri of Melaka, Tun Dr Mohd Khalil Yaakob before joining the people at Peringgit Ramadan Bazaar.
Yesterday evening, Sultan Abdullah and Tunku Azizah Aminah Maimunah broke fast with about 2,000 Melaka residents before performing Maghrib prayers with the people at the function.
Today, while addressing a Melaka Islamic Religious Council (MAIM) briefing, the Yang di-Pertuan Agong expressed his desire to organise a conference to strengthen Islamic religious institution administration on June 18.
In jest, Sultan Abdullah said the participants of the June 18 conference would get to enjoy lunch prepared by the 'new executive chef' of Istana Negara, Tunku Azizah Aminah Maimunah for she is known among the people for her fine cooking and in fact she was sharing her tips with Ramadan bazaar traders on their food.
Aptly for the occasion, Sultan Abdullah also delivered a 'pantun' to encapsulate his thoughts of Melaka as follows:
"Bunga seroja bunga cempaka,
Dipakai isteri-isteri jelita,
Siapa tidak kenal negeri Melaka,
Warisan sejarah kebangaan negara,".
Sultan Abdullah today also officiated Masjid Jamek Putra in Alor Gajah which was renamed as Masjid Al-Sultan Abdullah to commemorate his visit to the state.
At the mosque's opening ceremony, His Majesty said other states especially Pahang should emulate the development shown by Melaka for the people's well-being and harmony and praised the hospitality displayed by the people of Melaka during his two-day working visit.
Once again, Sultan Abdullah charmed the people in Melaka at the event with another pantun:
"Kapal dagang dari Pahang,
Penuh muatan kayu meranti,
Datang ke Melaka bukan sebarang,
Saya datang nak bersalam salaman dengan rakyat negeri ini,".
With these words, the Agong best described his visit to Melaka and the warmth he has established with the residents in the state.
-- BERNAMA