Jamek Putra mosque in Masjid Tanah now carries King's name

Last Update: 17/05/2019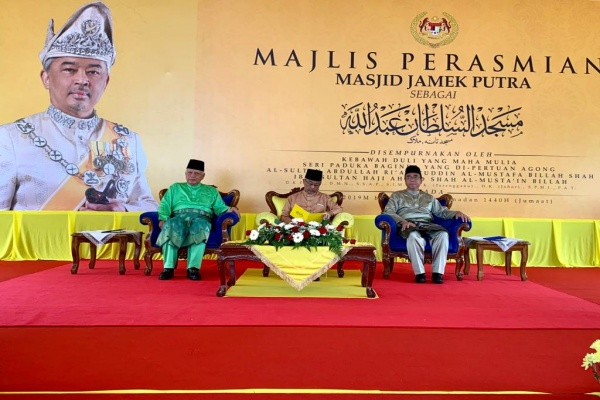 ALOR GAJAH, May 17 (Bernama) -- Yang di-Pertuan Agong Al-Sultan Abdullah Ri'ayatuddin Al-Mustafa Billah Shah today officiated the renaming of the Jamek Putra Mosque to Al-Sultan Abdullah Mosque, which takes the name of His Majesty.
His Majesty arrived at the mosque at 12.30 pm before performing Friday prayers with a congregation of about 1,500 congregation.
The King's was welcomed on arrival by Yang Dipertua Negeri Tun Dr Mohd Khalil Yaakob. Also present was Melaka Chief Minister Adly Zahari.
The construction of the RM6.5 million mosque started in 2015 and was fully completed in September 2017.
His Majesty also presented Aidilfitri aid to students from tahfiz schools and Sekolah Rendah Agama (SRA) under the Melaka Islamic Religious Department (JAIM) from around Masjid Tanah before leaving the Al-Sultan Abdullah Mosque at 2.10 pm.
Meanwhile, people of Masjid Tanah expressed their happiness with the visit from His Majesty to the mosque.
Mariani Razali, 39, from Jalan Sekolah Ghafar Baba here, said she was excited and overjoyed at seeing the King with her own eyes.
"At first I came to this mosque to accompany my son to receive the contribution but did not expect to see His Majesty with my own eyes. It's a mixed feeling… proud, excited... all this while I only saw him on the television," said the housewife.
A teacher from SRA JAIM Durian Daun Fadilah Usop, 50, who was at the mosque because his three students were the recipients of the Hari Raya aid, said that he would not miss the opportunity to see the King.
"I am very pleased and proud that His Majesty came to Melaka to officiate the Al-Sultan Abdullah Mosque and through his speech, I can feel that His Majesty is the people's king, caring and concerned for the people.
-- BERNAMA