Prosthetic leg adds mileage to Balqis this raya

Last Update: 18/05/2019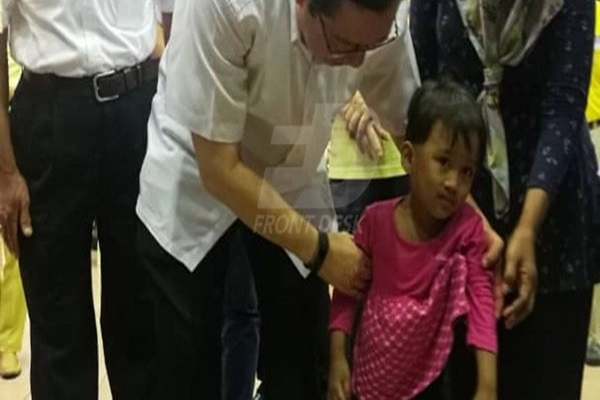 By Alia Siti Khadijah Azhar
GEORGE TOWN, May 18 (Bernama)-- Today is a historic day for Nur Balqis Farisya Abdullah, five, as she will be able to walk for the first time after receiving a free prosthetic leg from a foundation from Thailand, The Prostheses Foundation.
Nur Balqis was accompanied by her grandmother, Cik Basah Hassan, 57 to receive her free prosthetic right leg, after four months of waiting. She was also the youngest recipient.
"We had learnt from a friend about Yayasan Pertubuhan Pendidikan Akhlak Chee Hoon Khor which worked closely with the Thai foundation. I am so grateful that my granddaughter is a recipient.
"All this time, Nur Balqis had to be carried everywhere as we were not able to afford RM5000 for a prosthetic leg. To all the doctors and volunteers from Thailand and Malaysia, I can't thank you enough!" Cik Basah told Bernama at the event.
She added that the cost for any modification and adjustment work on the artificial limb in future will be fully borne by 'The Prostheses Foundation' with the co-operation of Yayasan Pertubuhan Pendidikan Akhlak Chee Hoon Khor.
She added, all beneficiaries are to replace their prosthetic legs every three years for free.
Cik Basah also expressed sheer gratitude as all the parties involved come from different backgrounds, race and religion.
"I am so touched to see people of all walks of life and racial backgrounds coming together for a good cause. Humanitarian work is very much alive here," she said.
Cik Basah added that the coming Hari Raya would be meaningful especially for her granddaughter who would be up and about for the celebration.
Meanwhile, Faiz Fakhrullah Suhaimi, 26, who lost both his legs in a road accident when he was 17, was over the moon with his new limbs.
"Without the help, it would have been tough for me to move about. To those who are in the same shoes, stay positive. It is also important to find out and seek help that is available out there," he said.
Muhammad Faiz met with the accident on the third day of Ramadan back in 2011 during the first week of his job. He is now a Grab driver.
-- BERNAMA