Melaka Sentral users expected to reach 20,000 daily during Hari Raya

Last Update: 18/05/2019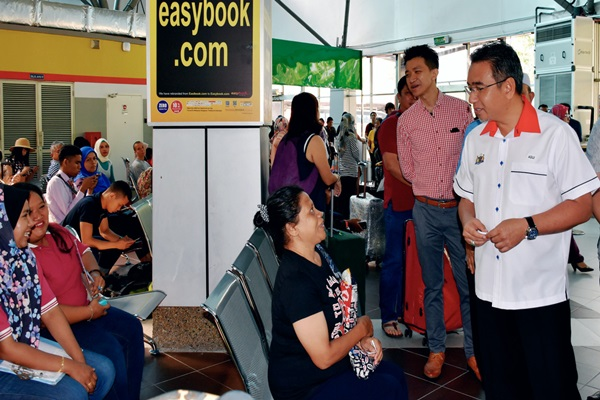 MELAKA, May 18 (Bernama) -- The number of people using the Melaka Sentral Terminal here is expected to double to 20,000 a day during the Hari Raya Aidilfitri celebrations compared to 10,000 on weekdays.
Melaka Chief Minister Adly Zahari said the Central Ticketing System (CTS), which began operating on March 1, would enable the terminal to cope with the increased traffic.
He said the refurbishment works of various basic infrastructure such as waiting rooms at the terminal would also reduce congestion and provide comfort to consumers.
"The use of CTS also protects passengers, primarily to avoid fraud cases and inconsistencies in ticket prices, especially during festive seasons and public holidays.
"Additionally, CTS can reduce bus delays as well as the risk of bus conversion at the eleventh hour, as all ticket purchase transactions are monitored through a technology system," he said after opening the CTS and presenting Hari Raya donations here today.
At the event, Adly presented contributions under the Self-Employed Disaster Scheme amounting to RM156,728.40 for 997 drivers of taxis or rental cars in the state, which were channelled through the Social Security Organisation (Socso).
Adly said 12 ticket purchase counters, including one for the disabled and senior citizens, as well as 20 self-service kiosks were provided round the clock for the convenience of travellers.
Melaka Sentral Sdn Bhd has also allocated RM5 million to upgrade facilities around the terminal area in stages to ensure the services provided are of high quality.
Meanwhile, teacher Affifah Hanie Azlan, 28, who has been travelling to Klang, Selangor every weekend since August last year to visit her parents, said the system in Melaka Sentral provided comfort and convenience to her, especially in ticketing.
"The system allows me to choose the time, and the bus options offered to the destinations are clearer than the previous system's," she said.
Sharing her sentiment is retiree Maryani Mohd Ali, 62 who was satisfied with the infrastructure and CTS, saying it was comparable to an airport terminal.
"The first time I bought a ticket using the CTS, I was a little lost, but the staff are ever so helpful and the designated counters for senior citizens are so convenient for me," she said.
-- BERNAMA