KLIA police foil four attempts to smuggle out drugs worth RM240,000

Last Update: 18/05/2019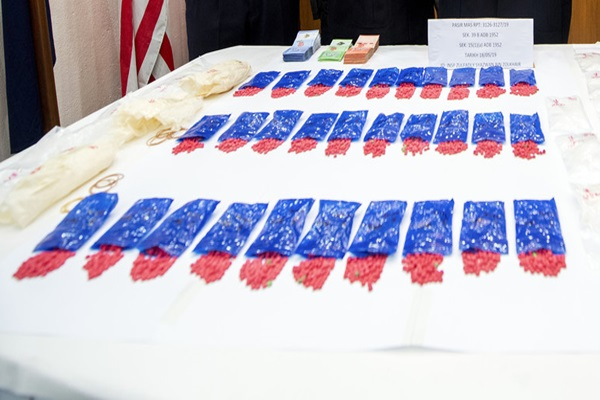 SEPANG, May 18 (Bernama) -- The Kuala Lumpur International Airport (KLIA) Narcotics CID have crippled four attempts to smuggle out ketamine and syabu valued at RM240,000 at KLIA Departure Hall since Wednesday.
KLIA district police chief ACP Zulkifli Adamsah said the drugs weighing almost nine kilogrammes were strapped around the bodies of three suspects as well as a parcel which was hidden inside a special compartment of a bag belonging to one of the suspects.
He said all the suspects who were locals, aged between 27 and 42, were believed to be drug mules of a syndicate to bring the banned substances to Taipei, Taiwan and Busan, South Korea.
All of them were remanded for seven days from today and the case was investigated under Section 39B of the Dangerous Drugs Act 1952, he said.
Speaking at a media conference, here today, Zulkifli said in the first case, the suspect from Kepong, Kuala Lumpur was nabbed after police found something strapped on both of his thighs while a packet hidden in his underwear.
He said the suspect who was scheduled to fly to Busan was detained by an airport auxiliary policeman after he found something suspicious on the suspect's thighs and the man was handed over to police for further action.
He said the second suspect was apprehended one day later at the international department hall when an inspection on his luggage yielded a plastic packet containing powder and crystal pieces believed to be drugs in a special compartment in the bag.
Zulkifli said the latest arrest involved two men this morning after a body search found five packets of drugs strapped to the bodies, thighs and calves of the two suspects who were from Melaka and Penang.
He believed the three cases involved the same syndicate based on the modus operandi used by strapping packets of drugs on the member's body.
Zulkifli said initial investigations found all the suspects were offered work as despatch with payment of up to RM6,000 by an online syndicate before meeting at a hotel in Kuala Lumpur for verification.
"Upon arriving at the hotel, they were ordered to send the items as stated, while their mobile phones were seized and replaced with one provided by the syndicate to prevent them from contacting others.
"Their bodies were later tied with the packets of drugs before being sent to the airport using Grab and e-hailing processed by the syndicate," he said.
Zulkifli said all suspects were unemployed and investigations were still going on to determine whether they had been released abroad on similar missions before.
-- BERNAMA