Sultan of Perak hosts breaking of fast at Istana Iskandariah

Last Update: 18/05/2019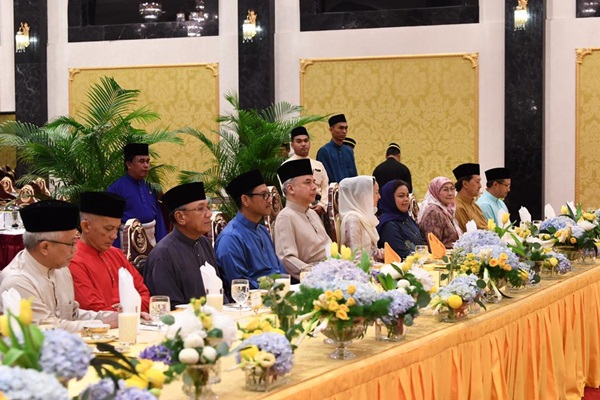 KUALA KANGSAR, May 18 (Bernama) — The Sultan of Perak, Sultan Nazrin Muizuddin Shah today broke fast with representatives from the media, non-governmental organisations (NGOs), the corporate sector, government-linked companies and youth organisations at Istana Iskandariah here.
High Highness was accompanied by Raja Permaisuri Perak Tuanku Zara Salim. Also present were Perak Menteri Besar, Datuk Seri Ahmad Faizal Azumu and wife, Datin Seri Dr Nomee Ashikin Mohamed Radzi.
Malaysian National News Agency (Bernama) chairman Datuk Seri Azman Ujang, Bernama CEO Nurini Kassim and top management of several media organisations also attended the "buka puasa" event.
Sultan Nazrin also received zakat (tithe) contributions from eight agencies amounting to RM5.8 million for the financial years ending 2017 and 2018.
They were from PLUS Malaysia Berhad (RM4.06 million), Pertubuhan Peladang Negeri Perak (RM457,388.15), Perbadanan Menteri Besar Perak and subsidiaries (RM330,000), Perak Integrated Network Services Sdn Bhd (RM330,000), Angkatan Koperasi Kebangsaan Malaysia Bhd (RM202,512.44), Universiti Sultan Azlan Shah (RM182,026.60), Koperasi Guru Melayu Perak Berhad (RM106,035.13) and Pertubuhan Peladang Kawasan Seberang Perak (RM105,013.43).
Sultan Nazrin also performed the Maghrib, Isyak dan Tarawih prayers with the guests.
— BERNAMA