Car food sahur at Pantai Batu Buruk popular among locals

Last Update: 19/05/2019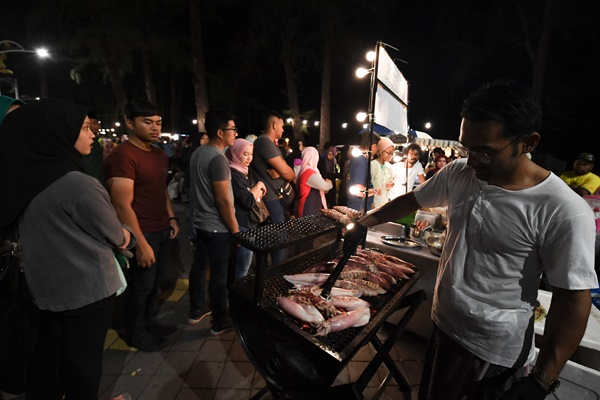 KUALA TERENGGANU, May 19 (Bernama) -- Having their sahur (pre-dawn meal) by the beach at Pantai Batu Burok to cool ocean breeze and the sound of the waves beating the sand has become popular among the locals here since five years ago.
This year, the atmosphere has become more festive with more traders selling unique foods in the 'Car Food Sahur' which has attracted even more people to the site.
A Bernama look at the location found most visitors chose to have their sahur by the beach, with only a mat laid out, although some have gone "Japanese" with their food spread on a small table, enjoying their meal with family and friends.
Meanwhile, traders are dressed in traditional attire, with batik sarongs and the 'baju kurung Kedah' for women while the men wear 'pagoda' t-shirts and 'pelikat' sarongs.
One trader Muhd Afiq Mohd Noor, 25, said the crowd is bigger this year, with about twice more visitors than before, while there are now 30 traders compared to 25 last year.
"I have been trading here for the last three years and this year, business is so good, I have had to replenish my stock of 'sotong bakar' each day to meet demand," he said.
"In three hours, I can sell about 200 grade A sotong bakar served with Thai sauce at RM14 to RM20 each," he said.
Western food seller Qairun Natasya Ramli, 19, said by midnight, the beach would be packed with people who converge at the Car Food Sahur area to enjoy the delicacies.
"We start selling at midnight until 5 am. What is interesting here is that every trader has to sell a special dish which cannot be similar to other stalls, so this gives the visitors more choices," he said.
One visitor, Hamim Umairah Abd Latif, 26, said she found out about Car Food Sahur when she saw news about it going viral on Facebook last week.
Muhammad Azizi Abd Aziz, 23, said the Car Food Sahur has given youths like him many choices for sahur.
"For outsiders like me, the Car Food Sahur helps me forget the loneliness of eating sahur without my family in Tumpat, Kelantan," he said.
-- BERNAMA