Orphaned siblings shoulder parents' responsibility

Last Update: 19/05/2019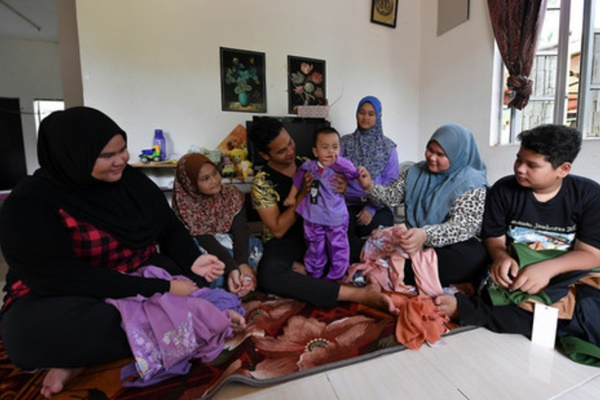 KUALA NERUS, May 19 (Bernama) -- The daily routine of this 15-year-old starts as early as 5.30 am by performing numerous household chores and taking care of her youngest sibling, who was still small, before going to school.
Since her mother's death last year, Syahwanie Azliya Sahidi and her siblings, Syahil Azem, 19; Syahwanie Azwa and Syahwanie Azwin,16 (twins); Syahil Azer, 14; and Syahwanie Azrinie, 10, had to take care of themselves and their youngest sibling, 11-month-old Syah Amsyar Mohammad.
''We have our own duties. My elder brother (Syahil Azem) will send and fetch us from school, my elder sisters will cook and I will clean up the house. We also take turns looking after Syah Amsyar,'' she told reporters after receiving a visit by the members of the Terengganu Journalist Club (TJC) at their house in Kampung Bukit Cempaka, Batu Rakit, here today.
During the visit, TJC, which was represented by its deputy president Ahmad Syafri Husnaini Mohamad, handed over items of basic needs and cash to the orphaned siblings.
Their mother, Norhayatie Alias, died two months after giving birth to Syah Amsyar, the outcome of a marriage with their step-father, Mohammad Mohd Nor, 53, while their father Sahidi Abdullah died in 2010 due to high blood pressure.
Currently, the seven siblings were staying at a house rented by Mohammad and they also received a monthly RM450 aid from the Social Welfare Department.
Syahil Azem was forced to forget his ambition to further his studies to take care of his younger siblings.
''My elder brother (Syahil Azem) works at the Sixth Mile Ramadan Bazaar during the fasting month for RM700 and at a food outlet during other months at RM600 a month.
''Our step-father will come home three or four times a week. He is self-employed in Setiu. He also gives us money for upkeep and also for Syah Amsyar's caregiver,'' said Syahwanie Azliya, who was thankful their step-father was still concerned about them.
Asked on the Hari Raya Aidilfitri celebration which was round the corner, Syahwanie Azliya said their school teachers and aunts had bought new clothes for them but other preparations had not ben made yet.
In the meantime, the siblings had also rejected the aspiration of an individual to adopt Syah Amsyar as they wanted to stay together.
''Indeed, we are determined that, regardless of what will happen, let us face difficulties and happiness together,'' she said.
Syahwanie Azliya also thanked all parties including teachers at Sekolah Menengah Kebangsaan (SMK) Tengku Mizan Zainal Abidin who had helped them a great deal.
Those keen to contribute to the siblings could do so via Syahwanie Azliya's Bank Simpanan Nasional's (BSN) account at number 11001-41-00006800-1.
-- BERNAMA