Petronas produces heartfelt 'Baju Burong Apai' to mark Gawai celebration

Last Update: 20/05/2019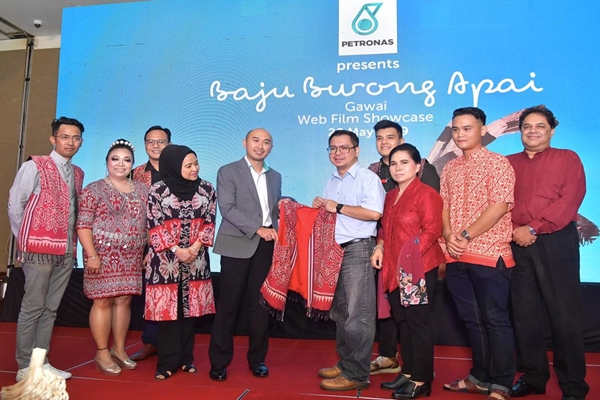 KUCHING, May 20 (Bernama) -- Petroliam Nasional Berhad (Petronas) has produced an exclusive webfilm entitled 'Baju Burong Apai' to mark the Gawai celebration on June 1st.
Petronas senior general manager of group strategic communications Zahariah Abd Rahman said 'Baju Burong Apai' featured forgiveness as its key message and it was a two-way street while it may be hard to forgive those who have wronged us but extending forgiveness would heal our own wounds as well.
"Petronas is happy to pay homage to two great celebrations in Sabah and Sarawak where the company has grown alongside their people and communities.
"We bring two stories that mirror each another. They are about family, tradition and our shared values as Malaysian, yet presented in distinctive manners to be uniquely Sarawakian and Sabahan," she said at the launching of the Petronas 2019 Gawai webfilm showcase here today.
'Baju Burong Apai' tells the story of a family bond and no matter how upset you might be with one another, you will always return to the family.
Directed by Ismail Kamarul, the story is centered around 'Bob' (a father) whose daughter questioned him if he is an Iban.
Bob, who is also the eldest sibling, mooted the idea to brings all his siblings together to participate in 'Pesta Gawai' at the longhouse.
Upon his arrival in Sarawak, clad in his father's 'Baju Burong', Bob went on a journey, to gather his family's traditional items and meeting his siblings whom he has not seen in years especially his younger brother, Roy, in effort to get everyone to attend the festival.
When Bob went over to the restaurant where Roy worked, and an argument ensued between them over things that happened in the past, ended up with Bob leaving his father's 'Baju Burong' at the restaurant.
Viewers may log on to the official channel at www.petronasofficial.com to view the four minutes and 40 seconds webfilm is available for viewing since May 17.
-- BERNAMA