SMK Panji Alam wins four international awards for 'Pads Clay' innovation

Last Update: 22/05/2019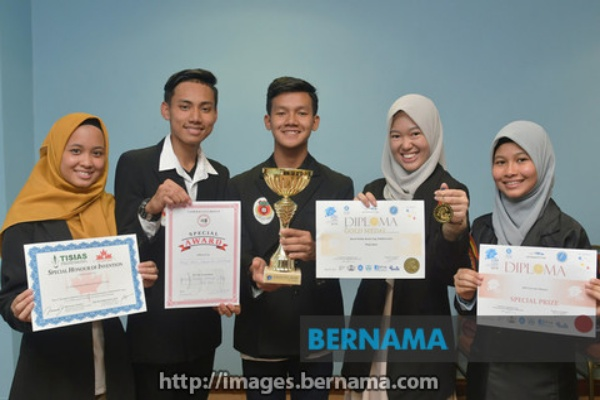 KUALA NERUS, May 22 (Bernama) -- Sekolah Menengah Kebangsaan (SMK) Panji Alam's innovation team won four major awards in the 11th European Exhibition of Creativity and Innovation (EUROINVENT 2019) international competition held at the Palace of Culture, Romania from May 16 to 18.
All the more proud is, SMK Panji Alam which was included in the ordinary regular school category was able to set aside 635 other teams from 100 countries competing for the recognition.
The four categories won include the Gold Medal Award Euroinvent, Special Award Corneliu Group Romania, Special Honour of Toronto Invention Society Canada and the Special Prize Award Euroinvent which is the highest recognition in the competition.
Principal, Che Engku Noraien Che Engku Mahmood said the four awards were obtained for the innovation product 'Pads Clay For Dyes Treatment Water Treatment' created using ingredients from natural sources such as rice straw and clay.
"The team led by science teacher, Wan Salasiah Wan Sulaiman comprised four other teachers and five Form Five science students who are extremely talented and excel in their studies.
"They took less than three months to produce pads-clay with the help of Dr Rahman Hassan, a lecturer from the Faculty of Industrial Design at Universiti Sultan Zainal Abidin (UniSZA) Gong Badak," she told reporters here, today.
According to Wan Salasiah, pads-clay innovation works to treat water, contaminated by the use of dyes in the batik manufacturing industry, using straw the composition of which is 99 per cent antibacterial which can treat the water content thereby preventing polluting activities.
"We are very fortunate to have the support of a mentor, UniSZA not only provided advice, but also allowed us to use their equipment and facilities such as ovens and tools to test the degree of water pollution," she said.
She said there were five companies from Canada, America and Croatia which have shown interest in adopting the innovation.
-- BERNAMA