Wife takes over role as head of family as husband diagnosed with tonsil cancer

Last Update: 25/05/2019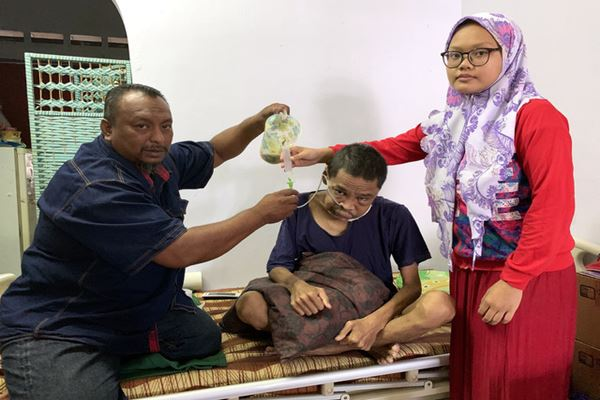 BATU PAHAT, May 25 (Bernama) -- A housewife has been left with no choice but to take over the role as the head of the family for the past month by working in a supermarket to support her family after her husband was diagnosed with a stage three tonsil cancer.
Fauziah Hassan, 39, said her husband, Mohamad Hasrul Mohamad Musa, 40, was diagnosed with the disease since March last year but it worsened during the last Aidilfitri.
According to Fauziah, the change could be seen when Mohamad Hasrul felt uncomfortable in his mouth and throat and his body gradually weakened and had to be treated in a ward for a week.
"I think it's the second year I won't be celebrating Aidilfitri. Last year, my husband was hospitalised and this year, my family still has not prepared for the celebration as our financial condition does not allow us to do so.
"So far, my husband has undergone 37 radiotherapy sessions at the Sultan Ismail Hospital (HSI) in Johor Bahru and a PET-CT Scan at the National Cancer Institute (IKN) institute in Putrajaya, and it has been our routine going to the hospital every day," she said.
Fauziah was met by reporters at her house in Taman Emas during the visit and handing of aid by Anak-Anak Jati Batu Pahat Welfare Association (PKAAJ) Welfare Bureau special chairman, Mohd Hamidi Mad Tap, here today.
She noted that from the income she gets, sometimes she had to tighten her belt as three of her four children are still schooling.
"Although the Social Security Organisation (Socso) has provided a pension, it is just enough to cover my husband's special milk and medical cost.
"In the meantime, my husband also needs to commute daily to the Sultanah Nora Ismail Hospital (HSNI) Batu Pahat for a follow-up treatment, including treating wounds on his neck," she said.
Those who wish to extend donations to Fauziah can channel it directly to Mohamad Hasrul's Hong Leong Bank account, 35150040087 or call 012-7652263.
-- BERNAMA