UniSZA fetes 400 Orang Asli residents at 'buka puasa'

Last Update: 27/05/2019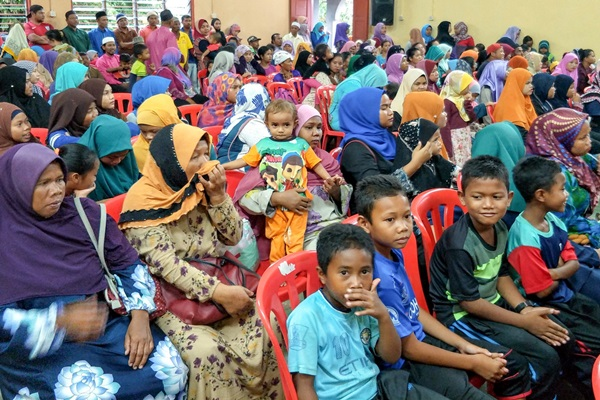 GUA MUSANG, May 27 (Bernama) -- Some 400 Muslim converts from the Orang Asli Temiar tribe here were feted to a sumptuous breaking of fast at the Al-Hidayah Mosque, Pos Hendrop here yesterday, thanks to Universiti Sultan Zainal Abidin (UniSZA) Terengganu.
The Ihya Ramadan and the breaking fast programmes were held for the first time at the post, in collaboration with the Ladang Rakyat Kelantan, Orang Asli Development Department (JAKOA) and the Kelantan Islamic Religious Council (MAIK).
The program was launched by the UniSZA's General Studies and Advanced Education Faculty dean Prof Dr Ramlee Abdullah.
Speaking to the media after the launch, Ramlee said Pos Hendrop was selected for the programme as nearly 100 per cent of the Orang Asli community here had reverted to Islam in the past few years.
He added, the community including children, adolescents and adults have been studying Islam and made the mosque as the centre to learn how to recite the Quran and to perform daily prayers as well as the Tarawih prayers in the month of Ramadan.
One of the residents, Nora Jaafar, 39, expressed her happiness to be able to breaking fast at the mosque.
"Alhamdulillah (Praise be to Allah), together with my husband and our three children. we have embraced Islam and are looking forward to welcoming Aidilfitri after observing one month of fasting in Ramadan," she said.
-- BERNAMA