Batu Pahat among districts with highest number of road accidents

Last Update: 28/05/2019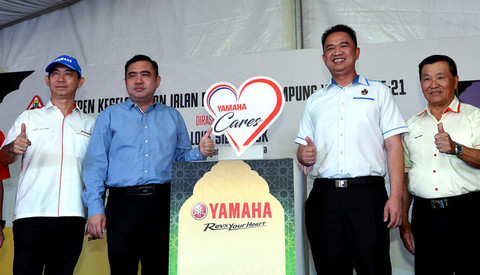 SEREMBAN, May 28 (Bernama) -- The Batu Pahat district in Johor is one of the districts that had recorded the highest number of accidents from 2015-2017, said Transport Minister Anthony Loke Siew Fook.
As such he said, the ministry would discuss with the Batu Pahat District Council, Local Authorities and Works Department to identify the contributing factors, especially along the Ayer Hitam-Batu Pahat route via Kluang.
"We are aware of the districts with the highest accident rate and Batu Pahat had been one of the top five each year. This district has a small population but the accident rate here is relatively high.
"Though Kuala Lumpur (and) other cities have bigger population and more vehicles on the road the accident rates are not as high as some of the smaller towns," he told reporters after launching the Yamaha road safety campaign organised by Hong Leong Yamaha Motor here, today.
Also present were Malaysian institute of Road Safety Research (MIROS) director-general Dr Siti Zaharah Ishak, State Urban Wellbeing, Housing, Local Government and New Village Committee chairman Teo Kok Seong and Hong Leong Yamaha Motor managing director Datuk Jim Khor.
Elaborating, Loke said to curb road accidents, the conventional law enforcement methods including issuing summonses to errant drivers and motorcyclists could no longer be used.
"It's time for us to use technology in enforcing laws and we are currently working with car and motorcycle manufacturers to look into ways to adopt certain security features," he said.
When asked by reporters whether the government intends to raise the minimum age to be eligible to obtain a motorcycle licence as motorcycle crashes accounted for 65 per cent of fatal accidents, Loke said so far nothing had been decided on the matter.
"We are concerned that if we raise the minimum age, many would be riding without a licence. Though 16 is the minimum age, in the villages, estates and outskirts, those between 12 and 15 years are riding motorcycles (without licence).
"I do not think raising the age limit will solve the problem. We need cooperation from everyone and parents play an important role to get the right message across and educate their children," he added.
Meanwhile, Siti Zaharah when met by reporters said Selangor, Johor and Perak recorded the highest fatal accident rate each year.
"In Selangor, the districts with the highest fatal accident rate for the period 2015-2017 were Kajang district which recorded 347, followed by South Klang (270) and Kuala Selangor (260) while in Johor, the highest number of fatal accidents were in Batu Pahat (554) followed by Johor Bahru Selatan (315) and Kluang (296).
In Perak she said the three districts that recorded the highest fatal accident rate were Ipoh (402), followed by Manjong (261) and Hilir Perak (232).
On the high occurrence of accidents in Batu Pahat, she said among the contributing factors were human negligence and the tendency to speed on a straight road adding that more accidents occur on the federal roads.
-- BERNAMA