SMK Kemumin student with stage five kidney disease needs help

Last Update: 28/05/2019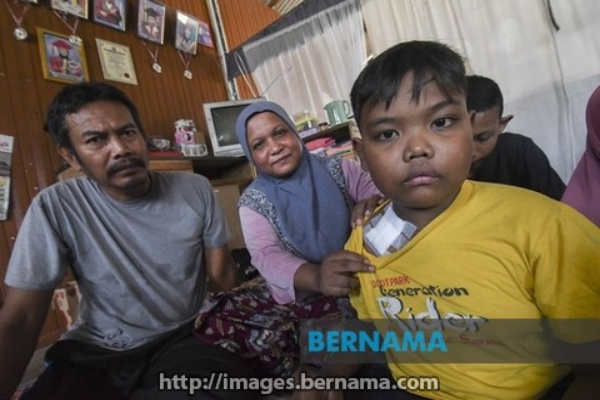 KOTA BHARU, May 28 (Bernama) -- A student of Sekolah Menengah Kebangsaan (SMK) Kemumin, Pengkalan Chepa who has a late stage kidney disease has appealed for help from the public to ease the burden of his family.
His mother, Yuraini Che Wani, 42, said Luqman Fikri, 13, was diagnosed with chronic kidney disease since he was one and a half years old, after suffering from a fever and swelling fluid in the abdomen and often felt helpless.
"At the moment, Luqman has a slim chance of surviving given that his illness is in the final stage, and his heart is already shrinking and both kidneys are not functioning," she told reporters at the Cakna Ramadan SMK Kemumin Pilgrimage Programme at her home in Kampung Pulau Gajah, here today.
Earlier vice president of Parents and Teachers Association (PIBG) SMK Kemumin, Datin Seri Nor Azizah Sulaiman handed over corporate charitable donations to Luqman. Also present was SMK Kemumin principal Norriha Abd Rahman.
The mother of five children said she was appealing to the public to help contribute as she was the sole bread winner in the family with school-going children.
"We are really hard up as I work at a factory with a monthly income of RM850 and my husband does odd jobs and earns about RM50 a day. He suffers from a heart blockage which restricts his daily activities," she said.
Yuraini said Luqman's health began to deteriorate since late April and caused his attendance at school to be disrupted as he had to go back to Hospital Raja Perempuan Zainab (HRPZ) II regularly to receive dialysis treatment.
"He needs to undergo dialysis treatment thrice a week, and at times he chooses to do so by bus because he does not want to burden anyone," she said adding she relies on a motorcycle for day-to-day use.
She said what is even more heart-breaking is that the house they are renting is on sale therefore the family needs to find a rented house in the near future.
Meanwhile, Norriha said Luqman was often listed as the recipient of corporate and personal zakat contribution endorsed by various parties.
"In every donation in the urban school we do not leave out his name and we will try to get education assistance from the Majlis Agama Islam Kelantan (Kelantan Malay Religious Council (MAIK) for his brother Abdullah Sani who is also a student of SMK Kemumin and has shown potential in education," she said.
The public who wish to extend a helping hand can contribute via Luqman's father Fikri Yakob's Bank Islam account at 03036-02-051913-7 or call 017-9612342.
-- BERNAMA