Traditional games enliven state level Kaamatan

Last Update: 30/05/2019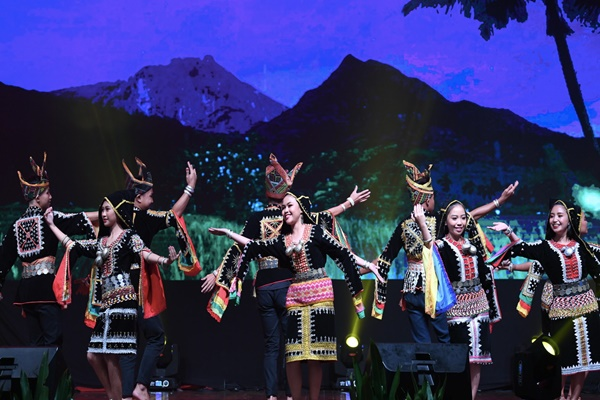 PENAMPANG, May 30 (Bernama) -- The organisation of traditional sports enlivens the Kaamatan Festival celebration at the Kadazan Dusun Cultural Association (KDCA) Hongkod Koisaan here today.
Seven people's sports were contested, namely, 'Mipolus' (arm wrestling), 'migazat dukug' (tug-o-war), 'momolositik' (catapult) and 'rampanau' (walking on stilts).
Three others were, 'sipatu tompulalanggoi' (big foot), 'tumutu' (processing padi) and 'monungkava kalabau' (trapping buffalo).
The traditional sports events were officially launched by State Level Kaamatan Festival Main Organising Committee deputy chairman Datuk Juil Nuatim.
Also performed at the opening of the traditional sports events were cultural dances from 11 ethnic houses in KDCA.
The houses were from the Tanggara Penampang, Liwan Ranau, Kadazan Papar, Tindal Kota Belud, Tatana Kuala Penyu, Kwijau Keningau, Lotud Tuaran, Tuhawon Tambunan, Rungus Binatang Kudat, Murut Lansaran and Bisaya Beaufort ethnic groups.
A total 64 participants of the Unduk Ngadau beauty queen competition also made a special appearance before the final event takes place tomorrow.
In the meantime, a Bernama check found that the hot weather did not affect the public including tourist attendance to enliven the Kaamatan Festival.
Other than dances and music from the Kadazan, Dusun and Murut ethnic groups, there were also sales of handicraft and local food and drink products.
The climax of the state level Kaamatan Festival would take place tomorrow involving the launching and closing ceremonies by Sabah Chief Minister Datuk Seri Mohd Shafie Apdal.
In addition, also the event of focus would be the final of the 'Unduk Ngadau' beauty queen competition involving 64 participants who would be vying for the Ratu Unduk Ngadau title for this year's edition.
-- BERNAMA