Drawbridge will generate positive spillovers effects on local economy - MB

Last Update: 31/05/2019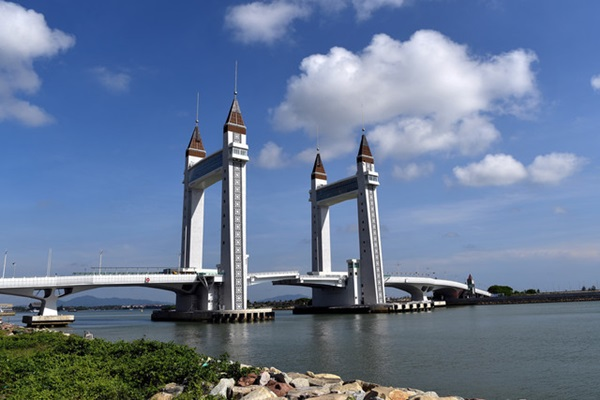 By Balqis Jamaludin
KUALA TERENGGANU, May 31 (Bernama) -- "We have one here in Terengganu, how about your state?"
That is among the captions of selfies taken with Southeast Asia's first drawbridge in Kuala Terengganu in the background posted by many in social media - even though the drawbridge has yet to open to traffic.
However, the situation is set to change as the state government has decided to allow the public to travel on the drawbridge for a probational period from June 2 till 17.
The excitement to get an up-close look at the drawbridge has not only drawn the locals but also visitors from outside the state, especially during this school holiday and Aidilfitri celebration.
Menteri Besar Dr Ahmad Samsuri Mokhtar said, as a waterfront heritage city, the existence of the drawbridge in Kuala Terengganu would definitely generate positive spillover effects on the local economy.
He said even though the 638m-long drawbridge connecting Kuala Terengganu and Kuala Nerus would be open just temporarily to allow the authority to test its operation system, the response from the eager motorists was also expected to be overwhelming.
Once it became fully operational and opened to all traffic, he said the number of tourist arrivals to Terengganu was expected to rise by 20 per cent in the first year and bring about positive impact to the surrounding areas such as Seberang Takir and Gong Badak.
As such, he said it was hoped that the people of Terengganu would grab the opportunities from the increase in the number of tourist arrivals by venturing into small businesses or providing services that could improve their economic status.
"We (state government) are also considering the possibility to create interesting tourist spots with food stalls not only to enliven the waterfront areas but to also promote local products," he told Bernama in an exclusive interview at Wisma Darul Iman, here.
The idea to build the drawbridge, which has two 16-storey high towers, was inspired by the London Tower Bridge in England.
The RM248-million drawbridge, which is also part of the Kuala Terengganu City Centre development project, is the fourth bridge connecting Kuala Terengganu and Kuala Nerus, on top of the three existing ones, namely the Sultan Mahmud Bridge, Pulau Rusa Bridge and Pulau Sekati Bridge.
The construction of the drawbridge, yet to be named, started in August 2014, and it can be lifted for ships to pass through.
-- BERNAMA