Integrity School gives young inmates second chance at life

Last Update: 31/05/2019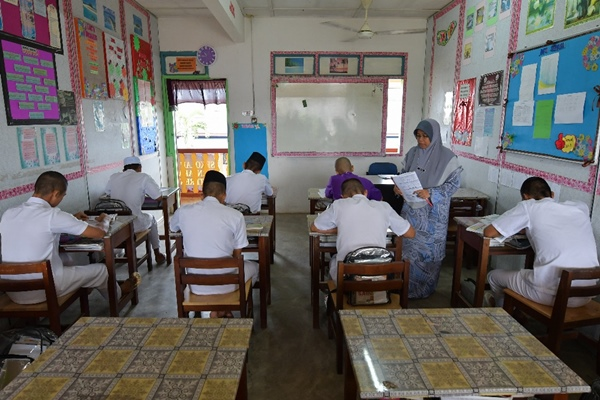 By Zalina Maizan Ngah
MARANG, May 31 (Bernama) -- Walking through the gates of Marang Prison made this writer nervous initially, but talking to a group of young men in white shorts and blouse, sporting crew cut hair and wearing slippers, changed her perception towards prisoners.
It could have been because of their twisted life and mistakes they did that landed them behind bars, but they are now remorse and hoping to start life anew, waiting for the time to return to society and become useful and productive citizens.
One thing for sure, they are indeed grateful for the setting up of the Integrity School in the prison, which has given them hope of a second chance at life.
Terengganu Prisons Department director, Senior Assistant Commissioner Ahmad Saidi Hamzah said the school has 171 students, comprising inmates between 16 and 21 years old.
The school, set up in 2008, serves as a platform for the inmates to continue their education, despite them having to serve their time for the offences they committed, mostly for drug abuse and theft, he said.
"At their age, they are supposed to be in school, or still studying, but because of the mistakes they did, they are in prison.
"We have a few who will sit for the Sijil Pelajatan Malaysia (SPM) or Sijil Tinggi Pelajaran Malaysia (STPM) examination, hoping that with the certificate they would be able to get a job after their release," he told Bernama.
Ahmad Saidi said the inmates were taught the same subjects as taught in schools under the Education Ministry by trained teachers.
"We want the young inmates to be able to at least read, write and count, while for those eligible, to have at least an SPM certificate," he said and expressed gratitude to the teachers for their willingness to teach the inmates.
"Not everybody is willing to teach here (school in prison). The ones we have here had sacrificed their comfort to come and teach in prison to ensure the young prisoners can become useful citizens," he added.
According to the school supervisor, Nor Amalina Kasim, the Integrity School at Marang Prison has five classrooms.
"Our emphasis is to have zero illiteracy among inmates. We accept students from all background, including those who have never received a formal education," she added.
Nor Amalina, who has been teaching at the school since 2014, said among the students from the school who had succeeded in life after returning to society was one known as "Belalang".
"He is now pursuing studies at a polytechnic and has been free of drugs.
"There are also a few others who have been able to secure jobs, including in the oil and gas industry," she added.
.-- BERNAMA