Agong attends Pahang Menteri Besar's aidilfitri open house

Last Update: 05/06/2019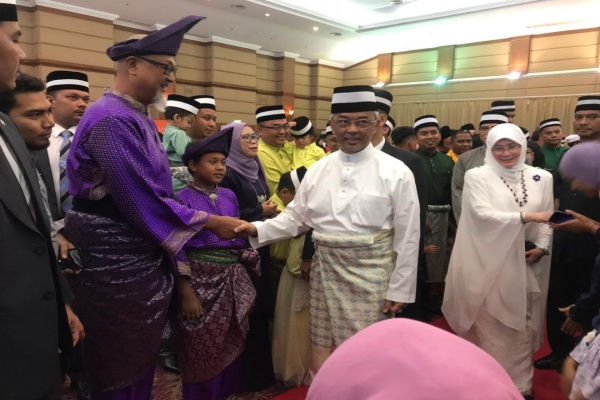 KUANTAN, June 5 (Bernama) -- Yang di-Pertuan Agong Al-Sultan Abdullah Ri'ayatuddin Al-Mustafa Billah Shah today attended the Aidilfitri open house organised by Pahang Menteri Besar Datuk Seri Wan Rosdy Wan Ismail.
The Agong, accompanied by Raja Permaisuri Agong Tunku Azizah Aminah Maimunah Iskandariah, arrived at the Sultan Haji Ahmad Shah Perak Jubilee Hall here at about 4.05 pm and was greeted by Wan Rosdy and his wife Datin Seri Burhah Mohammed as well as other state dignitaries.
Also accompanying the royal couple were their children Tengku Amir Nasser, Tengku Puteri Iman Afzan, Tengku Puteri Ilisha Ameera and Tengku Puteri Jihan Azizah 'Athiyatullah and the younger brother of Sultan Abdullah, Tengku Arif Temenggong Pahang Tengku Abdul Fadh Mu'adzam Shah Almarhum Sultan Ahmad Shah.
Also present were former prime minister Datuk Seri Najib Razak and his wife Datin Seri Rosmah Mansor and Pahang's elected representatives.
Sultan Abdullah and Tunku Azizah also met guests who lined the entrance to greet and wish the royal couple.
The event, which started at 10 am, was attended by about 7,000 people who were feted to 'rendang', 'lemang', 'nasi minyak' and 'laksa Pahang'.
-- BERNAMA